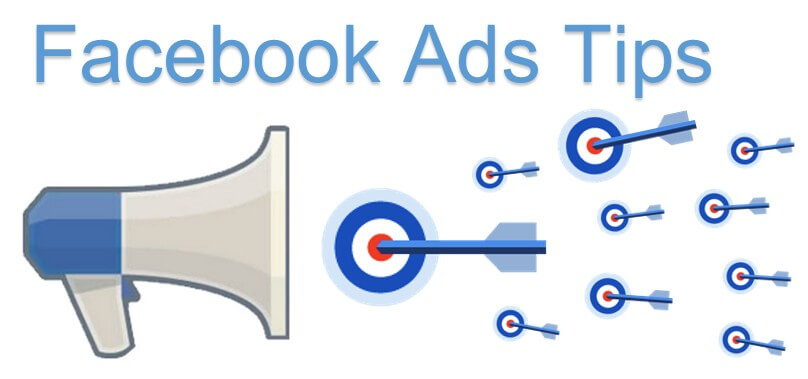 4 Facebook Ads tips: get more out of your Facebook budget
As a business asset, you need to tailor Facebook Ads to your product and your market. The following tips are intended for Facebook advertisers who have been busy for a while, know what the Facebook pixel is and want to get more out of their Facebook budget.

Before we start with the tips for more effect with your Facebook budget, first the main question:
What is a good CTR for Facebook Ads?
CTR stands for the Click Through Ratio and shows the number of people in percentage that click after seeing the ad. Typically, in online marketing, 2 percent is quoted as an average number, with 3 percent being good. It differs per location where the ad is shown:
In the newsfeed, a CTR of 1 percent is minimal;
In the right-hand column (right-hand-side) 0.5 percent is minimum;
For a dynamic product ad, 3 percent is certainly achievable;
In addition, CTR also differs per industry according to research by WordStream.

Tip 1: Assess CTR by value

CTR is just a number that says little without context. For example, you can use it to compare two ads. Which ultimately scores better? For this it is important to view the entire process, including conversion and customer relationship. That one ad with 1 percent CTR may eventually lead to more sales than the ad with 5 percent CTR.
When converting on the website such as purchase or request for quotation, it is wise to measure this with Google Analytics. This way you can see through which channels the conversions come in, and what supporting role the different channels have had. With a good CRM system you can link data from Google Analytics to your sales data per customer, so that you can see the costs per new customer per channel and what the final costs are per customer. For example, you can learn that that one iPad promotion did bring in a lot of customers, but only for one purchase. And that extensive explanatory text, which only generates customers drop by drop, ensures much more turnover in the long term.
Tip 2: More CTR with more relationship

CTR depends on the relationship with the segmented audience. If you opt for segmentation by interest, you are actually opting for a 'hard sell', with a good perspective but a 'hard sell' nonetheless. It can be compared to that one director of that company that you want as a customer, that you happen to see at your son's football game. How do you tidy up'they play nice, huh' to 'do you have that one company? Are you still looking for…'?
It is easier when you know each other, for example because you are both volunteers at the football club. Translates to Facebook that is the connection with your Facebook page. You can choose that when advertising and then you go from no relationship to an existing relationship. And that increases CTR.
make you a similar target group based on customer email addresses, you increase the relevance of the message much more. With the Facebook pixel you can specifically select the people who already visited your site but did not convert, as target group (retargeting). The closer the relationship, the higher the CTR.
Tip 3: Images

A bargain. But what is often given too little time in the limited time, you notice that as a marketer when you get an image with more than 20 percent text (yes, that is allowed by Facebook these days, but your relevance goes down considerably and therefore your costs up). Use images that attract attention and have stopping power. In general you can keep:
People prefer to look at people rather than at objects;
Close ups work better. Consider whether the advertisement should also be viewed on mobile (answer is yes);
Women like women, children and animals;
People's gaze on images is unconsciously followed, is the person looking in or out of the ad? People who look at you stand out more (hi!);
Be careful with stock photos. You see it right away and it comes across as fake. People like to see personal photos where people with personality stand. Think, for example, of the Hema campaigns;
Address people with similar people, young people with young people, 20+ with 20+. Only the 65+ would prefer to be addressed as 50+;
Handsome people are usually more credible, unless it comes across as 'too', then it can actually backfire;
Unless your company is really well known, using your logo won't do much for conversion (it will help build your brand awareness and ultimately improve conversion).
Tip 4: Optimize with AB testing

If you're reading this, you already want to put time and effort into improving the effects of your Facebook marketing. So start with AB testing: you make two similar advertisements and you change one thing. Over time you will compare the results. Which ad resulted in a higher CTR? Which in a higher conversion in the end? The longer the ads run, the more certainty you have which ad works better. So you need a continuous Facebook budget for continuous optimization. With a campaign you do one or two AB tests to test what works with the target group and then you accelerate.
Keep experimenting continuously. Rotate images, try different titles, shorter or longer text, or a dominant color. Currently, Facebook AB testing is gradually rolling out as standard functionality, but you can already easily copy a campaign, ad set and ad and adjust one thing. The most important thing is that you prevent the same target group from seeing two different ads, and that the target groups do not overlap. You do this by playing with the display by time, days, age, etc. So: you create advertisement A and advertisement B, and target group A and B. Then your target group A first shows advertisement A and then B, ditto for target group B .
Facebook marketing in 60 minutes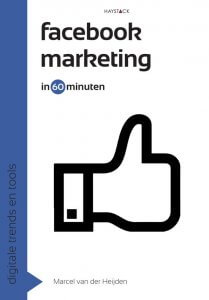 € 12,50 via Bol.com
Excellent book to start advertising on Facebook. Makes you think about your Facebook goals. What do you ultimately want to achieve? This book explains the basics in 60 minutes.
Written by Marcel van der Heijden, founder a friend of mine?, the first Facebook marketing agency in the Netherlands. View here on Bol.com.