5 Creative ways to advertise on the toilet
Guest blog by Jeroen van der Zwet van promo farmer
Finally a moment for yourself, the door closes, you sit, stand or walk and your eye falls on ... the toilet advertisement! Toilet advertising is effective, because how often do we go to the toilet? And how long will it take us? It is one of the last places where we are not distracted by other media or conversation. And therefore an extremely suitable place to advertise a game. But how do companies link their identity to an advertisement in the toilet? Just by using a little humor. We take you through a number of creative forms of toilet advertising.
1. Remarkable toilet paper holder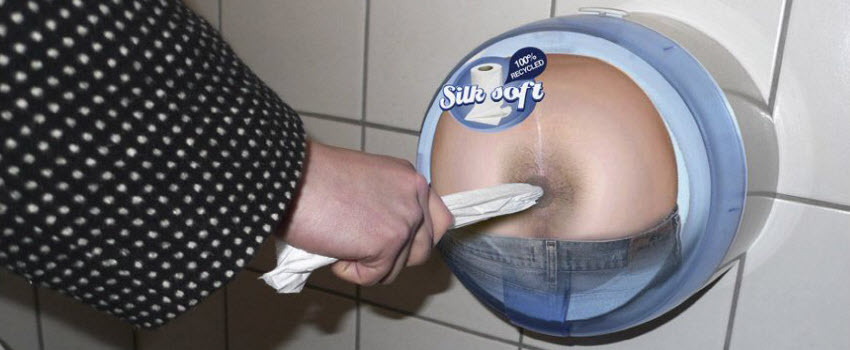 When we talk about creative forms of toilet advertising, we quickly think of the remarkable advertisement of toilet paper manufacturer Silk Soft. How can this expression be properly described? That is almost impossible. Silk Soft had a toilet paper holder transformed into a body opening where paper comes out. Still pretty neat. With this statement, Solk Soft wanted to say that their toilet paper 100% is recycled. For many companies it is not easy to link the identity to something that we wipe our buttocks with, but let's face it: this is original and we will not soon forget?
2. Paper dispensers with a clear message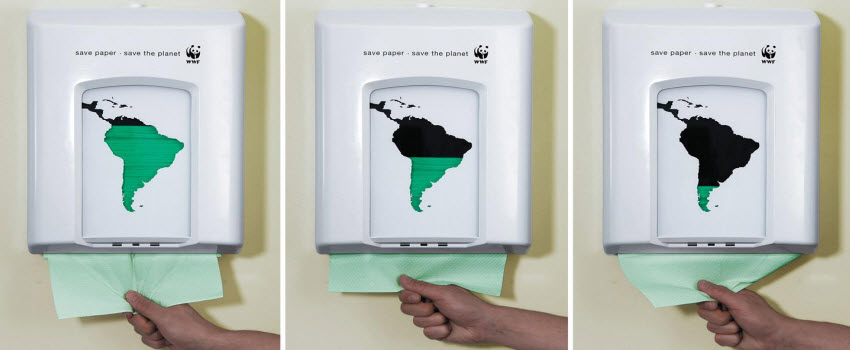 The World Wildlife Fund is a global organization that works to protect nature. In all sorts of ways they try to make people realize that saving the planet starts with saving paper. They had a standard paper dispenser transformed into a means of communication. Green paper was used instead of white paper. The message: think about the use of paper, because the survival of the tropical rainforest in South America is directly linked to what you consume in paper. The more you use, the more wood is needed.
3. Targeted toilet bowl advertising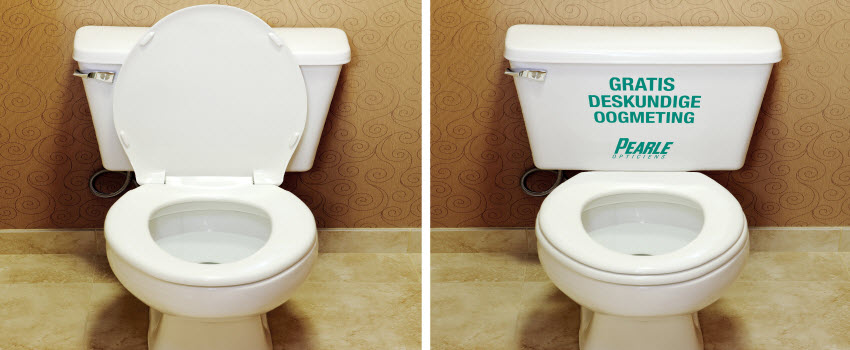 This toilet bowl advertisement is a typical case of target group segmentation based on gender. It can hardly be otherwise than that this expression could be seen in the men's restroom. And it was. Everyone immediately gets the message. Aim well, otherwise the next one will be sitting on wet glasses. If you don't do this, it's better to drop by Pearle for a free eye test.
4. Creative Floor Advertising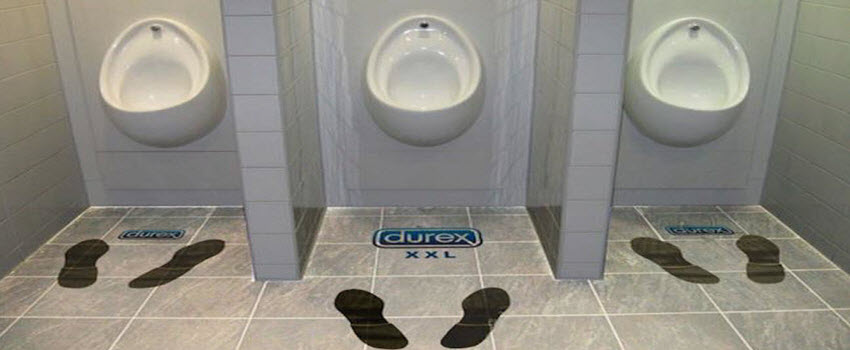 Floor advertising is not always hygienic, but it is effective. Stickers are usually used for these kinds of expressions, including in this remarkable expression by Durex. Another example of target group segmentation based on gender (and the length of the genitals). No, that's not a joke. Durex brought a new product, the XXL, to the attention and made this clear by having this target group pee a little further from the pot. Creative and strong advertising message!
5. It started with the panels…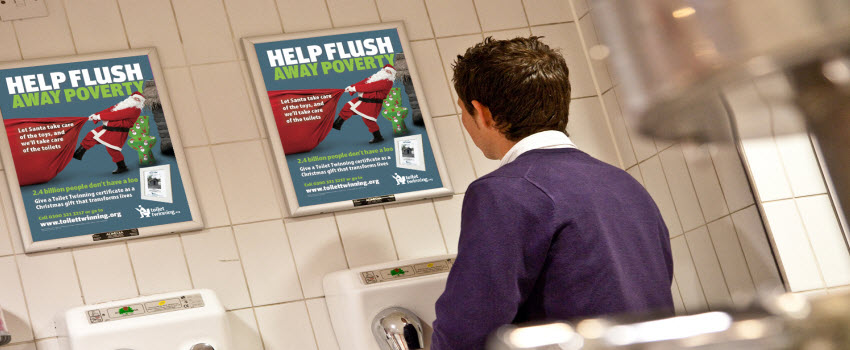 It all started with installing panels on the toilet. In men we often see panels above the urinal and in women in the open space. Due to the long contact moment you can have a more extensive message than on regular outdoor media and there is little chance that the message will be completely ignored. Nowadays, there are even interactive forms of toilet advertising, so that you can play a game or watch TV while you pee.
Why is toilet advertising so popular and effective?
This is because toilet advertising is widely applicable, such as in gyms, universities, cinemas, cafes and other public toilets. It is also possible to segment on the basis of geography (national, regional or local), age (every nightlife attracts its own audience), gender (men's or ladies' toilet) and interests (poster with sports product at sports association). This form of advertising ensures 1-on-1 contact with toilet visitors. And that for a long time, because how many times a day do we go to the toilet and how long does it take? Calculate for yourself what that is on an annual basis.
Guest blog by Jeroen van der Zwet van promo farmer