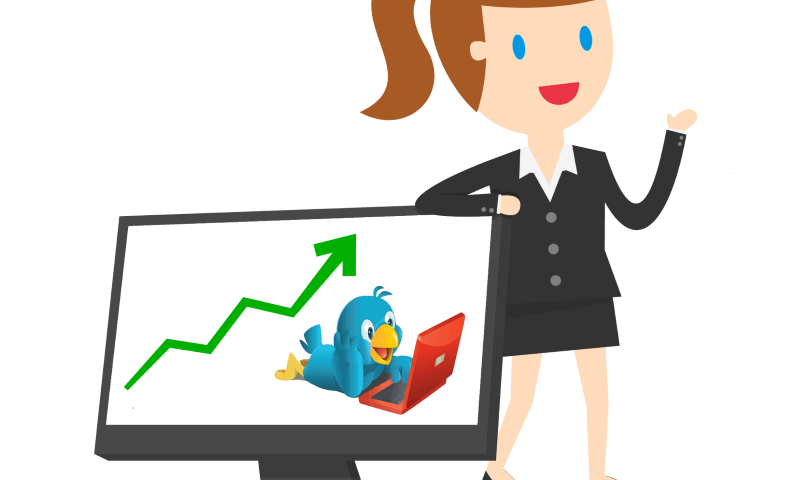 Twitter marketing: 8 tips to get more out of Twitter
Guest blog by Daniël Mulder from Omnileads.nl
As a professional online marketer I successfully use social media and Twitter for myself and for customers. A common reason why people stop social media marketing and especially Twitter marketing is 'because it doesn't deliver enough'.
I think the cause of this is a lack of knowledge about Twitter as a marketing tool. That is why I share some of my best Twitter tips for companies and consumers in this blog, with which everyone can structurally earn more new followers and double the number of impressions, likes and retweets in five minutes a day. To support this, we look at a current practical example with recent statistics for the first two months of 2016.
The above image is from Twitter Analytics and displays performance over the past 28 days for a four-month-old Twitter account. In the period from January 1 to January 10, the average number of impressions of tweets was 170 per day. In the period from 1 to 10 February this is 633 impressions per day and currently 900 impressions per day or 27000 per month. The account has 680 followers and this only concerns the organic impressions of tweets and follower growth.
1. Provide an attractive profile and tweets
The design of the Twitter account is of great importance. Twitter is a busy social network where a lot is happening. Everyone is doing their best to stand out and of course you cannot stay behind. With the help of the profile photo and cover photo, a first good impression can be given. That, coupled with a concise description of your value proposition, ensures that you distinguish yourself. Choose your username to be chosen with care; that is the flag that must properly cover the load. When a choice can be made for a profile with a personal passport photo or a profile photo with a company logo, the option with a passport photo will attract new followers more and easier and will be labeled and retweeted sooner.
2. Use attractive images
Images attract more attention than text: tweets with images are also seen more often and these tweets are more often liked and tweeted. Therefore, use carefully selected and high-resolution images of at least 800 by 600 pixels in tweets as branded content. In addition to more views, we create the desired image with this branded content by choosing images that evoke a strong association with topics with which we want to associate ourselves, our product or company.
3. Use Twitter Cards with a large image
The summary card with a large image is a tweet with space for the maximum number of characters, whereby a large image is also displayed below the tweet text. This image is a link to a page on our own website whose URL is included in the tweet. With this Twitter card hyperlinks are actually made of images in tweets, so that these tweets attract more attention and are clicked on more often. To use the Twitter card with a large image, a few extra lines of html code must be included in the page to which we want to link. Use the free Twitter Card Generator to make your own Twitter card with a large image. Then test the card with the Twitter card validator.
WordPress users can easily use the Twitter card with a large image if the WordPress SEO (Yoast) plugin is installed. With Yoast, Twitter cards are automatically activated when the option Include Twitter card meta data is checked under Social (Twitter tab) and the type of summary with large image is selected. The featured image of blogs is then automatically used as the image for the Twitter card when its URL is included in a tweet.
4. Get more followers on Twitter
A much heard adage "quality goes beyond quantity" is less applicable in relation to the internet. With some exceptions, a few hundred Twitter followers do not represent much, at least if you want to use Twitter as professionally as possible. For BNN people, the Twitter account usually grows spontaneously and at a fast pace. All other Twitter users will really have to do their best to grow the number of accounts that follow them quickly. To attract followers ourselves, it is crucial that we actively follow others and that we follow accounts that have followed us spontaneously. Accounts that actively follow back realize on average 250 percent more new followers than accounts that do not. Of course it is important to follow accounts that are in our target group.
5. Like, retweet and comment actively on tweets
Spend a few minutes daily liking and retweeting tweets from others that are relevant to our own industry and target groups. Be careful and like and retweet important accounts with respect and popular tweets and accounts that belong to the target group. These accounts will then be inclined to follow us and if this continues then there will be an interaction whereby these accounts will also like and retweet our tweets if they are sufficiently relevant, interesting and attractive. This also ensures that our own timeline becomes more interesting for our own followers because of a diverse and extensive range of tweets that they find interesting.
6. Tweet daily and when followers are active
To ensure that tweets are actually seen, it is important to tweet at times when the account's followers are most active on Twitter. There are tools for determining the optimal times to tweet and the example below is made with Followerwonk and the planning function for Buffer. Go to Followerwonk, enter your account and search for 'Most active hours for users ...'. This graph shows how active followers of the Twitter account are per hour of the day.
The graph above is made with the Schedule at Buffer function which you can find on Followerwonk under the graph Most active hours for users ... 'and with which the optimal tweet times for a Twitter account can be determined. Timing when posting tweets is important and tweets posted at times when many followers are active will generate much more impressions and interaction than tweets posted outside of those hours.
7. Choose commonly used hashtags
Hashtags in tweets are links to special pages on twitter that show tweets that all contain the same hashtag: # duration questions for people who ask a general question, for example. Hashtags provide an overview of all tweets about a topic and many people use this to find more tweets about a specific topic. As a result, tweets with hashtags are displayed more often than tweets without hashtag. Tweets with popular and frequently used hashtags are shown more than hashtags that are rarely used. Finding the right hashtag is therefore not unimportant if we want to get the most out of our tweets. In addition, Google often uses hashtags to show results from Twitter for searches, which in turn results in additional impressions.
To find commonly used hashtags, there are useful tools such as TweetChup. Finding popular tweets is easy with this tool. It is therefore advisable to detect popular hashtags and to use them structurally in tweets.
8. Set Analytics goals and use Twitter analysis
To constantly improve performance, tools that provide insight into which tweets are the most successful are indispensable because not all tweets generate the same number of impressions. Insight into the number of impressions, likes and retweets tells us what works and what works less well. With this knowledge, the most successful types of tweet formats can always be recognized, optimized and reused. Statistics about tweets can be found with the Twitter analysis tool (analytics.twitter.com) itself. Google Analytics offers a solution to gain insight into what the contribution of Twitter and other channels has been to achieved results such as conversions achieved.
About Daniël Mulder
Daniël Mulder is an all-round online Marketer specialized in Google (Adwords certified) and Twitter marketing for companies. As founder Omnileads and self-taught programmer and developer, he understands the business side and the technical side. Ìdeal sparring partner for companies that want to make real steps online.