Adobe's Digital Trends Report: 2021 Brings New Generation of Digital-First Customers
Amsterdam, February 5, 2021 – The events of 2020 have fueled the emergence of an entirely new generation of digital-first consumers driven primarily by customer experiences, according to research paper Adobe's 2021 Digital Trends Report. The report also highlights the various best practices that help brands determine their online marketing priorities and investment decisions.
For this 11th edition of the Digital Trends report, in collaboration with Econsultancy, more than 13,000 marketing and IT professionals around the world were surveyed. This provided insight into the impact of COVID-19 on all sectors in 2020 and the priorities for 2021 and beyond.
New wave of digital-first customers
The pandemic has fueled a meteoric rise of the digital-first customer, with 44 percent of respondents from Europe, the Middle East and Africa (EMEA) seeing an influx of new customers that previously went under the radar. The buying habits of these customers have shifted from offline to online. They brought with them a new level of expectation for the experiences they received from brands: more thoughtful, more authentic and more personalized.
The report shows that this new type of customer is not only increasingly digitally oriented, but also exhibits unpredictable buying behavior and is more willing to make purchases from other brands.
Digital-first: 64 percent of EMEA brands experience 'unusual' growth in customer demand for digital services and availability;
Unpredictable behavior: Half of brands in EMEA (47%) say existing customers have shown new purchasing patterns. This includes a change in the average number of products placed in the shopping cart and also an interest in new products;
Willing to switch to other brands: 30 percent of respondents in EMEA also indicate that customers are less loyal to products or brands. This means brands have to work harder to attract and retain buyers.
Speed of insight is crucial
The key to understanding this new generation of digital-first and experience-driven customers lies in a brand's ability to quickly and accurately capture data from those customers and use that data smartly.
However, the survey reveals a gap between ambition and capability: only 24 percent of EMEA respondents rate their ability to gather accurate insights and act quickly as 'very strong'. What is positive is the fact that there is a direct link between 'speed-to-insight' and more targeted marketing expenditure. Those who have knowledge of the digital landscape and can gather insights very quickly typically benefit from increasing their marketing (50%), acquisition (52%) and retention budgets (44%).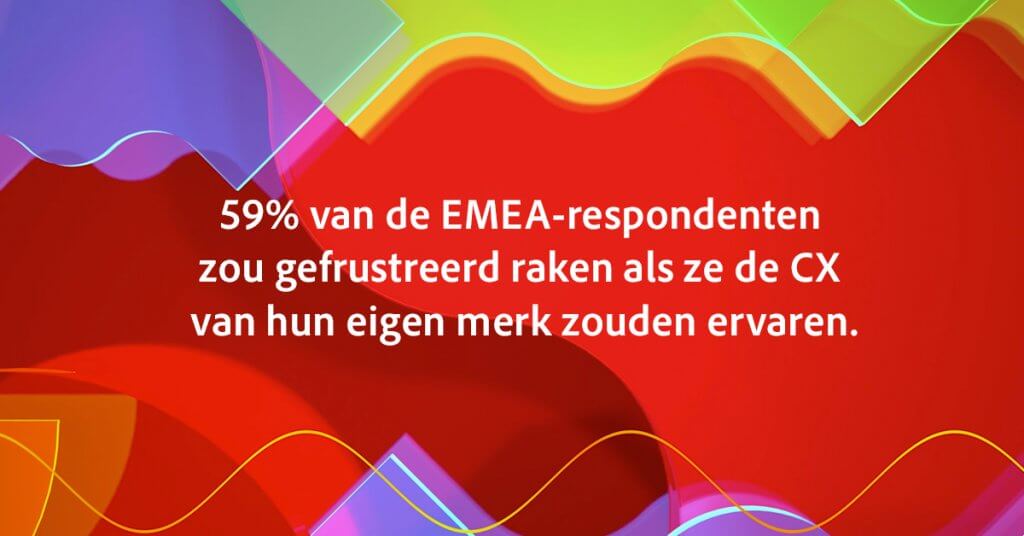 Customer experience separates the wheat from the chaff
When it comes to targeting this new type of customer and leveraging the potential insights available, an advanced, integrated customer experience (CX) enables brands to outperform competitors.
In fact, more than 70 percent of brands in EMEA say they perform three times better in their industry when it comes to digital experiences, compared to brands with a less sophisticated CX approach. Additionally, the digital experiences at companies with strong analytical tools (e.g. for insight into customer journeys and marketing attributions) are rated favorably by a much higher percentage of customers than companies with fewer insights (71% vs. 31%).
However, there is still a long way to go when it comes to delivering a premium customer experience. 59% of the EMEA respondents admit that they themselves would become frustrated if they experienced their own brand's CX as a customer.
Empathy as the most valuable quality in customer experience
The report also shows that analyzing – and responding to – the specific customer journey is another key focus for 2021. During the pandemic, customer challenges were central to many brands. However, only one in five EMEA companies say they have 'clear insight' into people's thinking or the friction points in the customer journey.
These friction points arise when a decision or action needs to be taken. This can evoke all kinds of emotions: from fear and anxiety to hope or enthusiasm. The ability to understand these kinds of friction points, throughout the customer journey, allows brands to connect with their customers on a deeper level.
"2020 has accelerated the digital transformation", said Alex Azzopardi, Managing Director at Adobe Netherlands. "Trends and technologies that would not even be considered in the coming years are suddenly at the top of the agenda. Businesses are all grappling with the same challenges: remote working, fully digital customers, and managing employee and customer wellbeing. As a result, digital has become the norm in this new era and will continue to be the case after the pandemic. The digital world can no longer be just a part of marketing, customer service or a product; it should be seen as a driver for customer experience and business growth."
The full 2021 Digital Trends report is here to download.
Submitted press releases are not the responsibility of the editors.