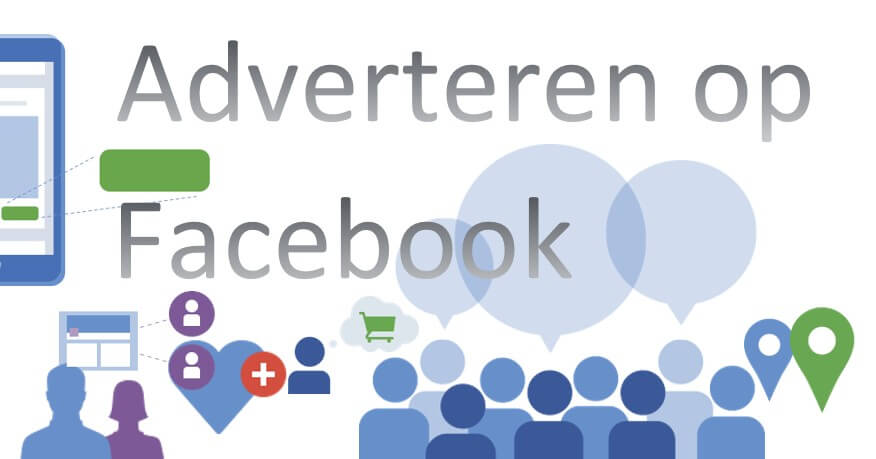 Advertising on Facebook: Getting Started Step by Step
You are convinced of the added value of advertise on Facebook and you know what the cost of advertising on Facebook. Then it's time to actually start making an advertisement! Here's a step-by-step guide to getting started with Facebook Ads. At the end you have to add a payment method (iDEAL, Credit card, PayPal or Facebook voucher) from Facebook: you cannot save your ad for later.
Pay attention! Lots of screenshots, so lots of scrolling! I give an explanation per step, but not a complete elaboration. Do you want an elaboration of something? Message me and it goes on the list! Next on the schedule is 'The Ideal Facebook Advertisement'. Good, now get started with your first Faebook ad:
Go to Facebook Advertising
You can do this via the menu at the top: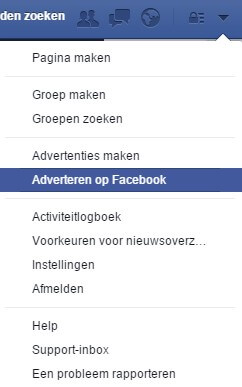 Create an advertiser account
You will arrive at an overview page with all kinds of information about the steps:
Create your Facebook page
Connecting with people
Attract attention with high quality content
On the right a menu with 'How it works' and 'Frequently asked questions'. Both pages provide explanations and the green button to create an advertisement. Click on the green button 'create an ad'.

Then Facebook creates an advertiser account, and checks the Facebook pages that are linked to your Facebook profile:

Step 1: Create your campaign
What do you use Facebook Ads for? Facebook gives many options, which come down to traffic to your website, traffic to your Facebook page, traffic to your app, interaction on Facebook. See the explanation for each point:
Send people to your website: traffic to your website. Handy if you want more quality traffic from a certain target group with a certain background or interest.
Boost conversions on your website: Traffic on your website has to do something. Conversions, in the form of a contact form, purchase, download or quote request. With a pixel on your site, Facebook can send you traffic that converts sooner. Usually better than just traffic.
Promote your posts: 100% of your fans used to see the message from your Facebook page. Now that's 2% on average, up to 20% for quality pages. With this objective you buy it back. I only recommend if you really have a purpose with your Facebook messages.
Promote your page: for 'likes'. Shows as 'your friends Bert and Ernie liked this page'. So it is for growing your Facebook reach, but beware, the 2% will be less.
Generate installs of your app: if you choose this, you also have enough budget to let someone else do your Facebook ads. More important than advertising your app is making sure users are happy with your app. More difficult than you think (which apps do you use, besides social media, mail, news and weather?)
Increase engagement with your app: Provides repeat traffic to your app.
Generating more visitors to your event: a very interesting option for pub owners, organisers, bands who organize their own gigs and anyone who wants to get people going.
Generate claims from offers: you can create an offer with Facebook that your fans can claim. Interesting for stores to generate traffic to the store and for major brands.
Increase video views: for more viewers of your video. What purpose does your video support?
Read the Facebook help on ad objectives.
Facebook also points out how they help you:
"Your ads are automatically optimized to show to people in your target audience most likely to help you achieve your goal. For example, if you're promoting an app and your goal is to get more downloads, your ads will be set up to show to people in your target audience who are most likely to install your app."
Send people to your website
Of course it starts with the question: dude, which site? Enter a site (can do without http://) and Facebook will jump to the next page.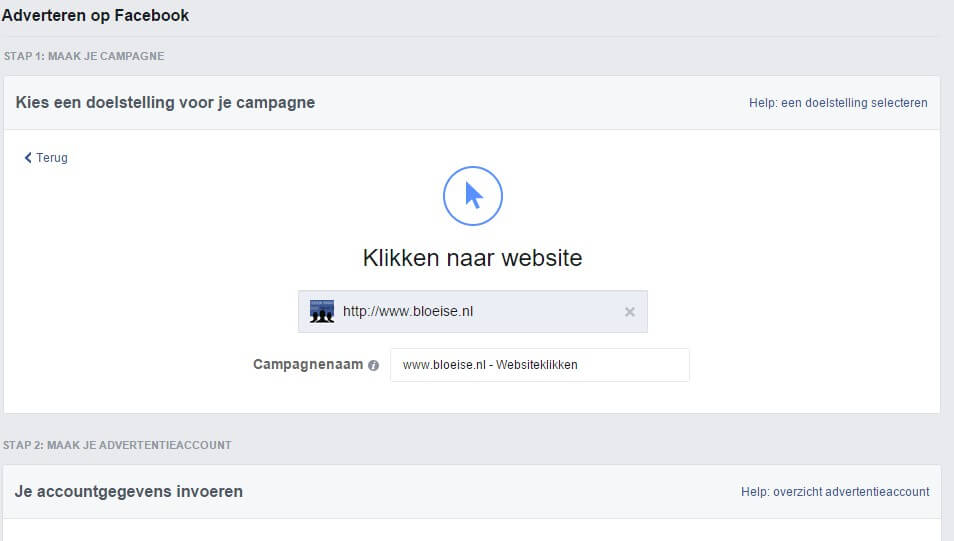 Enter your account information
Do my titles confuse you compared to what Facebook shows as a page? Facebook still calls this 'Step 1: Create your campaign' and 'Choose an objective for your campaign', but if you've paid attention, you'll see that we've already gone through those steps. you can still you Campaign name To adjust; Facebook has made this 'site + objective', a practical campaign name in itself I would say. The next step is to enter your account details: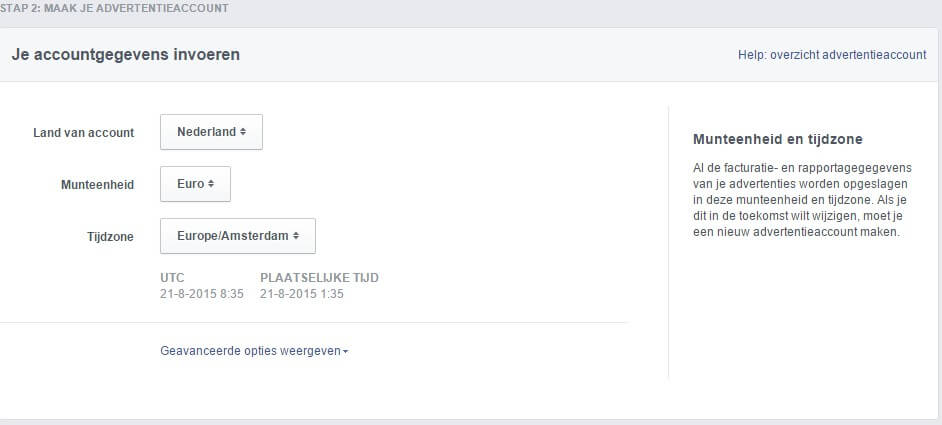 Account details are not that exciting. You are reading this article in Dutch, and here we have the Euro with time zone Amsterdam. Advanced options is only your ad account name; by default your profile name is here, I made it this:

Step 3: Create your ad set
No, you're still on the same page, but scrolled through to the most interesting part of Facebook Ads: your target audience. Facebook throws that under your ad set. So how about that? This is the structure of your campaign. Let me give you an example of MOO, an ice cream manufacturer. MOO has 2 ice creams: strawberry and chocolate. MOO is therefore developing a Strawberry campaign and a Chocolate campaign. Now teens and twenties both like taste. That's why MOO is making an ad set for teens and twenties for both campaigns. Then you get 4 advertising campaigns, because 4 target groups in total, 2 per ice cream. Sounds too simple? Translate it to your own products and target groups.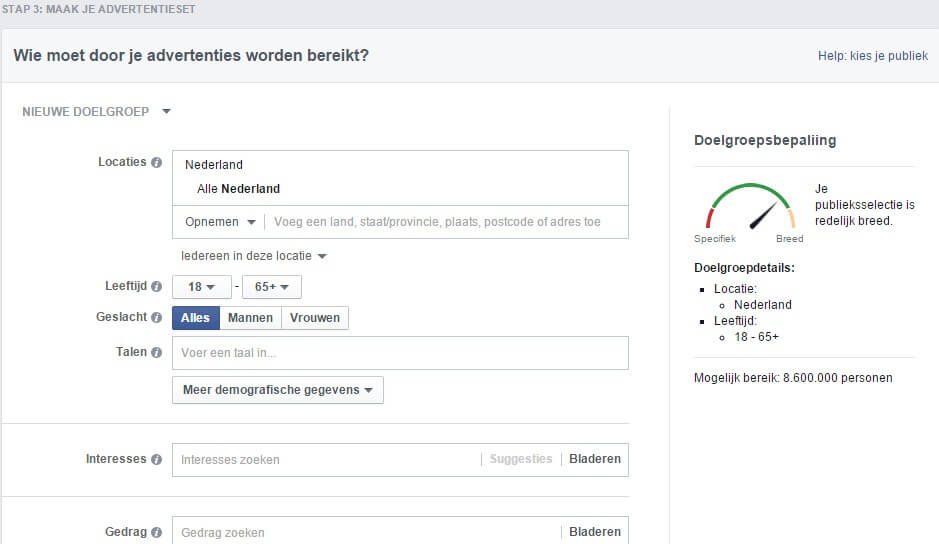 Anyway. Your target audience! Take your time, because this is fun. In a manner of speaking, you can create a target group such as: Groningen men between 50 and 65 who have as interests: rabbits (pets) and baking (cooking), are forerunners in technology and have already purchased something via Facebook in the past 90 days , digital activities), and follow the Rabbit Doctor page. Now there won't be that many. On the right you see the possible range.
But to give you some ideas for respectively: myself with this article, a restaurant in Rotterdam and a driving school in Breda: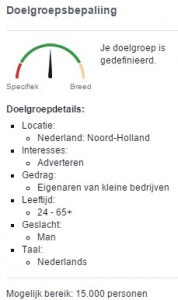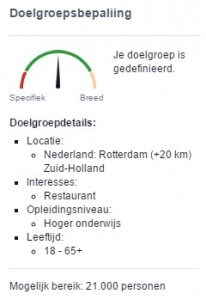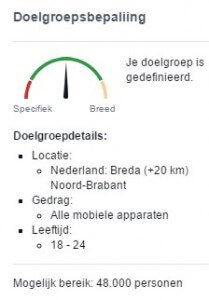 Indeed! Facebook plays Targeting as Targeting. Hilarious. 
And through connections you can also combine:

Like your competitor's page, but not yours yet, for example.
Nice all those options .. but uh ... Ho stop!
Not sure who your target audience is? See who your competitors are. Or! Start a campaign focused on conversion and install the Facebook pixel that shows you who visits your site. Facebook then registers who clicks on your ads, and you can create a new campaign for that. For 'similar' people. Of course it costs money, but then you finally know who your target group is! Or you can also just put a survey on your site, or behind a download, or talk to your customers, dude, who are you anyway?
[pull quote]
No marketing without a target audience
[/pull quote]
In online marketing (yes, sorry, that includes advertising on Facebook) and in fact all marketing starts with: "You have a product or service that you want to bring to the market. (marketing means 'get to market'). So who is that market?" No marketing without a target audience. But don't worry, thanks to Facebook you can now get away with saying, "Yeah, uh, everyone who likes us?"
How much do you want to spend?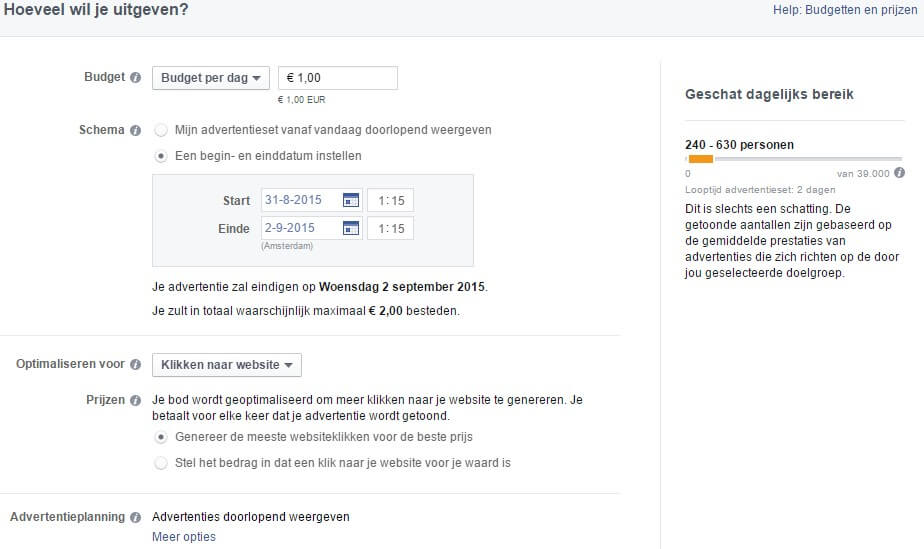 The question Facebook has been wanting to ask you all along. Actually it is very simple:
a budget per day, in a specific period or continuously. Or:
A specific budget for a specific period.
You cannot (yet) say: specific budget for a month or week, you have to click on the data yourself.
Minimum budget: 1 euro per day.
My advice: that's good for your wallet, but it's almost nothing. Not only few clicks, likes or conversions, but also little data. And that means that you can't optimize your ads much (so: try different images and texts, and start using the ad that costs the least and yields the most).
Check Facebook's help on budgets and prices. (just read this)
The options further including advanced options (don't be afraid just watch) :
Optimize for: sapperdeflap! There it is again! You can now adjust your objective here again.
Prices: get the most website clicks for the best price or Set the amount a click to your website is worth to you. The first option is really not that bad (not like Google Adwords), and makes it easier. You can then focus on the quality of your ads. The second option is an auction, just like with Google Adwords: you specify the maximum value – in this case a click – is worth to you. You don't always pay that. A handy trick is to be on the high side here (but not over your own limit of course!) So that Facebook takes your bid more often (because of the chance of more turnover) but you do not always pay for it (because it depends on all kinds of factors). To difficult? Choose the first option.
Ad scheduling: Times and days of the week. Yes, that is useful for: religion (not on Sunday!), Wednesday Meat Day (only for sale on Wednesday), Installing apps (at home and at work, but not while traveling)
Display type: ok this is really advanced. 2 options: Standard view and Accelerated view. You do it faster if you really want to make up your budget as quickly as possible. You do this at events and when you want to quickly reach your goal. You will then need a manual bid for that.
Ad set name: I still had this on Breda 18-24 (driving school owner Breda). A different target group per ad set, so this title is useful.
Step 4: create your ad
And then after your objective, target group and budget you can finally create your message: your Facebook ad! With another mountain of options: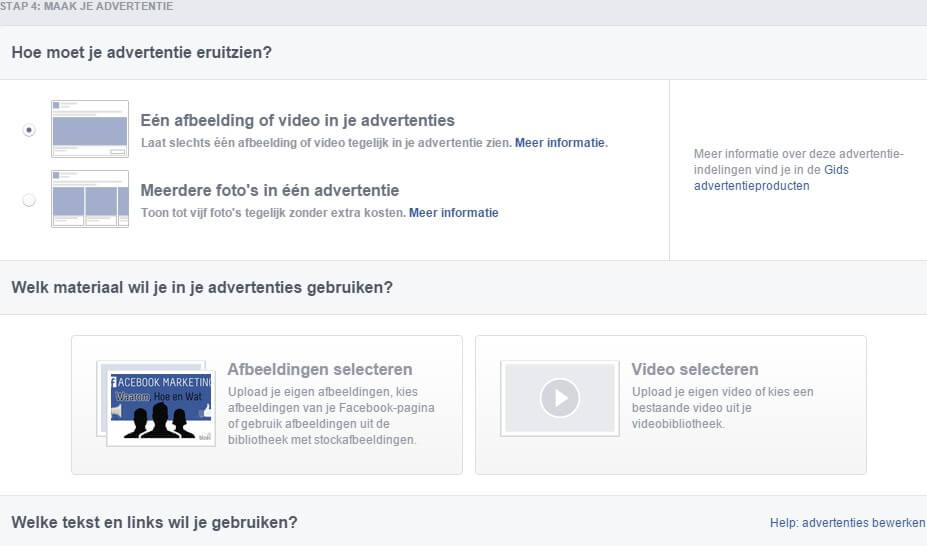 What material do you want to use in your ad?
An image or a video in your ad: to be uploaded yourself, from your Facebook page or Facebook's stock photos. Facebook already fetches one image for your website by default.
Multiple photos in one ad: Facebook automatically picks the best one for you. Provides (according to Facebook) 30-50% lower cost per conversion and 20-30% lower cost per click. The carousel effect can be used to show more products, more details and tell a whole story.
What text and links do you want to use?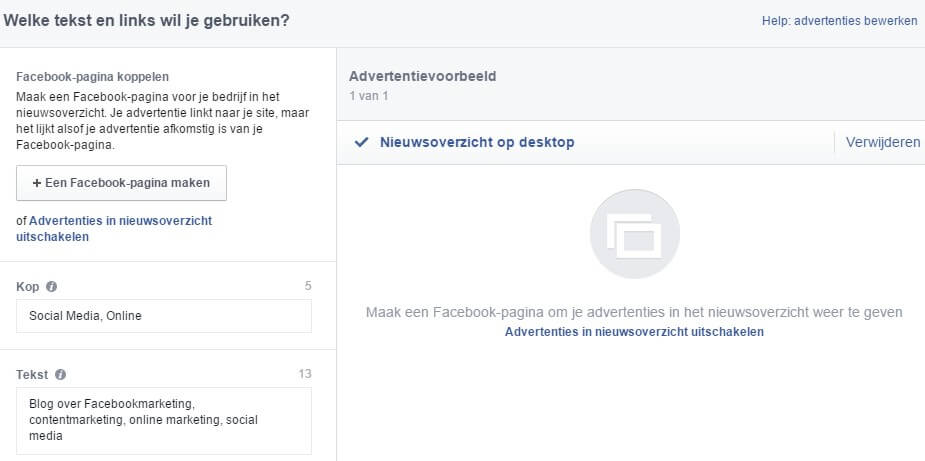 Images uploaded? Then the rest of the content:
Linking a Facebook page (or quickly make it anyway): then it seems as if the ad comes from your Facebook page, but the ad does link to your site. Social gimmick.
Headline (25 characters): attract attention, address your target group, ask a question, give value, link to the image, keep it short.
Text (90 characters) : shorter than a tweet! Give a reason to click, provide value, give a call to action, make it interesting.
Action button (optional): You can put an action button on a Facebook page. Useful. You can have that button appear in your advertisement. Useful. Such as: Shopping, More information or Register.
But then. Another advanced options button! In front of:
Link description news overview: the text with which you convince people in the News Feed to click on your link to your website. Most importantly, tell them what to expect. It's in the ad below the link.
So what does that look like? Example!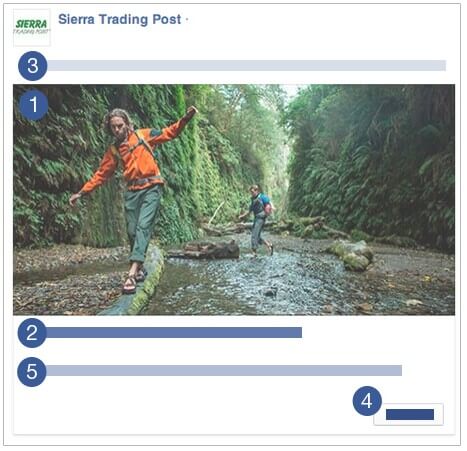 At which:
Image
Header
Text
Action button
Link description news overview
Now you see the example per place on the right. Yes your ad will be shown in different ways, these are all 4:

Now with explanation:
News overview on desktop: You can make purchases faster behind your PC, because, for example, you have your bank's ID device at home. Installing apps on your mobile is easy, but not everyone understands that.
News feed on mobile devices: 40-60% of Facebook traffic goes mobile, that includes tablets. Is your image clear at this size?
Right column on computer: Think about this for a second: most people say they never click on Facebook Ads… because they never click in this column.
Target group network: this will make your ad off Facebook Read more about the possible objectives and formats for target group network.
Pay attention! Without a Facebook page, only the option 'right column on computer' is possible.
Check order
See my own quick test here: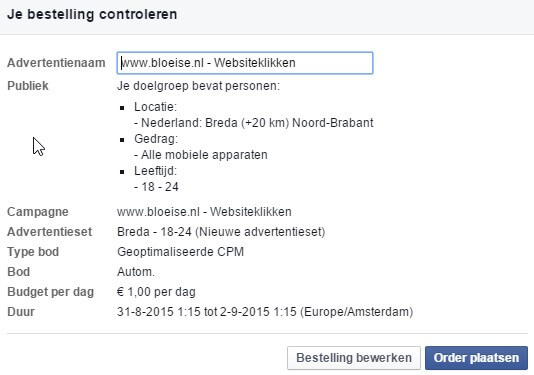 See also the small letters below. Edit takes you back, Place Order continues.
Placing order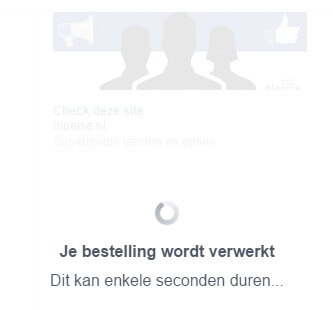 Add payment method
It speaks for itself: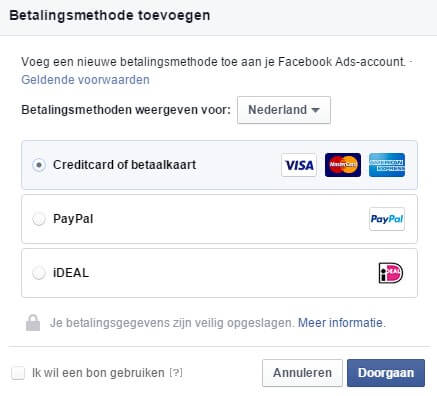 Click on Cancel (as I did), you'll be returned to the ad page. If you click away, Facebook will notify you how bad they are at saving your ad:

And unfortunately you have to start again, but I already warned you about that before the intro. Do you have any questions? Post them below in the comments!
You saw it: a Facebook page is very useful for advertising on Facebook. Already have a Facebook page? Click below to sign up for the monthly Bloeise newsletter and receive the practical Facebook for business checklist.