Blossom does B2B content creation, a specific part of B2B content marketing, what again falls under B2B marketing. On this page you will find all possible information, tips and explanations about this field. Use the table of contents above to jump directly to the correct section, or read from top to bottom. Prefer a shorter introduction? Here you can read about the Basics of B2B content marketing and the difference with B2C content marketing.
What is content marketing?

Bee content marketing (or content marketing, with space) you focus on the information needs of your target group and respond to this with valuable content to bind new relationships and existing customers. It means saying goodbye to loud advertisements and distinguishing yourself positively as a company by really helping. That sounds great, but does it work?
Why B2B content marketing? – 4 reasons


Unfortunately, as a new form of marketing, content marketing has also been plagued by generic promises and 'We at toilet duck' surveys. Without concrete substantiation, the management sweeps a content marketing plan quickly off the table with the first critical article on content marketing. Use the following facts to convince your organization internally:
1. Content marketing is search engine optimization (SEO)
Customers want valuable information. According to Think with Google, 57 percent of the buying process is completed before contacting the sales department. Forrester underlines this with her Buyer Behavior Helps B2B Marketers Guide. The average B2B buyer starts the buying process with a search. (DemandGen Report). This means that being found in Google (SEO) is important in B2B marketing. Content marketing responds excellently to this with the focus on qualitative content for the target group. Just the way Google likes it.
Read more about SEO with content:
2. Content Marketing Supports Thought Leadership
With thought leadership you profile your company as a knowledge specialist by sharing valuable knowledge and insights for free. In other words: education. When your company is seen as an authority in your field, it has a positive effect on your image and turnover. The position as a knowledge specialist is especially valuable in the B2B market with complex and composite products and services. Forrester sees thought leadership as main means of distinguishing in B2B marketing.
3. Growing interest in content marketing
According to Google Trends, there is more search in the Netherlands for "content marketing" (in blue) than for "content marketing" (in red), how it should actually be written. In any case, interest is clearly growing from the market.
4. Content marketing is a popular marketing tool
2013 Multiscope study under 357 Dutch marketing professionals commissioned by Lewis PR shows that:
18 percent of the marketing budget spent on content marketing.
The most important content assets that are used are: reference stories (35 percent), blogging (21 percent) and the results of market research (21 percent).
A quarter of marketers (27 percent) expect to spend more on content marketing and 8 percent expect a decline.
There is no more recent study from available in the Netherlands. However, a number of interesting content marketing applications in the Netherlands:
For numerical substantiation, I look at studies from abroad.
Most research on content marketing comes from the Content Marketing Institute. A number like 71% of the companies believes that they present relevant content in the right place and channel (2020 B2B Content Marketing Benchmarks, Budgets, and Trends for North America) quickly looks like a cigar from its own box. (as Hubspot researches and markets inbound marketing). Therefore, a broader substantiation:
Gartner presented on her Digital Marketing Conference 2015 content marketing as a new emerging trend and states that: "Marketers need to build a content marketing supply chain and determine how to create, curate and cultivate content." According to the hype cycle, content marketing is growing to the top of inflated expectations and will reach the level of productivity within five years.
The Economist Group indicates in her 2014 study How to hit the mark with B2B buyers indicates that there is a clear interest in company content. Reasons for companies to search for business content include:
To research a business idea (75 percent);
To gain insight into the marketplace (34 percent);
To understand a complicated problem on both sides (24 percent);
To gain greater insight into an area of their own business (24 percent);
Good content has an impact on the perception of a company:
60 percent of the companies interviewed indicated that content "that helped understand a complex issue in simple terms" gave a positive perception.
For 67 percent, this applies to usable content or the right content at the right time.
Content marketing works, says Ascend2 in her Content Marketing Trends Survey. Nine out of ten interviewed companies that use content marketing indicated that it is 'successful' or 'somewhat successful'. In addition, Kapost made a nice numerical substantiation of Content Marketing Facts and made Curate this overview of Content Marketing Impact.
DOWNLOAD the practical B2B content plan & checklist
with this you can immediately start with B2B content marketing and sign up for our monthly newsletter.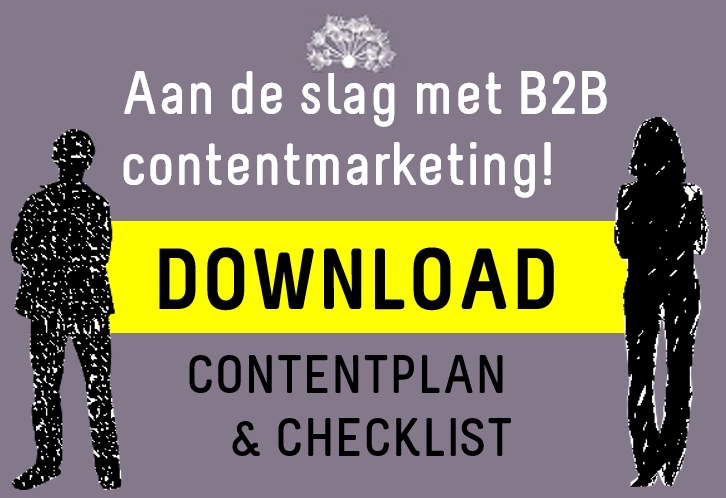 Content Marketing Strategy
Convinced that content marketing is right for your company? Start creating a content marketing strategy right away. With this you record your objectives and approach, so that you can measure and adjust your efforts. This gives you focus and saves you time and budget.
How do you use B2B content marketing? 11 Best Principles
There are also the necessary critical reports to be found, such as Forresters'How Mature Is Your Content Marketing 2014', and Rand Fishkin's 'Why Content Marketing Fails'. Both argue that content marketing works, but is often not used well enough. Exactly the reason why Gartner indicates that the use of content marketing has yet to mature. Forrester's research indicates that 62 percent of B2B marketers only create content for campaigns and 47 percent said they are primarily concerned with creating content for their channels. Why focus on the customer? So the main question is: how do you apply content marketing?
You are convinced of the why of B2B content marketing: now the question is how you handle that. Content marketing has a number of principles and practices, so-called best principles that can be applied to most companies to a certain extent:
2. Customer journey


From the first look at an advertisement, web page or newspaper article to the purchase, service request and recommendation, the customer journey describes the route a customer takes. For the purchase of a pack of coffee, that route is extremely short, for the purchase of a complete ERP solution, the customer journey is complex. (For comparison: booking a holiday on average only happens after 72 searches) The customer goes through different phases through different channels. In content marketing, exactly the information is offered at every stage in the customer journey that is valuable and relevant at that moment:
Attention phase: becoming aware of a business need. Give your target group tools to determine their own needs. Help identify real pain points. In the ICT industry, problems are often identified at an operational level first, but can only be addressed at a strategic level.
Research phase: the search for solutions. Provide practical information that supports recognizing possible solutions. Which directions are possible? What are important criteria to consider?
Purchase: choosing a supplier. Help with selection with criteria, comparisons, demo and trials and the total cost of ownership. What does your target audience need to make the best choice?
Service: the user experience. See how you can help get more out of the product or service. Provide (self) service options and ensure an optimal experience.
The most important application of the customer journey is to focus on the information needs of your target group at a specific moment. A crucial point of attention here is the involvement of your target group: the involvement. In this article you can read more about how to content marketing from low to high involvement goes. The coherence in your content and channels, aimed at specific phases, is what you call content strategy. So you don't have to content strategist It's all about how you get your target audience from one stage to the next. You also need to know your target audience well.
3. Buyer persona
A buyer persona is a customer profile of a typical customer, often in a certain segment. In this you record what keeps your customer awake at night, the way of buying and looking up information, demographic and psychographic characteristics, career and role in the organization… et cetera. Not everyone is a fan of applying a buyer persona, because determining it correctly and then applying it correctly can go quite wrong. The main question is: who are your customers and what can you do for them? What do they find interesting together? Only then can you create and offer content that is really relevant.
This video briefly explains what a buyer or customer persona means: 
Not every company wants to use a full buyer persona research. So what's practical? Talk to your senior salespeople who really know the customer, or better yet, talk to your customers! See what you can actually do with as an organization before you set up a whole series of buyer personas with lots of data that you never use. Research the behavior of your customers: which pages do they visit? Which Tweets and Facebook Posts Have More Interaction? Which white papers are downloaded the most?
Consciously and unconsciously influencing your target group
There is much more to say about responding to the needs and characteristics of your target audience. Because why does someone do the things he or she does? It used to be called the black box: the brain of the consumer that no marketer can control. Today we know much better what works and there are so-called influencing principles. This way we listen more quickly to someone in a doctor's coat because that radiates authority, for example. Thomas de . wrote for Emerce Influencing principles of successful content marketing.
4. Search Engine Friendly
Google also likes to put the customer first, with its focus on an optimal experience for Google users. Google wants to provide the most relevant information. Do not (just) look at how you can get as high as possible in Google, but how you can help your customer as best as possible. Then Google will follow automatically.