The balance between SEO and SEA is called SEM – explanation and 6 tips to choose
Search Engine Optimization (SEO), Search Engine Advertising (SEA) and Search Engine Marketing (SEA) are terms that are used very regularly by online marketers. What do these terms actually mean? In what ways can SEO, SEA and SEM be used? How do these techniques contribute to the performance of my website? These are questions that a starting internet entrepreneur has to deal with. In this short article we describe the differences between these techniques. We also explain for what purposes you can use these techniques. 
SEM is about search engines, especially Google of course.
SEO are search results, SEA are the ads. Example:
SEO: slowly but surely being found in Google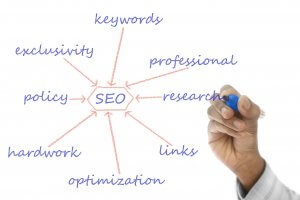 SEO (search engine optimization) is a term used for activities that help improve your rankings within search engines. The higher you appear in the search results, the more internet users will visit your website. It is not easy to get higher in Google quickly with SEO. This is also the reason that many online marketers view SEO as a longer-term technique and often a specialized one SEO agency switch. One option you have to apply SEO to your current website is to periodically add content, optimize the existing content, set up a link profile, and so on.
By optimized content we mean content that matches the information on your website and the correct information keyword density has. The keyword density of a text is the percentage that indicates how often a keyword is included in the text. Internet marketers normally recommend that the most important keyword, 2-3%, cover the entire text. A good text usually has a length of at least 300 words. But that's just the beginning: Google values informative texts that provide answers best. That means you're not just writing for Google: you want to keep your reader on your site. Ultimately, it is also about what the reader does next: conversion. Getting your visitors to your site through Google is only the first step. You really get higher in Google with quality content.
SEA: directly at the top of Google for a fee

Where SEO is focused on the longer term, you can use SEA (search engine advertising) achieve better results in the short term. SEA is nothing more than advertising in search engines. This means that you pay for the traffic that comes to your website via these search engines. However, this does not mean that SEA is easy! On the contrary, because you want to appeal to the right target group with these advertisements. After all, it is a shame if a visitor comes to your website through a paid advertisement, but then does not purchase a service or product. Especially with products that are only popular for a short time, SEA is a smart way to attract visitors.
For popular keywords you pay a higher price per click than for less interesting keywords. This is because the price per click is determined on the basis of an auction. The more parties show interest in a keyword, the higher the price they offer. For example, advertising on the keyword "mortgage" will quickly cost you 5 euros! The art of SEA is finding cheap keywords that are relevant to your website. Google also uses a quality score for your ads, which determines the relevance for the visitor. With a good Quality Score and low budget, you can still outperform a competitor with a high budget and low Quality Score. Here's how to get the Google Adwords quality score increases.
Combination of SEO and SEA: 6 tips
SEM combines SEO with SEA. This way you have a solid strategy for the future with SEM. By applying SEO techniques you work on a good basis for high positions in the future. While you use SEA to improve your performance in the short term.
Do you have enough time? Then focus on SEO. Later, when you need it, you reap the benefits with good positions, especially with good content.
Do you need turnover now? Then bet on SEA. Make sure that you do not waste money, but continuously improve the results.
Is trust important? SEO builds your online reputation, while SEA is accessible to anyone with money. If trust is a thing in your industry, opt for SEO.
Do you want to tackle SEO professionally? Then outsource it to an SEO agency that knows exactly what works and what doesn't and above all: what is and is not allowed by Google. Here you will find a useful overview of SEO agencies, you can search by place name and you can easily compare the specific services.
The consumer doesn't know any better. A large proportion (40% in 2013, 60% in 2017) of visitors do not see the difference between organic search results and advertisements. Do you want already appeal to your potential customers? Then SEA is a so-called must.
Use Google Analytics. You can see exactly what visitors are doing on your website. Which channel converts better in the short term? And in the long run? What assists does SEA offer? What is the last step for conversion, SEO or SEA? Here you can read how to set conversion goals in Google Analytics.