Startup.info
March 26, 2021
Interview about content marketing now: Bloemse: 'Content Marketing is More Important Than Ever Before'
Agile Marketing Manifesto
January 26, 2021
Dutch version of the agile marketing manifesto: https://agilemarketingmanifesto.org/languages/dutch/
Emerce
October 8, 2020
Article about content marketing after the crisis: https://www.emerce.nl/achtergrond/contentmarketing-na-de-crisis-drie-gevolgen

jooble.com
August 17, 2020
Article about online recruitment: What kind of content do I need to make online recruitment a success?
Jobsora.com
August 13, 2020
Article about employer branding: Working on your employer branding online, how do you do that?
Frankwatching.nl
May 19, 2020
Book review: How do you survive the organizational revolution?
Deloitte
October 17, 2019
Article on Emerce: AI: Next level tax advice with tax-i™
Frankwatching.nl
September 19, 2019
Book review: The Secret of an Immortal Enterprise
ING Business Boost
July 6, 2019
Interview: Online marketing is a means, not an end in itself
Emerce
May 31, 2019
Trend article: 9 online consumer trends for 2019, the year of standardization
listening doc
March 22, 2019
podcast: Five stars at Google. How do you do that?
Frankwatching.nl
January 31, 2019
Trend article: Online state of affairs in 2019: time for a new internet?
Frank.news
August 20, 2018
Article about review marketing: Review marketing in the digital wild west
AD.nl
Nov 9, 2017
As an image specialist asked for my opinion on: The appointment of Dirk Scheringa at a cryptocurrency startup
SEOgeek
May 5, 2017
Guest blog: Why SEO is really about content marketing and Google's endgame
Marketing Facts
Apr 6, 2017
Alleged plagiarism debunked: This is why content marketing also works for low-involvement products
Offshore Vision
February 14, 2017
Interview for offshore event: Gas meets Wind: efficient and gradual
close.nl
May 18, 2016
New Workshops Facebook for companies
Omnileads
February 4, 2016
Guest blog: Getting started with SEO: 7 practical tips to determine your keywords
close.nl
February 2, 2016
Workshop Getting started with SEO: "How can your company be found on Google?"
Socialmedia.blog.nl
January 26, 2016
Do you use social media to file complaints? Participate in the Online # Complaint Survey 2016 (offline as of 2021)
Local Broadcasting Foundation Den Helder
January 23, 2016
Explanation given on the online complaints investigation in the program DWOZ. (offline per 14-10-19)
Den Helder News
January 19, 2016
"Clear investigation into (online) complaints" (offline per 14-10-19)
NHD
January 9, 2016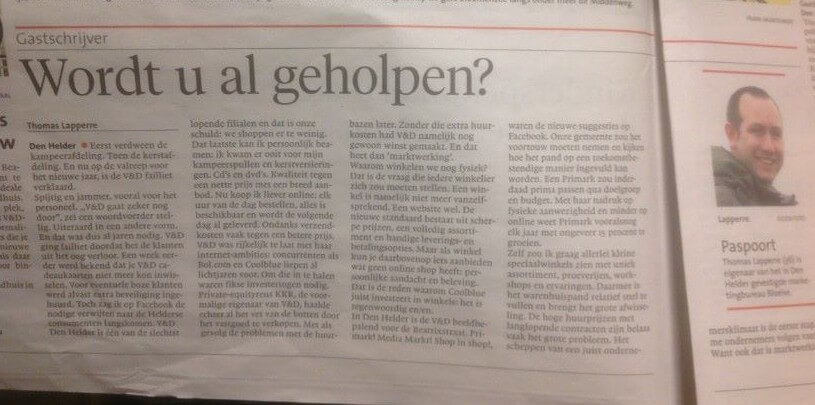 Are you already being helped?
picture – The newspaper of the Helderse middle class
Nov 6, 2015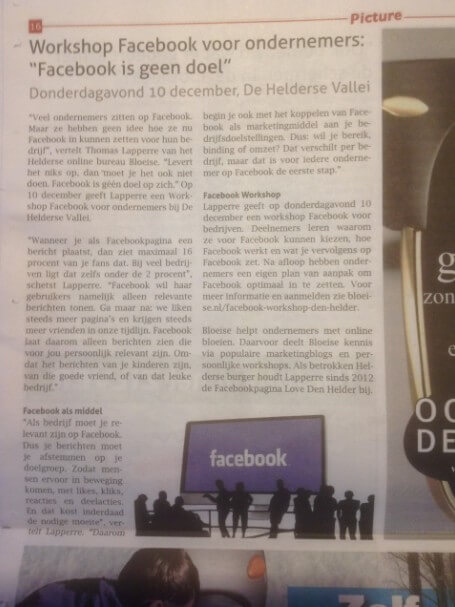 close.nl
Nov 4, 2015
Workshop Facebook for entrepreneurs: "Facebook is not a goal"
head first
January 15, 2015
Interview with entrepreneur platform Headfirst "You should not see yourself as an individual but as a company"
Pewis News Page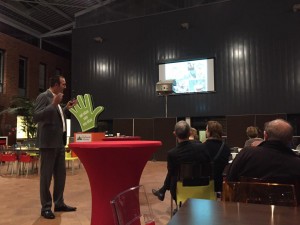 Thursday 20 November 2014
"Entrepreneurs from the Recreation and Tourism sector put Noordkop on the map"
Entrepreneur of the Day at WijNoordHolland
Thursday 25 September 2014
Interview about Bloeise and background.
Interview on Slagtermedia.nl
May 21, 2014
Interview with Thomas Lapperre of Bloeise

Emerce newsletter
Friday 14 February 2014
Named as shaker and mover.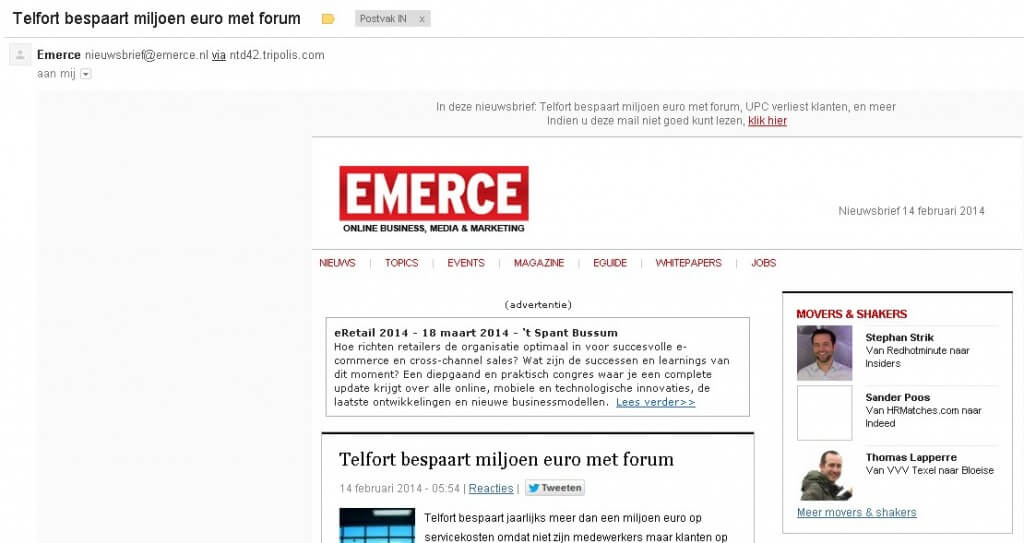 Dordt move
January 2014
Article based on my article for Dutch Cowboys: Hashtags on all social media? 
Helders Weekblad – column by Plein XL
Thursday January 23, 2014
Named under Self at the Battle.
picture – The newspaper of the Helderse middle class
Thursday 21 November 2013

close.nl
October 8, 2013
"Flowering with a sharp pen – Online communication agency Bloeise starts"

Texel Courant
Friday October 4, 2013
Photo by Daniel Roozing.