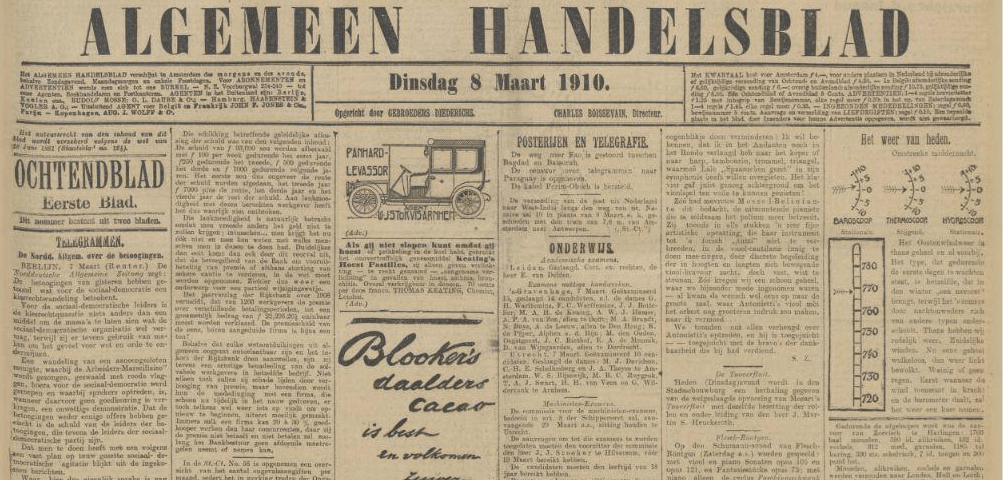 Column: The total picture of advertising
Text without images attracts less attention. After seven days without header photos on the website, I've figured it out. My WordPress template was no longer updated. This meant that visitors no longer got the total picture. And that is not conducive to communication power. A look at footage.
A picture can tell more than 1000 words. But up there? A photo with a person in it stands out more than without a person. A half-naked person does it again better than a covered person. Video works better than still image. You can complete the last superlative step yourself.
Appearance
A blog without images is almost reminiscent of a pre-war newspaper. You really have to go head-hunting to see what it's about. A beautiful image immediately makes a better story. As a blogger, that means you're not just a writer. The overall picture must be right, the appearance must match the blog and the company behind it.
The 3-30-300 rule
How do text and image work together? The 3-30-300 rule illustrates that clearly:
You have three seconds to catch the eye. Similar to the two seconds to judge someone. In three seconds you mainly see the title and the accompanying image. If the image immediately conveys a mediocre or bad feeling, it colors the assessment: am I going to read this? Do I click or scroll through?
You have 30 seconds to interest your reader. You do that with a rock-solid intro, headings and any other images. The intro should immediately evoke relevance, such as a recognizable problem, a strong promise or an intriguing question. The more your article connects to an audience, the easier it is to engage your readers. Of course, the intro must match the title and image.
You have 300 seconds to keep the promise. After five minutes it is ready: the reader wants to continue. Either the article has been read, or the article is being saved for later, or it's just had enough. The average reading speed is 300 words per minute. Do you write a lot longer than 1500 words? Then it is wise to also make it available as a PDF for later. Useful for collecting email addresses, for example.
The right picture
As a freelance blogger for Emerce, I was initially allowed to search for an image for the blog in a stock photo database. Fortunately, that task was later taken over by a designer or other type of image specialist, because that is quite difficult, especially because you want to show the right image for such a well-known and popular blog. This article made that clear to me: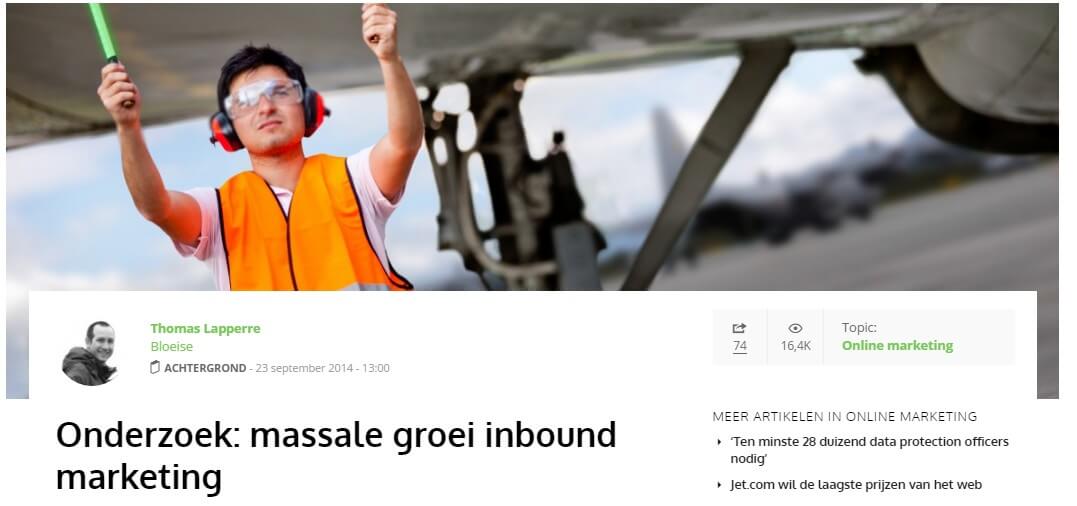 The article is about inbound marketing: attracting customers. Something that is illustrated by Jan and everyone with magnets. The image specialist chose a 'plane flagger': someone who signals an aircraft in the right direction.
Find footage
But sometimes you have to find the footage yourself. There are countless sites that offer images for free – that is, to use commercially without citing the source or risk of claims or lawsuits. I recommend this list:
There are many more of course. Here is a short list of lists:
You can edit images for free with gimp or Picmonkey.com.
Choose footage
So I find this a difficult job, and I can imagine that I am not alone in this. I would like to give the following tips:
Does it fit your website? Do header photos consist of photos or illustrations? Are there any house style colors that you would like to keep coming back to? Does the image fit your brand? For example, on Bloeise you will regularly find photos of plants.
Does it support your story? The image should empower your story, not confuse it. Does a reader understand what you want to say within three seconds based on your image and your title? Whether you're talking about a product, service or making a comparison, the subject should be central to the image.
Does it evoke emotion? Typical emotions evoked with images are: fear, confidence, jealousy, pride, nostalgia. What does the image do to the reader on an emotional level?
Quality! Sharp photo at the right size that clearly radiates quality. Unique to your audience: Not the kind of image all your competitors use. Originality is a sign of quality.
People? People like to watch people. But rather not stock photo people: beautiful multicultural office workers in wrinkle-free tailor-made suits laughing and giggling drinking milk while watching a PowerPoint presentation. It should be your target audience that you show. Also pay attention to the clothes: do they suit your target group? What does a 70s outfit say, for example?
Of course also with offline advertising
Of course, the above applies just as well to offline Commercial material such as flyers, letter paper, business cards, envelopes, coasters, stickers, folders or banners. Because there are two major differences with online communication:
It's impersonal. One to many as it is called. Made once and then freely distributed. Of course: you can personalize a mailing, but you can't do that with business cards or posters. You choose the target group by the way of distribution: who do you give a business card, where do you hang the poster.
It's real life. And yes, that is a positive thing. J It just means that the target group is usually not sitting behind their PC when they see the advertising message, and they have to reach for their mobile. Offline advertising material does not so quickly result in clicks, rather in views, which may later lead to an action. That makes the importance of the right image even greater.
Your own image bank
Last tip: create your own image bank. Images that fit your business and that illustrate recurring themes well. Just look at the standard photo of a Nu.nl in a message about police deployment, for example. If you are looking for images, don't just do this for that one blog that you want to send out into the world right now, but choose possible images and save them. This way you get a lot more feeling with the right subjects, colors and originality.