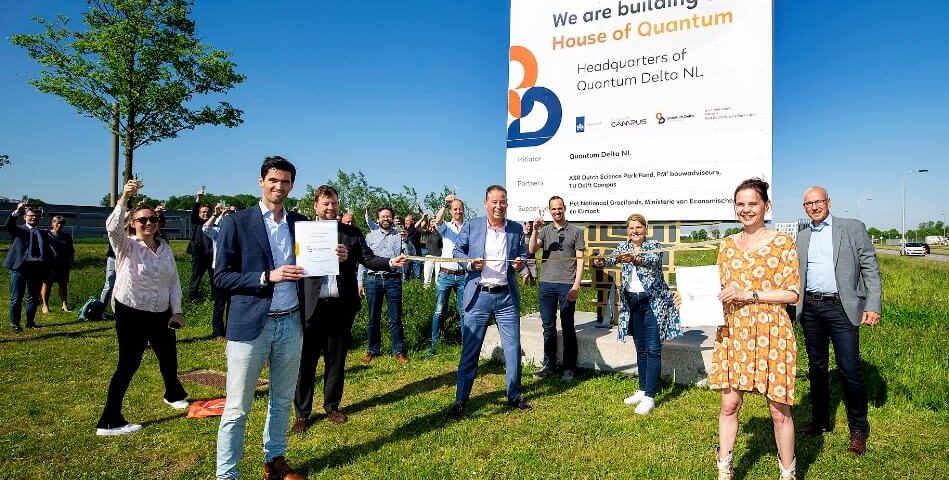 Construction of 'national headquarters for quantum technology' in Delft has started
House of Quantum must become the calling card for Europe in the field of quantum technology
The Netherlands will have a House of Quantum. The House of Quantum will be known as the smartest 12,000 square 'quantum meters' in Europe and will be built around an ecosystem of companies, financiers and researchers who create the quantum technologies and the business of tomorrow. In the presence of the mayor of Delft, Marja van Bijsterveldt, the rector of TU Delft, Tim van der Hagen, Quantum Delta NL director Freeke Heijman and director of the ASR Dutch Science Park Fund, Luc Joosten, the first building sign was symbolically opened today. put down.
The House of Quantum will be located on the southern part of the TU Delft Campus, which has made the land available for this ambitious project. It will be close to the highway and prestigious knowledge institutes QuTech and TNO and will soon accommodate various startups, corporate (field) labs and shared tech facilities. Part of the Faculty of Applied Sciences is already located on the TU Delft campus and a new cleanroom is also planned, so that all quantum and nano activities will soon be clustered within walking distance of each other.
The House of Quantum will be the national headquarters of this quantum campus and will be further developed in close collaboration with the ASR Dutch Science Park Fund, which invests in commercially exploitable real estate located on Dutch science parks. That collaboration was also sealed today. Construction will be completed in 2024.
European meeting place for quantum technology
Building a 'wallless' ecosystem and demonstrating the social impact of quantum technology are important pillars of the Quantum Delta NL program that received 615 million euros from the National Growth Fund at the beginning of April. In a 'wallless' ecosystem, scientists, entrepreneurs, students, financiers and companies easily collaborate to accelerate technology development and its adoption. In the case of quantum technology, this acceleration is expected to make a major contribution to solving societal challenges in areas such as energy, food and care.
The House of Quantum will be the physical heart of this ecosystem. An open meeting place around quantum technology where various functions are integrated: space for scientists, start-ups and business, combined with spaces for meeting and interaction. Also part of the House of Quantum will be the world's first Living Lab Quantum and Society: a digital and physical environment where companies, governments, civil society organizations, scientists and citizens come together to help society with quantum technology through shared ethical, legal and societal standards to develop. There will also be shared high-tech research facilities: the building will therefore provide a high-tech environment for developing and testing quantum technology. Access to these facilities is now prohibitively expensive for many businesses.
Freeke Heijman, founder and director of ecosystems Quantum Delta NL: "With the House of Quantum, we are taking the next important step in building the best ecosystem for quantum technology for Europe. It's great to soon have a place where our program comes together 'physically'. This is really going to be our calling card to the world."
Victor Land, who works at QuSoft in Amsterdam and leads the Living Lab Quantum and Society at Quantum Delta NL: "With the arrival of the House of Quantum, we are helping to build a national quantum ecosystem with an international impact. And we create a place where we jointly develop technology and applications for a healthy society for everyone."
Tim van der Hagen, Rector Magnificus/chairman of the Executive Board of TU Delft: "TU Delft is one of the world's top players in quantum research. As a university, we are therefore extremely happy and proud with the arrival of the House of Quantum, which will form the heart of the Dutch quantum ecosystem. TU Delft Campus is the ideal place for business and science to collaborate on the development of this key technology."
Luc Joosten, director ASR Dutch Science Park Fund: "Quantum technology potentially has a major impact on our society. Applications of quantum technology can lead to breakthroughs in areas such as new materials and new medicines. With the investment in House of Quantum, we are realizing an inspiring working environment in which quantum technology is central, thereby creating a positive impact on the ecosystem of the TU Delft Campus."
Submitted press releases are not the responsibility of the editors
Photo provided by Rutger Huizenga, communication Quantum Delta NL