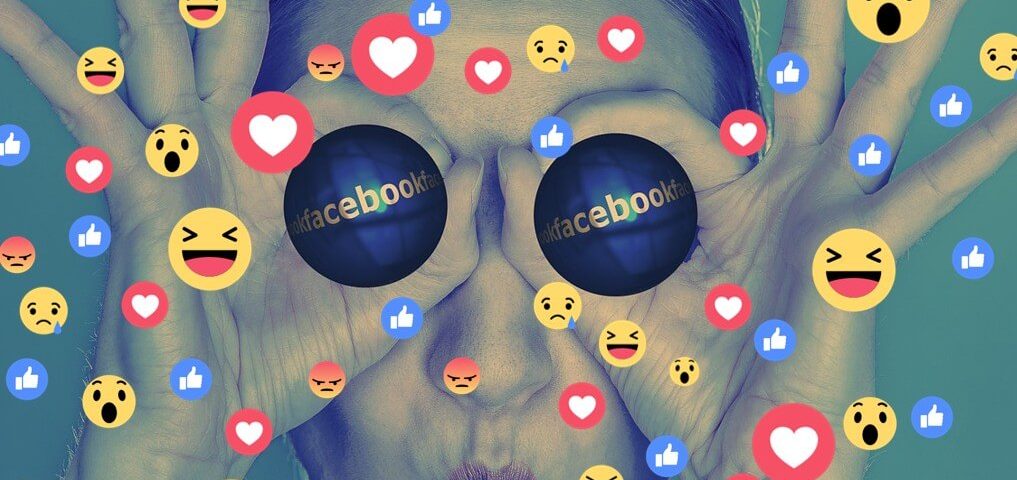 Facebook content ideas – What do you actually post on your Facebook page? 41 tips for more interacting Facebook posts
Everyone is on Facebook and companies follow, of course. Then you have to maintain your page with 'nice' Facebook content. Basically you just want to make sales, but your fans want to be entertained most of all. And all Facebook marketing however, sometimes you just want practical tips and sensible ideas. This list is meant for that oh-no-what-am-I-going-post-on-Facebook moment (…and is constantly being supplemented!)
Schedule your Facebook posts
Key Tip: Take advantage of Facebook's post scheduling feature. Click the arrow next to Publish and schedule. Once a day is fine, three or two times a week at least. You can find your scheduled messages in your activity log, through Settings, at the bottom of the menu on the left. Here you can edit or delete those messages again.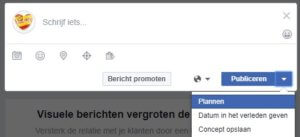 41 ideas for interactive Facebook content
The premise of Facebook is: only interesting content generates interaction, and interaction provides reach. Many things are generally interesting (humour!), but when you address your own target group, only then does it become personally interesting and you also get more involvement. Just look at any Facebook page for a political party or football club.
Which Facebook ideas can you use right now?
What did they like before? And when? Go to posts via statistics. Here you can see the reach and involvement (reactions + clicks + shares) per message. This way you immediately see what your fans want. Above it you can see when your fans are online. Schedule an hour before the climax: the interaction in that hour puts you above competing content that is only posted then.
You decide! Name two or three products or services and let your fans choose which one they like the most. You can choose via comment, hashtag or emoticon.
A freshly painted house…. Let your fans finish the sentence. Sit down at the level that appeals to them (the ultimate benefits of your product or service). So no paint, but a painted house. No soybeans, but vegetarian lifestyle.
Make up a title. Under a special photo, which seems to want to tell something but can go in all directions.
What isn't it? Show a photo and ask your fans to name what it isn't. Funny reactions guaranteed, with a chance of bawdy.
#Throwbackthursday or #tbt. Not everyone knows. On Thursday you share a memory, a story.
Behind the scenes. This is how Bert bakes your bread. This is Yvonne, she does the administration. Kees is our warehouse man. These grilled sausages will be ready in two hours. Transparency and a personal approach work well.
selfie. Made the craftsman or professional woman with a job done, or an immense challenge. Choose outside for a sunny moment. Or not on purpose. For plumbers, painters and window cleaners.
Ask a Question. Something you struggle with, something you really want to know from your fans. Not to fill the space, but because you value the opinion of your fans.
Share a quote. Provided: from someone who fits your company. So as a cleaning company, don't choose Lady Gaga quotes, unless the employees can work (and dance) on them. Look at your core values and translate them into your customer relationship.
In use. Watch Jimmy drive now that he's got his driver's license. That's how grandma Jannie uses her cell phone. Kater Snorri only finds the packaging box interesting.
Weather. How does that reflect on your business? Free ice cream for the first 5 people to reach your local store within 15 minutes? Or do you offer to bring today because of the weather?
The season. How do your fans experience the season? What does that mean for your product or service? Make a difference in meteorological season and emotional.
Celebrate. Also an inhaker: national holidays. Valentine, Easter, spring break, Liberation Day, Sinterklaas, Sint Maarten, Christmas, New Year. Celebrate!
Did you know? Provide a fact about yourself, the company, your brand or product. Why is Bloeise so called? Why do we sometimes call Marco Marco Mier?
Fact! A substantive did you know: figures from a study or interesting statistics. Wind energy is cheaper than coal energy in most US states.
Game. Where is the cat in this picture with owls, find the x differences, guess the picture, which bucket is full first etc. Make it challenging.
Number of fans. You can celebrate the umpteenth fan! But how will you treat?
A nice response. In person, by phone, by email, chat or as a review. Share it, but please respect the privacy. If it is already public, such as a Facebook comment or a Google review, you can post it immediately. Otherwise do not mention by name, or ask first.
True or False. Avoid confrontations and keep it fun. Beer is liquid bread. Cats use a separate language for humans. Some peoples use the same word for green and blue.
Useful! Share a tip to use your product or service, or a free tool such as Screen Hunter Free for taking screenshots. (as above)
A day in the life. Of a special person or profession. Post a description and name the separate things. We start the day as a team with a group hug.
Most read. On your website or blog. Also tell us why this is the most read.
Nice balances. Give a tip for a better work-life balance. Something everyone struggles with right now.
Humour. Orphan. For real. Careful. Many topics you should avoid as a company: bullying, illness, death, football, religion, stereotypes, drink, drugs, sex, politics, etc. ALWAYS verify with someone else before posting. ALWAYS (repeat for emphasis). What *usually* is possible: food, aging, animals, pun, stupidity. But that also depends on your target audience.
Employee of the week. Jordy is always on time, whistles while sweeping and likes to chat. Do you also think he's a superstar?
Received from a customer. Nice bottle of beer, cake or chocolates from Belgium. emotion.
What are we doing? sneak peek! This is coming. New machine, new product, new service, new customer group or new direction of the company.
Why we support this charity. Share your connection to that charity. Don't make it too "beggarly" because that can scare people off.
This is also possible. The Coolblue packaging box converted into AT AT (Star Wars? Hoth?). Cola as deruster. A shower rod for your shirts.
Facebook content trends for 2018. Think about what trends you can expect for next year or this year (if you are in the beginning). No idea? Translate to English and Google. Keep it short and make a list of trends. Ask your fans if they recognize this.
Look at your competition on the page. What gets a lot of interaction with them? Look at your direct competitors, but also, for example, in another European country.
Ask your question… Peter on accounting. Or Andrea about nail polishes. Announce a post at a special time, responding to the most interacting comments.
Contest / Contest. Want to win a weekend on Texel? Tag someone you would like to sit in this house with. But do stick to the Facebook terms and conditions for promotions.
Course or training done. Your customers want to be well served by skilled staff. Feel free to share your latest training or education, of course only if it was successful.
emergency response training. Our reception is prepared for anything.
What happened last. A customer asked me why we…. Or: I was recently on a train. Across from me sat a…. Or: Did you also read this newspaper article? I was wondering…
Reply to a tweet. Take a screenshot of a public tweet, for example from a specialist or speaker from your industry. Because a tweet only has 140 characters, you can always give some explanation.
To challenge. Facebookless Sunday. Your house in order in 30 days. 1000 newsletter subscriptions added. Grab a goal that every fan wants, and guide them along with a series of posts. Make every post recognizable.
Croquette sandwich. What do you eat for lunch? Is that Friday fat-bite day? Which snacks do you get? How good is your coffee? Everyone has to eat and drink, so feel free to share. Give it a twist: John loves jalapeño peppers, Piet joins in every Friday with a bite of fresh fish.
Who is going… This one works surprisingly well: a list of names and a bold statement above it. Who's going to Asia. Who's going to give a round? Who sleeps with a stuffed animal. By tagging friends, you as a Facebook user make a joke that provokes further interaction.
Facebook content that works – three questions
You have a list of ideas. For each idea, ask yourself these three questions:
Can I schedule and post it now or do I have to verify it?
Am I addressing my target audience? Is it interesting?
Does it evoke interaction? Is it likeable?
Voila. You can start feeding content to your fans. like.
Facebook marketing in 60 minutes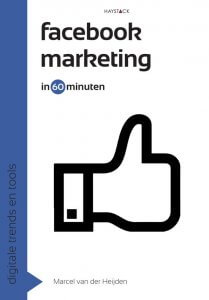 € 12,50 via Bol.com
Excellent book to start advertising on Facebook. Makes you think about your Facebook goals. What do you ultimately want to achieve? This book explains the basics in 60 minutes.
Written by Marcel van der Heijden, founder a friend of mine?, the first Facebook marketing agency in the Netherlands. View here on Bol.com.
DOWNLOAD Facebook for Business Checklist
Everything to quickly and effectively put your Facebook page live