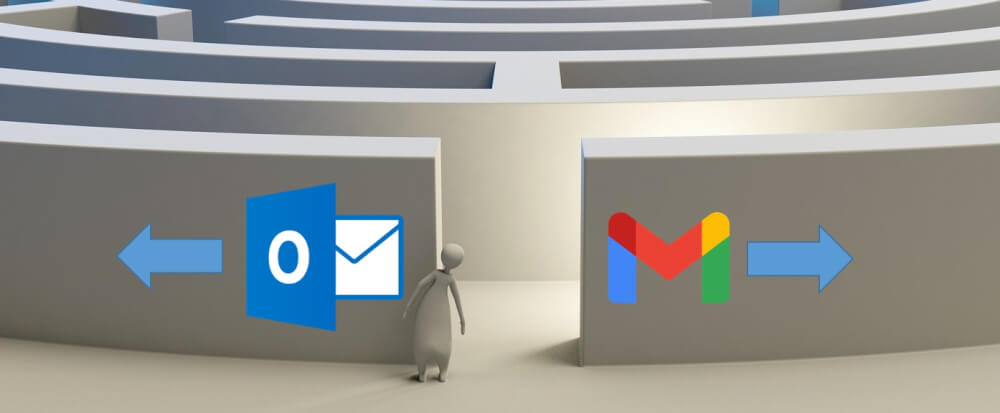 From Gmail to Outlook: how it works and what to watch out for
Many entrepreneurs who started small and see their business grow over time sooner or later run into typical growth problems. Do your bookkeeping manually, for example, or have to prepare invoices more and more often. Setting up your business e-mail is also such a problem. Gmail and Outlook are the two tools entrepreneurs use to tackle this problem. Which one should you choose? What are the pros and cons? And how easily can you switch from one to the other?

Gmail – Email from Google
Gmail is currently the most used email tool in the Netherlands. Many starting entrepreneurs use Gmail as soon as they start their business. After all, this has a few advantages: you know exactly how the program works, you get a lot of free storage space and you want a Google account for it anyway. Google My BusinessSo that saves another account. For a few bucks a year you can buy a G Suite account, which means you no longer have an @gmail.com address, but a professional-looking email address. Fine right?
Gmail facts
Gmail was created in 2001 by Google Developer Paul Buchheit. He made the first version in a day by cleverly reusing code from Google Groups.
Gmail was a secret project that most people at Google knew nothing about. At the beginning of 2004, almost everyone within Google was using it.
Gmail became freely available on April 1, 2004 with a storage limit of 1 GB, while similar free email services offered less than 100 MB.
Google introduced the Cherokee language in Gmail in 2012, spoken by just 20,000 of a population of 250,000. Barely 100 of them speak any other language than Cherokee.
It is important to realize that G Suite, the business version of Gmail, differs drastically from the (free) private version. G Suite offers a suite that includes calendar management, supports comprehensive cloud storage (and file sharing), a ERP package, and gives administrators the option to centrally manage the package.
Spam, missed emails, other Gmail issues?

However, as soon as Gmail is used more intensively, many entrepreneurs run into issues. The spam filter incorrectly blocks e-mails, you miss e-mails because Gmail incorrectly groups them and customers do not receive your e-mails (or find them later in their spam box). That's when many entrepreneurs consider leaving Gmail.
However, that is by no means necessary. Many of these problems can be easily solved in Gmail's settings. The infamous conversation view, for example, is on by default, but you can switch it off with one click. Your e-mails will then no longer be bundled, but 'just' as separate e-mails. The conversation view can be useful if there is a lot of e-mailing back and forth by different contacts about one subject, but it also regularly breaks down. For example, when unrelated mails have the same subject, or when a short comment (only addressed to you) is made in between in such a mail chain. You will miss emails and of course you don't want that.
Gmail's spam filter generally works well, but of course it's not sacred. What used to be impossible, but is now possible, is manually blocking senders in Gmail. In addition, it is important to regularly check your spam box and to tell Gmail which emails have been incorrectly marked as spam. So you can help the tool with learning and you should do that if you want to use Gmail worry-free.
Yet companies often turn to Gmail as soon as more employees are hired. The standard at larger enterprises is therefore Outlook, which many entrepreneurs will still know from their time with a boss.
Outlook – free personal email and calendar from Microsoft

Outlook is now part of a large Office 365 Enterprise package that is used by many companies in the SMB and LE segment. The advantages are many: you have calendar management, business mail and links with other tools such as Teams all in one program. The collaboration with other Office tools (such as Word and Excel) is also flawless.
Outlook is also a classic e-mail program with a recognizable interface and a longer history. The program has more options than Gmail and more options to customize both the operation and the layout to your own liking. Finally, definitely not unimportant: Outlook is made in the Enterprise edition of Office 365 to be easily managed by an administrator (your IT department, that is). This way you can easily push any account to your employee's mobile device, for example. Ideal, you might say.
High costs, abundance of options
Yet Outlook is not sacred either. The abundance of options means that many users do not use the program optimally or do not know how it works exactly. In addition, the costs of Outlook are high. You pay per user per month and those costs amount to more than a hundred euros per year per user. Multiply that by the number of employees and you have an idea of the financial impact.
However, many entrepreneurs still take the step to eventually take an Office 365 package for their entire company, including Outlook. What if you've been on Gmail for a while? Can you easily switch?
Switch from Gmail to Outlook

Switching from Gmail to Outlook is a little more complicated than installing one program and uninstalling another. After all, you don't want to lose emails, take your contacts with you and transfer your calendar one-to-one.
Fortunately, Microsoft professional support with which you can make the transition step by step. Your original domain (i.e. your e-mail addresses) will be preserved, which is of course a precondition for many companies.
Importing your e-mails, files, contacts and calendar takes place in separate steps, where it is important to check after completing each step whether everything works and has been copied correctly. You may find flaws, but the bottom line is that nothing needs to be lost. Be prepared for a full day of work.
A switch to Outlook, especially if you are going to use the entire Office 365 package anyway, is certainly not impossible. But what if you actually liked Gmail just fine? Can't combine the benefits of Outlook and Gmail?
Gmail and Outlook side by side

Gmail and Outlook can be used side by side. You can load your account information as you created it in G Suite into Outlook. What is important here is the setting to leave mails on the original server. This way you can receive your emails both via the G Suite environment and via Outlook and your inboxes do not differ from each other.
For example, you can use the Gmail app on your mobile device, but work from Outlook on your desktop. It will never be completely ideal, because the apps do not talk to each other continuously, but using Gmail and Outlook side by side is by no means impossible.
One small drawback: you lose twice your money, and that's a high price for a little bit of convenience. So the chef's tip is: choose one of the two and take the possible disadvantages for granted.