History of the internet and social media
History of the Internet and Social Media
If you look at the development of the internet as we know it, three things stand out: Technic, offer and behaviour. It starts with technical innovation, such as the first email and the first major bulletin board. That changes the way we look. Then there will be new offerings, such as XS4all, the first Dutch internet provider. The market breaks open. Other players follow and the entire playing field changes. Consumer behavior is evolving: we are going to use more internet, social media, 4G. Pay attention to these 3 things, technology, supply and behavior, and you will immediately see how the history of the internet is playing out. It is then easy to see which direction we are heading: what technical innovations are there? What offer is there? How do we respond to this as consumers with our behavior?
Since when does the internet exist?
Simple question, but the answer depends on the definition you use:
The very beginning of the internet: On October 29 1969 10.30 pm PST (Pacific Time, is 9 hours later in Amsterdam CEST, so 7.30 am on October 30, 1969) it became first internet message ever ("lo") sent by UCLA programming student Charley Kliney from Boelter Hall 3420, via ARPANET, the forerunner of the Internet.
The Birth of the WWW: It WWW is a number of technical conventions (URL, HTML, HTTP) that 'somewhere' in 1989 by internet grandfather Tim Berners-Lee was developed. On August 6, 1991 he posted a brief overview of the WWW project on the newsgroup alt.hypertext. This is how the WWW became publicly accessible, which is why many see this date as the birth date of the worldwide web.
The run-up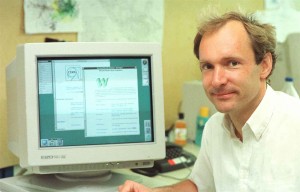 Tim Berners-Lee, grandfather of the internet. (source: CERN)
1969

1971

First message ever sent between two computers via ARPANET: "lo"

First email sent

1978
First bulletin board: to inform friends about appointments, announcements and share information. The first virtual community and the first emergence of social media.
1979
First major bulletin board: Usenet. For exchanging messages and files. Actually the first real social media, but without profiles, text-based.
1985
Start from America Online Service: This pioneering American Internet service provider is the beginning of the Internet for the first Americans online. Launch of dedicated online service for Commodore 64 and 128 called Quantum Link of Q-Link. AOL will grow to 20 million users by 1995.
1988
Nov 17, 1988: Netherlands connected to the internet. Center for Mathematics and Computer Science receives first direct e-mail in the Netherlands.

1989
Beginning of itWorld Wide Web (WWW) through Tim Berners-Lee
1990

1991

First website ever goes live. View it here

August 6th birthday of the WWW Tim Berners-Lee shares his WWW project on the newsgroup alt.hypertext (unfortunately closed due to spam)

1993

First Browser Ever: Mosaic
Web pages
200 web servers online
First Dutch public internet provider XS4ALL
In the beginning, the internet was mainly the domain of scientists and nerds. Developments went steadily, but please note: social media was already there in the form of bulletin boards. There was plenty of posting and files exchanged on this. This was a time of pioneering and discovery. Tim Berners-Lee is the grandfather of the Internet as we know it: he is the creator and founder of the WWW, he wrote the first web browser Mosaic and set up the first web server. A web server is a computer (or rather a program on a computer) to which you can send a request to get a response. With a browser you do just that: you go to a URL, which points to a web server, where you request to see the content. A connection is made: your browser and the web server have a whole conversation.
The start of the internet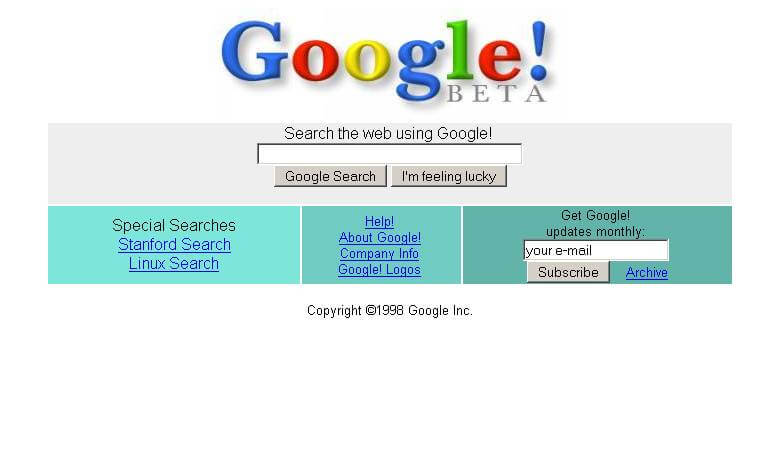 google! search engine in 1998 
1994

Start of Geocities: free personal homepages. Since then taken offline by Yahoo, but by Oocities.org still kept online as internet history. Check out my first ever website here: Worm tunnel. (now propped up by the Internet Archive).
1500 web servers online
Digital city of Amsterdam
Start from Yahoo
Introduction ISDN by KPN

1995

Start from Amazon
Start from Ebay
Start from Classmates.com, the first real profile site

1996

Start from ICQ, the first stand-alone instant messenger (IM) to be widely adopted. (get a message sounded so)

1997

1 million websites
 Start of blogging
 AOL instant messenger goes live (AIM). In 2008, AIM had a market share of 35% in the United States.
The first video "badday.mpg" goes viral vi

1998

Start from google

1999

Start from MSN Messenger (get a message sounded so)

2000

70 million connected PCs
Attendance Napster
Attendance CU2
KPN offers ADSL On

2001

Exploding the internet bubble (web 1.0)
Start from Wikipedia
Start sales iPods by Apple

2002

Start from friendster, social network site with 1 million profiles
61% of the Dutch has used the internet in the past 3 months

2003

Start from Myspace: 3 million users in 3 months
Linden Lab launches Second Life
Start from LinkedIn
Start from iTunes
3 billion websites

2004

Start from facebook (student version of friendster)
Myspace beats friendster
Podcasting
Start from flickr
Start from Digg : social news website
Start from Hyves
Internet got off to a good start. Well… it wasn't until 2000 that ADSL was introduced. Anyone who was on the internet before that still remembers the endless cracking of the modem (quickly a minute) that first connected via the telephone. And you only had a 56k connection, so there was little speed in it. Now there were very few pictures before that too, so sites were light. ADSL really brought about innovation: the internet became visual. Icons instead of texts. And later streaming video came through, with the start of a video website where you could introduce yourself as a potential candidate for a vacancy: Youtube.
Second round internet history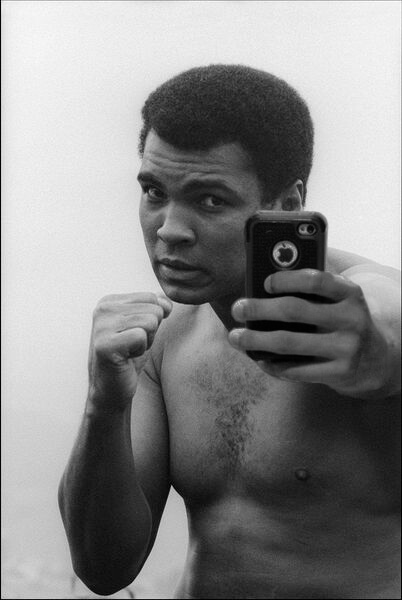 Muhammed Ali selfie by Frank Haenen
"Every two days now we create as much information as we did from the dawn of civilization up until 2003. That's something like five exabytes of data."
Eric Schmidt, CEO Google
2005

Start from Youtube
Attendance web 2.0
8 billion websites
79% of the Dutch have used the internet in the past 3 months
facebook starts with to advertise (more about advertise in Facebook)

2006

Start from Twitter, microblogging
facebook accessible to all
25 billion websites
1 billion of the world's population uses the internet
Oct 9: Google buy YouTube for $1.7 billion (more on YouTube Marketing)

2007

Microsoft buys shares facebook
Facebook launches facebook platform, for third-party developers
Apple launches iPhone:

20% of the Dutch has mobile internet

2008

facebook strives Myspace over in number of unique visitors
presidential candidate Barack Obama has more "friends" on Facebook and Myspace and followers on Twitter than opponent John McCain. Obama Becomes "First Social Media President"
Amazon launches Cloud service
Introduction HTML5
Launch groupon for group purchases
July 10: Apple introduces App Store with 552 applications
World of Warcraft has 11.5 million global users

2009

facebook is number 1 social network with 200 million users
'unfriend' is the word of the year in America (New Oxford American Dictionary)
Twitter is the first to share news Hudson River plane crash
Microsoft launches Bing
A quarter of the world's population uses the internet
58 billion websites

2010

facebook has 400 million users
Hyves lose it to Facebook
Introducing the Facebook like
google launches buzz
Apple launches iPad
Start Pinterest and Instagram (More about Instagram)
Ex-Facebook employee launches questions website Quora
30 percent of the world's population uses the internet
Internet more important for news gathering than newspapers
22% of the Dutch have a smartphone
March 1: NS offers free WIFI on the train
The Hudson River plane crash came first via Twitter outwards, then through other channels. That has caused a true revolution in the news field. A journalist has to be on Twitter, and new challenges now arise such as quickly verifying news before another person is pronounced dead who is still happily walking around.
History of social media
When and how did social media originate? What was the first social media? The history of social media parallels that of the internet. Usenet, since 1979, already allowed users to exchange messages and files. This resulted in discussions about sports, science, literature and music, and in particular illegal copies of games and software. In 1995 there was classmates.com, the very first profile site. Friendster.com in 2002 became the first true social media as we recognize it today with the first 1 million profiles, followed in 2003 by MySpace and LinkedIn. Facebook and Hyves in 2004 were therefore not so revolutionary, but built on earlier innovations and proven techniques.
Why Facebook won from Hyves
In August 2011, Facebook attracted more unique visitors than Hyves in the Netherlands. Facebook was more accessible because it was less extensive, and Facebook was internationally oriented. That is something that will certainly have played a role for the Dutch. Because those new holiday friends asked you if you had Facebook before you explained what Hyves was.
Third phase internet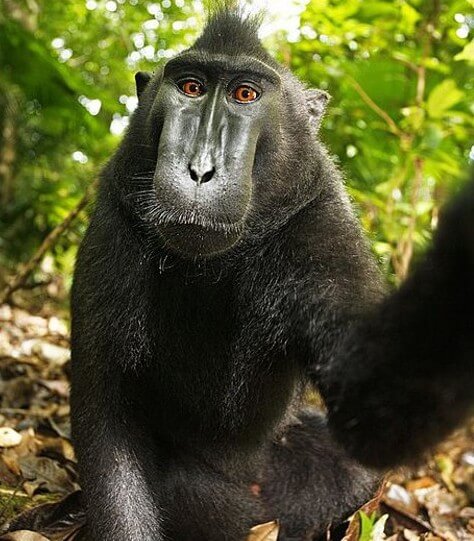 This photo is possible created by David Slaters… but taken by the macaque itself.
2011

facebook has 550 million users
65 million tweets per day
2 billion videos viewed every day on Youtube
52% of the Dutch have a smartphone (in Q4)
14% of the Dutch has a tablet (in Q4), is mainly used for internet, e-mail and social media
#Egypt and #Jan25 are used on Twitter by young Egyptians to tell the world about the Egyptian revolution. Their government shuts down the internet. The internet bubble becomes painfully clear as a result, this explains TED talk from.
Launch Google Plus
Start Bloeise
Start Snapchat

2012

2 billion internet users worldwide
More than half of Americans ages 25-34 use social media in the office. A third of Americans aged 18-24 use social media in the bathroom.
Facebook has a billion users. 66% of the global Internet users use Facebook and 12% use Instagram
Nov 24: The most viewed video clip is Gangnam Style:

60% of the Dutch has mobile internet
Start 4G mobile internet
E-commerce worldwide is at 1 trillion dollars (1000 billion dollars)

2013

facebook has 1.1 billion users
Twitter has 500 million users
In Australia logged 34% through work, 13% through school, 18% in the car, 44% in bed, 7% in the bathroom, 6% in the toilet
Tweet from the International Space Station ISS
Edward Snowden Reveals NSA Monitors Global Communications
94% of the Dutch have used the internet in the past 3 months
Introduction Netflix (TV on demand)
Hyves stops
MSN Messenger stops and switches to Skype
Facebook launches internet.org
69% of the Dutch have a smartphone (Q4)
44% of all Dutch people have a tablet (Q3), a total of 5.6 million tablet users

2014

85% of the world's population has Internet access, 42.4% of the world's population is Internet user
25% of the world's population uses social media
Sep 17: 1 billion websites
1.28 billion Facebook users
72% of the Dutch has a smartphone
56% of Dutch households have a tablet
KPN offers 4G for the whole of the Netherlands
Kickstarter starting in the Netherlands
Attendance The Internet Of Things
Facebook buys company Oculus Rift (VR), as well as WhatsApp for €19 billion

2015

February 25: the Federal Communications Commission (FCC) speaks out in favor net neutrality.
India forbids internet.org from Facebook due to net neutrality
1 June: 3.2 billion internet users worldwide, 45% of the world population
August 27: 1 billion Facebook users logged in in one day
Google X make an appointment with Sri Lanka for full coverage with free internet via Project Loon
85% of the Dutch have a smartphone (Q4), most use in age category 12 and 19 year olds
€16 billion e-commerce spending (Thuiswinkel Waarborg)
Launch of Live Streaming Apps: Meerkat at 2015 SXSW Interactive Festival, Twitter buys Periscope and Facebook launches Live Video.
2 million WiFiSpots and public hotspots via cable

2016

Oculus Rift on the consumer market
67% of Dutch households have a tablet
Most popular smartphone is Samsung (45%), followed by Apple (32%) and Sony (5%)
App developers earn $20 billion in 2016 from apps in the App Store
1 June: 3.6 billion internet users worldwide, 49.5% of the world population
Microsoft buy LinkedIn for $26 billion
facebook adjusts algorithm against clickbait

2017

January 22: American Advisor Conway defends false statement with the term "alternative facts"
March 7th: WikiLeaks publishes vault 7 and shows how the CIA hacks. This results in ransomware attacks: on May 12 WannaCry and on June 27 Petya juni
facebook announces data exchange between Facebook and whatsapp; fined €110 million from the EU
1 June: 3.8 billion internet users worldwide, 51.7% of the world population
October: #MeToo to report sexual harassment or assault.
December: Facebook indicates that excessive use of Facebook without interaction can be harmful.
Smartphone e-commerce: number of tenders via smartphone increased by 2017 in 2017 2017 72%.

2018

2018 declared the year of the chat robot.
January 1, 2018: 17,084,459 Dutch, of which 16,383,879 with internet access, (95,9%).
January 29: the increase in Facebook usage has stopped in the Netherlands. There are 10.8 million Dutch people who use Facebook, of which 7.6 million daily.
January: Facebook announces more news from friends and family in the timeline and less viral content.

August: Google launches Android with Digital Wellbeing. Reporting time spent per app and additional options to reduce notifications.
1 August: Facebook launches new versions of the Facebook app and Instagram app with an activity dashboard. This allows users to see their usage.
August 28: Facebook admits that it has not done enough to spread propaganda and hateful messages in Myanmar that resulted in genocide. according to wired there were already warnings before 2014.
September the 17th: Apple launches iOS 12 with Screen Time. This allows users and parents to limit the time per app and device.
September 30th: WWW founder Tim Berners-Lee announces a new application: solid. This decentralizes the internet and gives users complete control over their data and privacy.
Ecommerce: Dutch spent € 23,7 billion in 2018.

2019

March: 4.346 billion Internet users, 56.1% of the world population.
March 14: Apple launches ITP 2.1 (Intelligent Tracking Prevention) that blocks first-party cookies after seven days.
For now, we are far from the end. An interesting development is Kickstarter, a very successful crowdfunding platform. What's so interesting about crowdfunding? The need is set for the production and marketing. First it is checked whether there is support for it, then it is made and marketed. Marketing from some time ago was precisely aimed at creating the need, after the product had already been invented and made. This is therefore a major change, for which the range has now been expanded in the Netherlands.
Another development is the Amazon cloud service: This has made scalability affordable and instantly accessible to any website and ecommerce platform. As users, we especially notice that sites work faster and offer more functionalities. This makes Amazon the largest hosting provider in the world. (5x the size of all 14 competitors that come after combined).
This is the first in a series of blogs about the Basic knowledge of Online Marketing