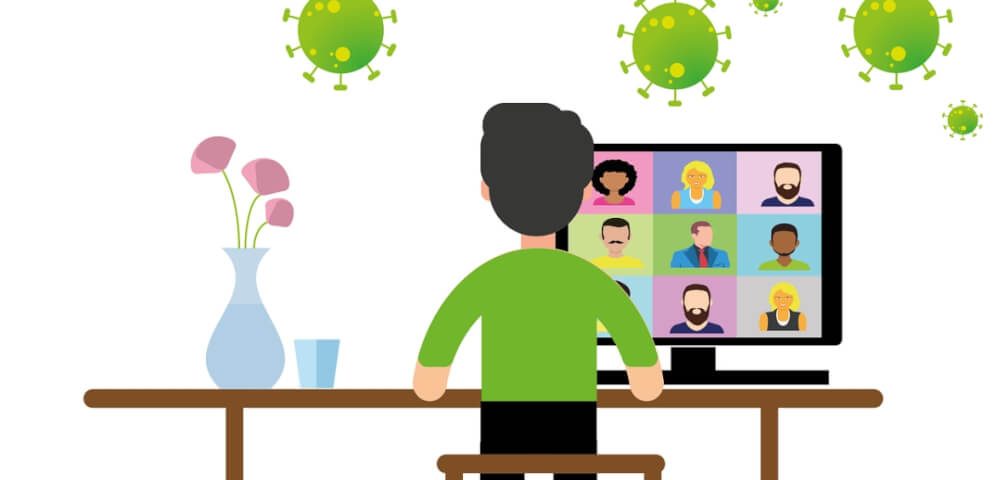 Decorated your office coronaproof in 5 steps
Guest blog by Michiel Smit van Flow in Motion
Furnish your office according to the 1.5 meter guidelines? This can be done in just 5 steps. Working from home has its advantages, but also certainly its disadvantages, such as personal contact, the driving and creative power of colleagues. Working from home is still the advice, but we notice that entrepreneurs miss the interaction and the distance from colleagues is becoming great. Read here how you can make your office corona safe in 5 steps. The most important principles are keeping a distance of 1.5 meters, hygiene and ventilation.

These are the five different areas for your corona office design:
The workplaces and safe zones
meeting
The entrance hall, reception
Corridors and human traffic
Toilets, canteens and shared areas.
STEP 1: THE WORKPLACES AND SAFE ZONES
What do you do with all those workplaces, one and a half meters and hygiene in the workplace?
First look at the room layout and desks. It is best to keep a distance of 1.5 meters between each workplace. If this is not possible, determine which workplace can be used and which cannot, so that there is 1.5 meters between each used workplace. Increase the flexibility of the space by making flex spots of these workplaces. Remove the chairs from the desks that are not to be used. Or stick a green tick or red cross on the desk or floor to indicate use. Visualize a safety zone around the workplace with dots. This indicates the safe space. This is nice for your colleague who works at that workplace, but also for the colleague who comes to ask something or walks past. This visualization is very calming. Remember that if colleagues come to the office for 1 or 2 days, they will seek out the interaction.
If desks are opposite each other and there is no 1.5 meters between them, it is wise to hang cough screens.
Workplace and hygiene
Yes, here's your chance to implement a clean desk policy. Let's hope your colleagues see this as positive and see the benefits. You make it easy for any cleaners to clean everything. An even better idea is to offer your colleagues the right materials and let them clean their workplace themselves.
STEP 2: TO MEET OR NOT MEET
Take a good look at which meetings are necessary or unnecessary. Take a critical look at all meetings that have not taken place in the past period and which have been online. Which of these consultations really did not yield what they should have produced. Wonder how this happened. Time to set it up differently. Pay particular attention to the frequency of the live meeting. For example, you could meet live once a month and 3 times via a screen. Is everyone needed and what are you going to discuss live what really needs to be discussed live?
It is of course important to set up your meeting room for a corona meeting. Keep a distance of 2 meters between each seat. Remove all other chairs or visualize with a nice sticker on the floor or table where the chair belongs, so that the two meters distance remains. Provide sanitizers and have everyone clean the conference table when they leave.
STEP 3 THE RECEPTION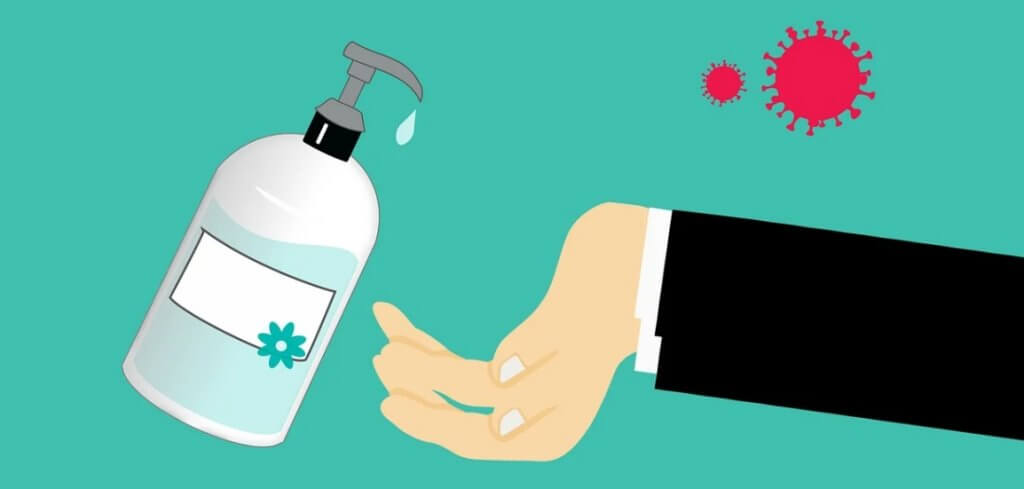 The reception, this is perhaps the least controlled area and therefore deserves extra attention. You will of course receive unknown visitors, whose health you do not know, of whom you do not know how they deal with the measures and who are not aware of your measures. The receptionist has a lot of contact with visitors.
Here are various solutions you can come up with for setting up your coronaproof office:
Prevent visitors
Visualize all your measures at the reception and entrance with stickers on the floor. Create waiting lines, arrows and routes and the like to make people clear about your corona measures.
Make sure that the visitor disinfects or wash his hands on arrival.
Reserve rooms that are close to the entrance and set it up as a meeting room. This allows you to minimize traffic. Coffee? The host can bring these himself for the guest.
Packages and deliveries. Place a cupboard or rack and have package deliverers place the packages there and collect them if necessary.
Place a cough screen at the reception if the distance is not at least 1.5 meters.
STEP 4 THE TRAFFIC FLOWS
Then everyone still has to go to his or her workplace. How do you organize this? Well very simple, use the traffic rules as we do in everyday traffic. Much more complex situations have been handled well there for years. But before you buy a traffic light or put a traffic controller in the hall.
Start with the following steps:
An average person needs 60 cm in width. So when passing at a distance of 1.5 meters, 3.10 meters is needed. If you have this, you can indicate with arrows, footsteps pasted next to the wall that everyone should stay right.
For all narrower corridors and stairs: create a one-way traffic route.
If this doesn't work, then you have to decide who has priority in the hallway. Let the person who has a good view of the corridor give way to the other.
Leave doors open as much as possible for an unobstructed view.
STEP 5 WC'S, CANNABIS
Let your employees use canteens, toilets, copiers and coffee machines as controlled as possible. How do you communicate that a room is "full"? Use the resources you have; leave the door open if the room is not yet full, close the door when the room is full.
Time for a cup of coffee and some colleagues test your plans by reenacting the situations in your office space. And be smart, set it up, possibly start with a small group. Learn from this group and adjust your measures.