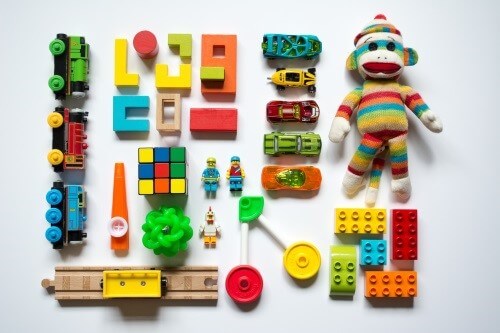 More and more electronic educational toys for sale: should we be concerned?
Guest blog by Juul van Kessel van Educational-toys.nl
In recent years, there has been a strong growth in the number of electronic educational toys for children and babies on the market. There is also a decline in innovation of "basic" educational toys. What does this mean for a child's development, behavior and play skills?
Toys can have a strong influence on the way a child plays with them. When a child is playing with non-electronic object that requires creativity to play with, there are an endless amount of ways it can be played with. When a child plays with, for example, an electronic doll that makes a sound when pressed, there is a limitation on the number of functions and the fantasy that comes with playing. As a result, an average child will finish playing an electronic toy such as a doll faster than, for example, a ball. Electronic toys are constantly advertised on television and online because this market is very innovative, on the other hand, the "old-fashioned" toys are becoming less popular, because children rarely see advertisements about them. Should we worry about this as parents, teachers and masters?
Limitation of individualization
Now when you walk through a toy store, you can clearly see what this means. A huge number of high-tech toys: toys that move by themselves or make music, toys that read the alphabet and devices that can imitate the sounds of animals. Many of these toys contain logos, figures or other visual images that are familiar to parents and children through the many advertisements on TV, YouTube and online. Not so long ago, the shelves of a toy store were filled with cars, blocks and figures whose children themselves were the directors of the function of the toys. Toys whose possibilities were endless in the eyes of a child. The individualization of a child's imagination and creativity is limited when using programmed toys.
Play is important
Research has shown that discovery play is extremely important for children and babies. The combination is important when learning about how the world works. It helps them understand how their bodies work and how to interact with other people, teaches them the consequences of certain actions, and teaches them how to achieve a desired consequence. What happens in a child's environment influences the way they play. For example, playing with adults, where the quality of play influences the growth of the relationship between a child and a parent. This influence comes, for example, from the feedback that children and babies receive while playing with their environment. There is also a positive relationship between the quality of adult play and the development of skills such as problem-solving thinking.
Impact on long-term development
Just as the way adults play influences a child's development, the type of toys also influences a child's development. When a child becomes accustomed to toys with a certain function, a child will expect that all the other toys also have this function. If a child becomes accustomed to electronic toys of which the number of different play options is limited, tells the toy what it can be used for or of which the toy has only one function, then a child in the future will sooner use toys whose function is not clear (such as blocks ) avoid or find it uninteresting. This is why daycares and households have more and more questions about the influence of these types of toys and how they affect a child.
What can we do?
Be very aware of what toys you buy for your child. Be aware of the function limitations of electronic educational toys, despite the marketing about the positive effect of skill development on children. Find a good balance between "old-fashioned" educational toys and electronic educational toys. Create an environment at home or in the classroom that encourages creativity and imagination so that the child enjoys playing with educational toys whose function can be determined by the child. Inform others in your area about the limitations of electronic educational toys so that when buying a gift for your child or other children they consider the consequences even though "the newest, most popular" toys are very attractive at first but maybe also gets bored quickly. Nothing beats blocks, figures and cars with endless ways to play, just like we used to play as kids!
Sources:
Bronson, MB (1995) The Right Stuff for Children Birth to Eight: selecting play materials to support development. Washington, DC: National Association for the Education of Young Children. caruso,
DA (1988) Play and Learning in Infantry: research and implications, Young Children, 43(5), pp. 63-70.
Levin, DE (1996) Endangered Play, Endangered Development: a constructivist view of the role of play in development and learning, in A. Philips (Ed.) Playing for Keeps, pp. 19-27. 73-88 & 168-171. St Paul, MN: Redleaf Press.
Levin, DE (1998) Remote Control Childhood? Combating the Hazards of Media Culture. Washington, DC: National Association for the Education of Young Children.
DIANE E. LEVIN & BARBARA ROSENQUEST Wheelock College, The Increasing Role of Electronic Toys in the Lives of Infants and Toddlers: should we be concerned?