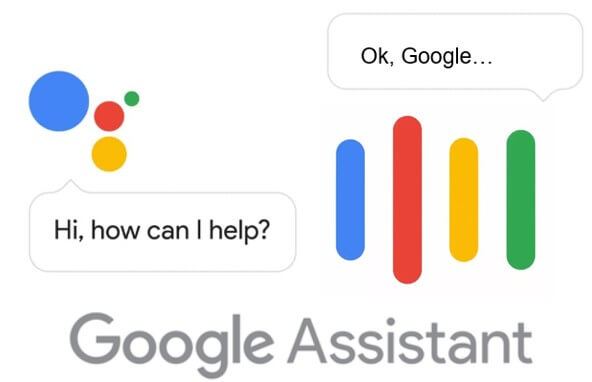 Indent on Google Assistant or not?
We read more and more about it: Google Assistant, the newest speech aid from Google. Your own Siri, Google Home or Alexa, but with more options for the business market. From July 26 in the Netherlands under the Dutch name Google Assitent. What can we actually do with it? Is it actually interesting as the next marketing channel that you as a company have to respond to? Or is it cucumber news?
What is Google Assistant?
Google Assistant is the latest voice application from Google. You can ask the Assistant questions and give commands. This assistant also takes the initiative: the assistant will tell you early in the morning on your way to the office whether there are traffic jams. And if you have an important business meeting, the assistant will remind you.

To be fair, the assistant is quite similar to Siri, Amazon Alexa and other assistants. Yet this assistant is smarter. Google has a considerable amount of data in house. As a result, the helper can help with many things. Ask a question and Google Assistant has an answer.
The possibilities of Google Assistant
Google Assistant sounds handy, but what can you do with it now? In fact, you can do anything you want with it. A kind of database with more than 1 million actions has been created. Do you want to set the alarm? No problem, Google Assistant can do that. Would you like to know what the weather will be? Ask the assistant!

These features may still sound a bit basic. Let's make it much harder. Suppose you want to know which tasks your employees or colleagues have already completed in Asana. Then you connect to 'Zoya Office' and ask the assistant. It's almost like a real secretary.
How do you turn on the Google Assistant?
To activate Google Assistant, touch and hold the home button. Don't have a Google Assistant yet? Then download it from the App Store from Google Play. The assistant is not only available for Android, but also for iOS. Downloading the app is enough to activate the assistant.
Why Dutch companies are participating now
Since the arrival of Google Assistant, a number of companies have already embraced the new voice app. This way, customers of Eneco and Essent already voice their meter readings. In addition, they can ask the Toon smart thermostat to turn the heating down one degree. Taco van den Elskamp, Customer Digital Lead at Eneco has great expectations that the trend for speech technology will soon also spread to the Netherlands.

Also airline company transavia has started working with Google Assistant. It is now possible to request flight information. Handy if you just need to know something before going on a business trip. For example, in the next version it is possible to request the waiting time at security. Transavia will use Schiphol's waiting times API for this. According to the airline, it is a 'great way to start a conversation with the customer'.

Of course it follows KLM, which comes with 'Blue Bot'. With this, a flight can be booked directly on KLM.com. KLM goes much further than Transavia and wants the smart assistant to be helpful, friendly, professional and bold. The more you talk to the assistant, the smarter and more personal she becomes.
Google Assistant is also increasingly used in the media. RTL brings the news through the voice app, by responding to the question: 'What's the news?' and at the NOS allows the user to request the latest radio news. Qmusic even used the assistant as a sidekick on the radio for one morning.
Voice Search marketing is next level
So the madness about Google Assistant is complete, but what good is it to you as an entrepreneur? You could take a look at Voice Search marketing. This works in the same way as search engine marketing, but with the voice. Brands and advertisers can better position themselves by asking themselves whether the keywords are correct as commands, questions and specific words. The words 'best' and 'cheapest' are frequently invoked. In short: the user must be able to have a real conversation with the assistant and Google Assistant must conjure up the best result. There is a lot of work involved with a lot of trial-and-error, but it offers great opportunities in the longer term. Especially now that more and more people are asking questions with their voice, instead of with a search engine.
Voice search marketing expectations
According to Comscore, 50% of all searches in 2020 will soon be via voice. According to Gartner, 30% will even happen without a screen.
Currently, 1 in 6 Americans use a voice-activated speaker, according to Edison Research and NPR. 35.8% of millennials use voice-activated digital assistants at least once a month, according to eMarketer, compared to 10.1% by baby boomers.
One in five (US) consumers has made a purchase via Amazon Echo or another digital assistant with voice. And an additional 33% is expected to do so next year, according to Walker Sands.
Voice as Blue Ocean
Voice-activated technology is still relatively new in the Netherlands. It can be seen as a 'blue ocean': a still unknown and untapped market space, where there is plenty of room to create value. The interesting thing about this is that search engine marketers now have to focus much more on "conversational queries": questions that can come out of a normal conversation. These questions then lead to follow-up questions, which also require a suitable answer. For users, voice offers a springboard to finally stop staring at the screen.
This is also an exciting time for Google itself. Google has to create separate, unique algorithms to provide a relevant answer for every question. The way we use keywords is changing.
OK, Google?
Is Google Assistant a good idea for your business or not? Try it yourself as a consumer and be critical of the system. Do you get really relevant answers and what does this assistant 'hear'? And how does the assistant deal with it? The customer places a microphone in his or her home, which reacts based on algorithms that are never released. You don't know what exactly Google is holding.
On the other hand, speech technology is getting bigger and bigger and offers possibilities. According to an expert, we could even communicate more politely by using 'thank you' as a trigger word. Consider what opportunities the development of voice search marketing offers for your company. You may regret not participating.