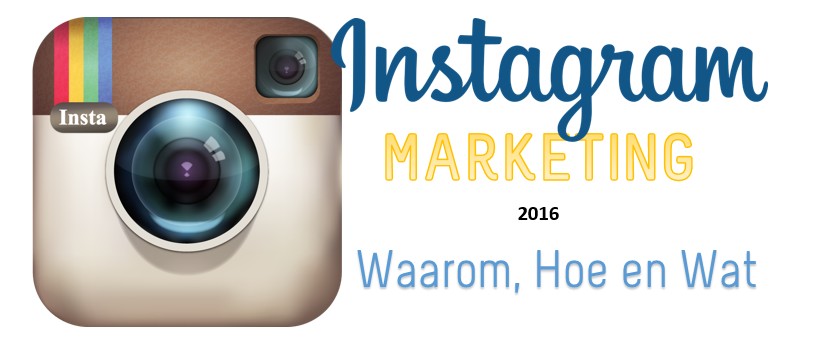 Instagram Marketing: Why, How and What
In the series Why, How and What now the look at Instagram: the social media platform to share beautiful photos. What opportunities does Instagram offer for businesses? First, it is even more visual, more popular with young people and more interactive than Facebook. We look at the history, numbers, business rationale and how-tos for Instagram marketing. [updated as of June 30, 2020].
Instagram history and origin
Question with an unexpectedly recent answer: When was Instagram founded? Instagram was launched on October 6, 2010 in San Francisco. The application was launched by Kevin Systrom (currently still CEO) and Mike Krieger (actually Michel), who is still driving the technology. The name comes from "instant" and "telegram": in the past, some camera manufacturers positioned themselves as instant. And the pictures taken are seen as a telegram that you send to friends. With Instagram she wanted to tackle three problems:
Photos taken with a cellphone always look jerky. with beautiful filters you can transform mediocre photos that stunners.
Sharing photos on all kinds of platforms is hassle. With Instagram you can easily share your photos on different platforms.
It upload is hassle. And of course not with Instagram.
Instagram used to run only on iPad, iPhone and iPod, but now also on Android. You can now also have photos printed. In 2012, Mark Zuckerberg bought Instagram for $1 billion. Instagram had only 13 employees, had just been around for 2 years and had no revenue. Four years later, reports Business Insider how smart that purchase was.
Instagram figures 2020 worldwide
1 billion monthly users (source Instagram)
500 million daily users (source Facebook for Business)
Number of shared photos total in Instagram history: more than 50 billion (source Omnicore)
Number of Instagram likes per day: 4.2 billion (source Omnicore)
Number of photos and videos uploaded per day: more than 100 million. (source Omnicore)
Distribution man Woman: 56.3% is female and 43.7 is male (in America only)
89% of users are outside of America (Hootsuite)
Number businesses on Instagram: more than 25 million (source Instagram)
Instagram in the Netherlands 2020
Courtesy of Newcom's Annual National Social Media Research:
5.6 million Instagram users in the Netherlands in 2020 (2.1 million in 2016, 4.1 million in 2018, 4.9 million in 2019); 2020 vs. 2019 had a growth of 14% (+710.000)
Daily Instagram users in 2020: 3.4 million. In 2019 this was 2.7 and in 2018 it was 2.1 million. Between 2019 and 2020, the number increased by +770,000 (29%)
Young people between 15 and 19 years 19 use Instagram the most: 82% of them. (73% in 2018)
57 percent of all Dutch people from 20 to 39 uses Instagram; (46% in 2018)
33 percent of all Dutch people from 40 to 64 uses Instagram; (22% in 2018)
18 per cent of all Dutch people from 65 to 79 uses Instagram; (9% in 2018)
15 percent of all Dutch people of 80+ use Instagram; (6% in 2018)
The tipping point for switching from Facebook to Instagram, according to Newcom, is around the 20 years;
The total use of Instagram is growing in all age groups, but is leveling off among the young:
Source: Newcom.nl

Why are we on Instagram anyway?
In 2020 "instagram" will be on position 28 of most searched search term in Google: a search volume of 14,350,000 times, with a return rate of 2.61 (how often someone searches the same search term again). So why is Instagram so popular? This differs per age group and has not been specifically researched. Common reasons we use Instagram are: entertainment, FOMO (fear of missing out, the fear of missing out on fun things, same reason we zap), comparing ourselves to others (especially the fun side), social approval, and affirmation (do am I right? Am I normal?). Other reasons I see: visual enjoyment, ease of consuming and producing and interaction. The biggest reason? Instagram gives us a good dose dopamine.
Why Instagram for your business? 6 reasons
Looking for the why for Instagram for business? There are 6 reasons for this:
A picture says more than 1000 words. Instagram is the tool for visual brand communication. Does your company have visual aspects? Are photos important when selling your products or services? Then you can hardly ignore Instagram.
The most used social media platform among young people. (note: that is slightly different from most users in numbers, because that is of course Facebook) So it is – now, until the older generation also discovers Instagram – hip, cool & happening for the young people.
Instagram is the king of the Interaction. According to the 2019 Social Media Industry Benchmark Report from RivalIQ brands saw an average engagement of 0.09% on Facebook and an engagement of . on Instagram 1,6%. Please note: this largely applies to photos. Users don't go to Instagram for text.
Online reputation management. For some brands, consumers expect you to be on Instagram. according to Gartner 91% of luxury brands is on Instagram, 84% of all sports brands, 83% of all beauty brands. Then following: travel industry, retail, automotive, consumer goods, food, self-care products and household items. Being on Instagram also sends a signal of confidence.
E-commerce: you can tag and sell products with Instagram Shopping.
 Online recruiting. Instagram is a great way to show as an employer what it is like to work at your company: employer branding. Use hashtags to attract new people, and show mood photos and happenings.
Instagram or not? Why Instagram Marketing?
The standard questions that arise when considering a new medium naturally arise. Is your target audience on Instagram? Do you have a goal? Do you have time and budget? How will Instagram interact with your other online channels? A few questions will help you better appreciate Instagram and determine what Instagram can do for businesses:
What will Instagram allow you to do that you can't do on any other platform?
Who is your target audience and who is really active on Instagram? For example, do you focus on young people or people over 60? How do they use Instagram? What do they expect from a brand on Instagram?
How will Instagram interact with your other social media? How do you connect Instagram account to your website?
How do you measure your success? How does Instagram contribute to your marketing goals? And your business goals?
How do you use Instagram? Possible Marketing Goals
Typical purposes for which Instagram is used are:
Increasing brand awareness;
Demonstrating corporate culture and core values;
Creating positive brand experiences;
Showing talent and attracting new talent;
Increasing customer loyalty through customer interaction;
Increasing product awareness;
Stimulate product sales;
Support and supplement events;
How do you fill your Instagram profile?
An Instagram profile is brief. That definitely makes it better. You only have your username, your bio text (characters), your profile picture and your bio link. So it's about being very smart about this.
User name: your company name, or if it is generic you should add something to it, such as _NL.
Bio / Profile text: Who are you. What are you doing. So what kind of photos can future followers expect? What hashtags or themes do you claim? With a temporary promotion you can also temporarily change your profile text. You can also use emoticons. By the way, there is no option to skip a line: all text comes in one line one after the other. Limit is 150 characters. Tip! Add a call to action. Tip two: you can put your Instagram bio in the middle with spaces. Explanation.
bio link: most Instagrammers use mobile. So also link to a mobile-friendly page. You can therefore also use a temporary link for a temporary promotion. Tip! add UTM codes to easily recognize your Instagram traffic in Google Analytics. You can also create a Bitly link to precisely measure the number of clicks from Instagram.
Profile picture: Recognition is paramount. You can also temporarily adjust.
How do you get more followers on Instagram? 16 Tips!
Get more followers on your Instagram. Important to increase your presence, reach and marketing power. Here are tips and tricks you can use to get more Instagram followers:
Who is your target audience? Start at the beginning. And that is your target audience. Use Iconosquare to continuously gain insights into your fans so that you know what content your target group is looking for and appreciates.
More posts: the more you post the faster you get more followers. Go for more than 1 a day.
Like and comment yourself in photos of others. Be active. Be social! 65 percent of users feel honored when a brand liked their post.
shout out! Yo! What is a shoutout? Thomas explains: give attention to another account by reposting a photo with an explanation. Especially if you both address the same target group, it pays to help each other in this way. Ideally, you'll get a shoutout from a famous person or brand.
Time: most of the interaction is between 08.00 and 09.00 in the morning. Most followers check Instagram before work or school and when they return when they are in public transport or in a traffic jam (Of course you should not do that because it is unsafe).
Expensive: A photo has about four hours to accumulate comments and likes, before being overrun with other photos.
Weekend: 30 percent of Instagram posts are placed on the weekend (slightly higher than 2 weekdays at 28.5 percent).
Import your customers: Export your customers with first name, last name and email address. Import this list into Gmail and establish a link between Gmail and Instagram. If you log in to Instagram, you can start following your customers with an Instagram profile in Instagram.
Follow your target audience so that they will follow youindeed just like on Twitter). However, the limit on the number of accounts you can follow is 7500. With IconoSquare you can see which followers are not following you back. Please note, there is a follow limit on Instagram. You can follow/unfollow a maximum of 20 people per hour as a limit. You can also use Instagram's Search and Explore to find those users who use certain hashtags or are in a certain location.
The average explanation ("caption") on Instagram is 138 characters. The limit is 2200 characters.
Use geotagging if your customers are mainly local.
Connect your channels: report your Instagram account where relevant and use widgets and galleries to post Instagram photos directly on your website.
Brands publish an average of six posts per week.
Why do people follow brands on Instagram? 62 percent (of US Instagrammers) follow a brand on Instagram for the simple reason that they like the brand, 54 percent to discover new things, and 48 percent because the content is entertaining. 41 percent for gifts and benefits. 70 percent of Instagram users have already participated in a contest / contest.
Have fun: Don't post more than 10 percent promotional content to keep your Instagram followers. Post 30 percent of your own content, 60 percent of others (curated content) and only 10 percent (1 in 10) promotionally.
To buy? Don't of course. Looks nice, those thousands of followers, but do they really follow you? Are they your target audience and are they interested in what you post? No.
And of course: more interaction on your posts.
How do you get More Likes on Instagram? And interaction? 9 tips

Brands interact much more on Instagram than on Facebook and Twitter… but of course that doesn't happen by itself. Here's how to get more likes and interaction:
hashtags! Your photos will be found better by hashtags that provide context and use up-to-date labels that are searched for. 88 percent of Instagram posts have a hashtag. With more than five hashtags, the interaction diminishes… as a brand. Consumers do get away with it. The limit of hashtags is 30 per post. See how you can encourage your followers to use your hashtags. Tip: don't put your hashtags in the caption but in a comment below.
Quality.
Lifestyle! Address your audience about their lifestyle. Example: Nike posted 60 percent lifestyle content and saw 8 times more interaction than Adidas (in 2014)
Brightness! Generate high brightness photos 24 percent more likes.
Go minimum: a lot of white background causes 29 percent more likes.
Pick a color: a single dominant color creates 17 percent more likes than photos with multiple colors.
Ask specific questions: Would you wear blue or green? Bad is: What's your favorite color?
Call to action: "Tag a friend!" "Click on the bio link!" It works.
Shout out! A post mentioning another Instagram user will get 56 percent more interaction.
Automatically like posts with an Instagram Growbot
A frequently heard technique is the use of an Instagram Growbot. According to certain settings, this likes the messages of potential followers. Because of the automatic like they learn from your account and the users can decide to follow you. As an Instagram user, you have probably experienced this yourself. Knowing more? Read about the Instagram Growbot.
How do I sell on Instagram?
There are two ways to do that.
Sell via your Instagram account
The fastest and free way:
A nice photo / video
Call to action (in text, image or video)
Direct link in bio
Landing page on your website (mobile friendly)
Consistent image and details
Buy now button.
Selling via Instagram Shopping
The paid and most efficient This way first requires an extensive checklist:
You have to be in the right Instagram market to sit.
You must meet the conditions for Instagram Shopping. Those are:
Meet the commercial product seller agreement. (including 5% sales commission)
Meet Facebooks trade policy. (such as: no erotic products, alcohol, animals, digital media etc)
Have an Instagram business account. (roadmap)
Have a linked Facebook page. (explanation about linking)
Mainly selling physical goods.
Link your Instagram business account to a Facebook catalog. (see Facebook explanation)
Sign up and have your account reviewed. Go to the settings from your Instagram Business profile, tap business and tap Instagram Shopping.
Are you finally signed up? Then you can tag a product in an Instagram post with a product link. Users who see your product in a photo and click on it, can then click directly to the product page.
You can also consider using apps to sell directly from your Instagram account, such as Soldsie, Like2knowit and like2buy.  Nordstrom does this for example. Instagram also supports the entire customer journey: 67 percent of (American) consumers say that detailed photos strongly influence their purchase decision. You can also copy product images from your product databases to Instagram – from Shopify and WooCommerce, among others – to see which products generate real interest and interaction.
What kind of content do you put on Instagram?
Content is the foundation of Instagram. Many B2C companies mainly use Instagram to show their products, while B2B companies focus more on company culture and new talent. The best approach is the one in which you make your brand stand out the most.
Content themes
Look at your goals and your target audience. See which aspects of your brand match best. Products, services, employees, customers, events, culture and experience all offer potential. Once you have your themes, you can then think about what subjects would go with your photos and videos.
Content type
Instagram isn't just photos: it's also animated gifs and videos. With video you can convey much more information and feeling, but it is also expensive to make. There are a large number Instagram apps available to help with content creation: Hyperlapse to speed up video, Layout to merge multiple images into one Instagram post, Boomerang to create gifs. User generated content is a common source for Instagram content – but always ask for permission. (takes a little time and saves you so much time later).
style guide
Instagram is about quality and consistency. A style guide helps you determine the brand image in terms of colors, icons, filters and typical images. In addition, it also helps to capture a recognizable composition: backgrounds, the amount of white background, dominant color and location of the subject. An excellent example of a company with a style guide is MailChimp: see their Instagram and style guide.
Square
The photos on Instagram are square. A real time saver is when you already shoot your photos square. Fortunately, many cameras already have that setting. Or choose an app ("Awesome" from Smugteam is no more, suggestions welcome!) that has a grid that you can take into account the rule of thirds.
Emoticons
Relevant emoticons can really liven up and complement your post. If used correctly of course. See this example from Birchbox:
Influencer Marketing with Instagram
A separate chapter in Instagram Marketing is the use of influencers for companies. With the right partners you can increase brand awareness and stimulate sales, because they have a specific target group. The challenge is therefore to find the overlap of influencers with a following in your target group. Influencer marketing on Instagram is about exchanging content, sometimes paid and sometimes unpaid. So you can also make a mix of a larger number of unpaid influencers and a few larger paid influencers.