Google search
If there is a need somewhere, then it is searched on Google. To get your website as high as possible in the search results, it is important to have exactly the same keywords (keywords) to use in your website.
What are my keywords?
That starts with you first product. What do you sell? What do you offer? Describe your product in different ways. And then see how your customer would describe your product. Probably with less jargon. This is the single most important step of search engine optimization: First, create an inexhaustible list of keywords in Excel.
Some questions to get you thinking about your business:
What kind Products / services do you offer?
Why does your target audience need your product? What problem does it solve?
How would you describe your business to someone who has never heard of you?
How do you introduce your company to someone?
How would your target audience search for a solution as you offer it?
What are the industry problems that your product can solve?
What are the pain points / problems that your target group experiences?
What are frequently asked questions That

potential

customers ask you?
Which words keep coming back in your answers? Those are keywords. Now some extra tips to find your keywords:
Search your product Wikipedia on. Look at the titles: those are probably relevant keywords.
listen to you customer: what do they ask about in the store or on the phone? Do they ask if you have that couch in Bordeaux red, or just wine red?
google just on a keyword. Look at your competitors' search results. What other words do they use in their title and description?
Open the site of a major competitor and check out the HTML source code. In Google Chrome and Firefox you do that with CTRL + U, in Internet Explorer you go to View at the top and then to Source. Now you see the HTML from which the page is built. Use CTRL + F to search the source code. First search for 'keyword' to see if your competitor has entered keywords, and if so which ones. Search for your most important keyword, and see which keywords you can find around it. You also see how often that keyword has been used by your competitor.
add region to your keywords. I do internet marketing from Den Helder, so 'internet marketing den Helder' is an important keyword for me.
Add common spelling mistakes to your keywords. For example, in the Netherlands we say "Search Engine Optimization" but it should be "Search Engine Optimization".
And finally: combine all possible keywords. For example: "alkmaar driving school" and "alkmaar driving school" and "alkmaar driving lessons" and "alkmaar driving lessons driving school" and… you get the idea.
There are of course many more options for finding keywords. Now you want to know: did I miss keywords and which keywords are interesting?
Google Keyword Planner Tool
Google has a very handy tool available for this: the keyword planner. This is part of Google Ads. Go to Google Ads and log in (create an account if necessary). Go to . at the top Utilities and Analytics and click keyword planner. The keyword planner helps with the following 4 functions:
The tool is intended to support advertising with Google ads but can also be used very well for optimization of your website. click on 'Find new keyword and ad group ideas'. Add 'your product or service' your complete list of keywords. You can also enter Landing Page and Product Category, but this is not necessary. What is needed: put the Targetting on the Netherlands below (if that is your target group), and add negative keywords to request ideas.
Negative Keywords are keywords for which you do not want to be found. For example: you offer bus transport for a target group in Den Helder. Then "bus den Helder alkmaar" is probably not relevant for you.
Ad group ideas give ideas for collection groups of matching keywords.
Keyword Ideas give suggestions for keywords, matching the specified keywords.
I searched for "autorijschool alkmaar", "autorijschool alkmaar", "autorijschool alkmaar", "driving lesson alkmaar" and got the results below with Ad group ideas and Keyword ideas. Under Keyword Ideas I can see all suggestions to download in an Excel file: 192 keywords based on my specified 4 keywords.
High Relevance, High Traffic, Low Competition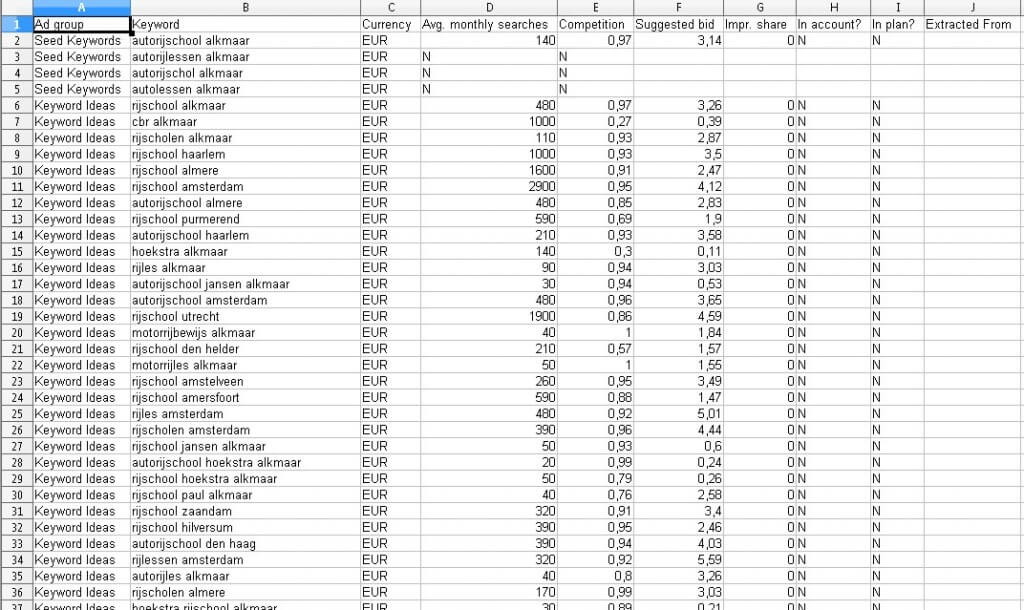 In the keyword planner and in the Excel file, Google gives you very interesting figures: number of visitors per month and the competition if you advertise with Google Ads. First, focus on keywords with a met high relevance for your company and your products and your customers. So remove irrelevant keywords from your list. Visitors who come to your site via irrelevant keywords will click away, perhaps a little disappointed. That not only gives a bad bounce rate (visitors who leave your site without action), but you also give your site a bad name. For example, when you are going to use a competitor's keyword.
Then look at which keywords a lot of traffic give, and where preferably little competition sitting on. The more competition on Google ads, the more competition you can expect in search optimization. Little competition is the 'low hanging fruit', which you can pick with relatively little effort and can be number 1 in Google. A generic keyword as a "contractor" is very general. To be at the top will take a lot of work. But to come to the top with 'hairdresser Oosterend', it will take you little effort.
Go to the next step: Using keywords. (under construction)