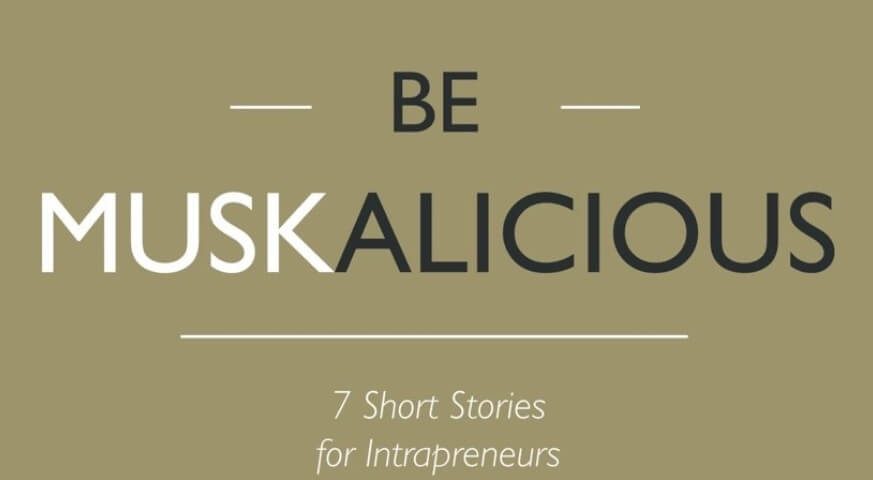 Muskalicous Management: 7 principles for the company of the future
Tesla, SpaceX, Hyperloop, SolarCity: all the product of one brain. How does Musk always succeed in making the most innovative ideas a reality? With these 7 principles you also launch ideas like Elon. 
1. Be Ahead of Disruption
"Hi Dinosaur, meet your Meteor!"
Startups are turning the established order upside down left and right. Until recently, electric cars were the laughing stock of the industry. Now oil companies are forced to invest in complete networks of charging stations. Develop a disruption radar and watch the comet approach. Musk does not build on classic industry pillars such as patents and car dealer networks. He keeps an eye on startups and special investments. He thinks in problems and solutions, not in industries and branches. If people need a better solution hard enough, it doesn't have to be in a traditional way. All disruptions are laughed away at introduction. Don't let that get you down.
2. Use Lean Startup methodology
 "The Lean Diet for Corporate Fat Cats"
The Lean Startup, you may have read the booklet. Easier said than done when you're not in an attic with a bunch of unshaven students. How do you, like Musk, quickly and efficiently implement innovations in a multi-billion dollar company? Simple: you go on a diet: The Lean Diet for Corporate Fat Cats. No excuses. Without being lean and mean, SpaceX would never have been able to compete with NASA. But even the most unwieldy corporates can give those hip startups a taste of their own medicine. The next Hyperloop, or Boring Company, may just come out of your sleeve. build. measure. learn.
3. Pay attention to design
"Love at First Slide"
Most propositions fail, despite investments of tons or even millions. Not yours. Why not? You put down products that your users will really love. Love at the first swipe. Remove all friction and discomfort and turn your users into superheroes. A Tesla takes a lot of work off your hands as a driver. However, you are always in control. You brake faster in the event of an accident: you have the responsiveness of a superhero! If you pay attention to it, you will notice how many products are dredge designed. For example, most modern cars have to go to the garage for a software update… Tesla's don't.
4. Test propositions with Minimum Viable Products
"Launch & Learn at Rocket Speed"
Many organizations still think in idea-develop-launch-marketing. A straight line. Sometimes even according to the prehistoric Stage Gate model. Don't stay behind closed gates to develop. Validate assumptions about your product without spending tons of development. Prevent your money from disappearing into a bottomless pit. The Minimum Viable Product is the solution. Get out of your desk, roll up your sleeves and test assumptions via quick & dirty MVPs. Launch & learn. Remember the Model 3 announcement? Half a million pre-orders. Not a cent had been put into development, but Tesla knew right away that there was interest and had a decent amount of money to get started.
5. Think Platforms
"Puzzling Platforms"
Why are travel agencies, taxi companies and hotels struggling? This is due to the on-demand platform: an interesting business model. A couple of Silicon Valley teens found a super-scalable way to offer their guests tremendous value for money. How do they come Airbnb, you wonder… Musk is also not averse to this model: for example, all Tesla patents are free to use. Hyperloop is an open competition to invent a new transport system. In this way, Elon's vision of the future comes closer faster.
6. Hack your way to growth
"Get your Hack on Track"
Never from Growth Hacking heard? Cohort analyses, viral growth and in-depth customer insights fuel your growth engine. Companies like Facebook and Dropbox were pioneers. If you want to outsmart the competition, get started quickly. For example, Tesla built a referral system in their app. This allowed Tesla owners to save points for anyone they convinced to buy a Tesla. For example, they saved themselves for a discount on their next car and Elon quickly gained more customers. Or build a easter egg in your product. Viral videos are free advertising!
7. Provide an unforgettable customer experience
"It's not you, it's me."
After making your clients fall in love with great design, you should prevent them from breaking up. Avoid the dreaded words: It's Not You, It's Me. Shortly after launch, the Model S had an entire network of volunteer ambassadors who were so enthusiastic that they wanted to offer people test drives in their own cars. Tesla changed the whole manufacturer-dealer-customer model. Musk is building a network of charging points where everyone can charge their Tesla for free. Why? Because a good product is not enough. It's about the unforgettable experience.
Would you like to know more about how to manage the company of the future with these 7 principles? Buy the book Be Muskalicious on Bol and Amazon.