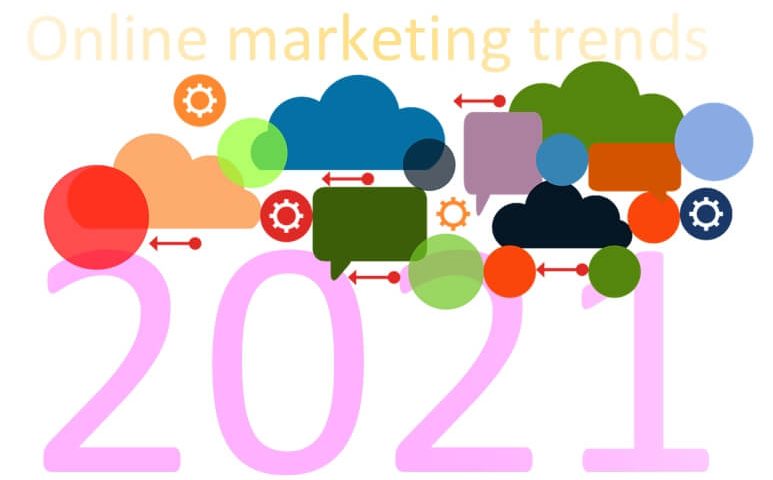 Online marketing trends for 2021
Guest blog by Helloblauw.nl
The online marketing trends for 2021: we actually think it's a bit of a crazy word. As if from one moment to the next there is a sudden turnaround in your marketing strategy and expressions. That is of course not the case. But last year there has been a (forced) shift from offline to online. If you are still in the middle of that transition, make sure you lay a good foundation first. Ready for the next step? With the trends below you ensure that your authority and visibility take a further bird's eye view.
Trend 1: Ensure your local findability
Actually, it is not new, but only a few companies are working on their local findability. Not every organization can work on its local findability, but the majority can. Your local findability is becoming increasingly important. The competition for many search terms is becoming saturated and it is difficult to get a spot organically. Local search terms have less search volume, but also less competition. The search term is also more relevant, which increases the chance that your visitor will click through. Just search for 'content agency Den Bosch' in Google and Hallo Blauw is the first organic result that pops up. Check whether there is search volume for the intended search term. You can use tools such as Ubersuggest or use Google Ads Keyword Planner. Also, don't forget to set up your Google My Business if you haven't already done so. This ensures that you get a listing on Google Maps. Enter your website, introduction and services for a complete profile. And collect reviews to boost your authority.
An important tip here is that you not only fill in a standard list for local findability, but that you and your online marketing agency look at how you can co-create, says Achraf el Hadouchi of hello. "This way you not only prevent wrong assumptions, but we also look beyond your online marketing. What exactly do you want to achieve with it? You have to focus on that."
Trend 2: Boost your vacancies online

Are you an HR employee or recruiter at an organization and responsible for filling the vacancies? From now on, in addition to being a search engine, Google is also a disguised job board. It was discussed for some time, but since August 2020 Google For Jobs has also been rolled out in the Netherlands. By means of structured data you ensure that your vacancy on your website is also loaded in Google search results. Naming an organization is essential here, so it is less interesting for freelance recruiters or recruitment agencies that do not want to reveal the name of the client. Transparency is becoming increasingly important.
Trend 3: Immerse yourself in marketing automation
Provide your visitor with the right message at the right time. You do not do this by staring blindly at the numbers all day and sending random emails, but by means of a marketing automation strategy. Marketing automation ensures that manual tasks are automated, so that actions are automatically followed up. For your own marketing communications, this means that you have to analyze the customer journey and expand your 'flows' based on that. In addition, you can also apply automations for other online tasks such as automating your orders in your webshop or simplifying your invoicing process. Time is precious, so use it wisely.
Trend 4: B2B 'influencer' marketing
the 'influencers' as you know them on Instagram, are not quite the B2B influencers we mean by this. But it is important to collaborate with knowledge platforms in your own field. Because if a professional with a lot of authority recommends your software, for example, this can have a lot of positive impact. In addition, you can also share your knowledge on external (renowned) platforms.
Trend 5: Data visualization

Say goodbye to the excel files that are filled with numbers that no one really looks at. If you really want to transfer data, it is important that you present it attractively. Useful tools for this are data studio and Swydo. With these tools you collect the most important information in an overview. Simple and clear!
Trend 6: Google phrases
Google will place even more emphasis on search results containing the answer. We all know 'position 0' and the en featured snippet in which the answer is elaborated. This will now be rolled out more widely. That is why it is important that you explain the questions of the visitor in the content of your website. This will look like this: In short: Google puts even more relevance on your SEO texts. But if all goes well, you already wrote it for your visitor ;-).
Don't just follow the trends, but indicate focus in which you support yourself
Keeping an eye on the online trends and continuously working on them helps you to take your online visibility and authority to the next level. But if you don't stand out and don't meet the needs of your consumer, it makes no sense to deal with this. Therefore, first make sure that you have a clear understanding of your brand value and then continue optimizing.
Do you want more tools to set up your company's marketing like a house? Download our Kickstart Guide or view more information at halloblauw.nl.