Rabobank and a group of private investors announce today that they will invest €3.2 million in Expivi. The Eindhoven company, which enables e-commerce companies to configure and personalize their products in 3D, will use the money to expand abroad.
Expivi is a frontrunner in the international market for 3D product personalization for web stores with international customers such as the multinationals Crocs, Strider and Kingspan. The SaaS (Software as a Service) platform makes it possible for manufacturers and online stores to easily display products in 3D and AR, both on the web and on mobile. This makes it possible for end users to view products in 360° format and to change shape, color and accessories in real time. The software is directly linked to Expivi's customers' e-commerce and supply chain system. This makes it immediately clear to end users what consequences any changes in the product will have on the price or the delivery time. This makes it possible to apply mass customization. In addition, only what a consumer has ordered is produced. Mass customization is seen as the successor to Fordism, in which mass-produced goods are pushed onto the market. With mass customization, only what has been ordered is produced, which results in a saving of raw materials, energy and waste.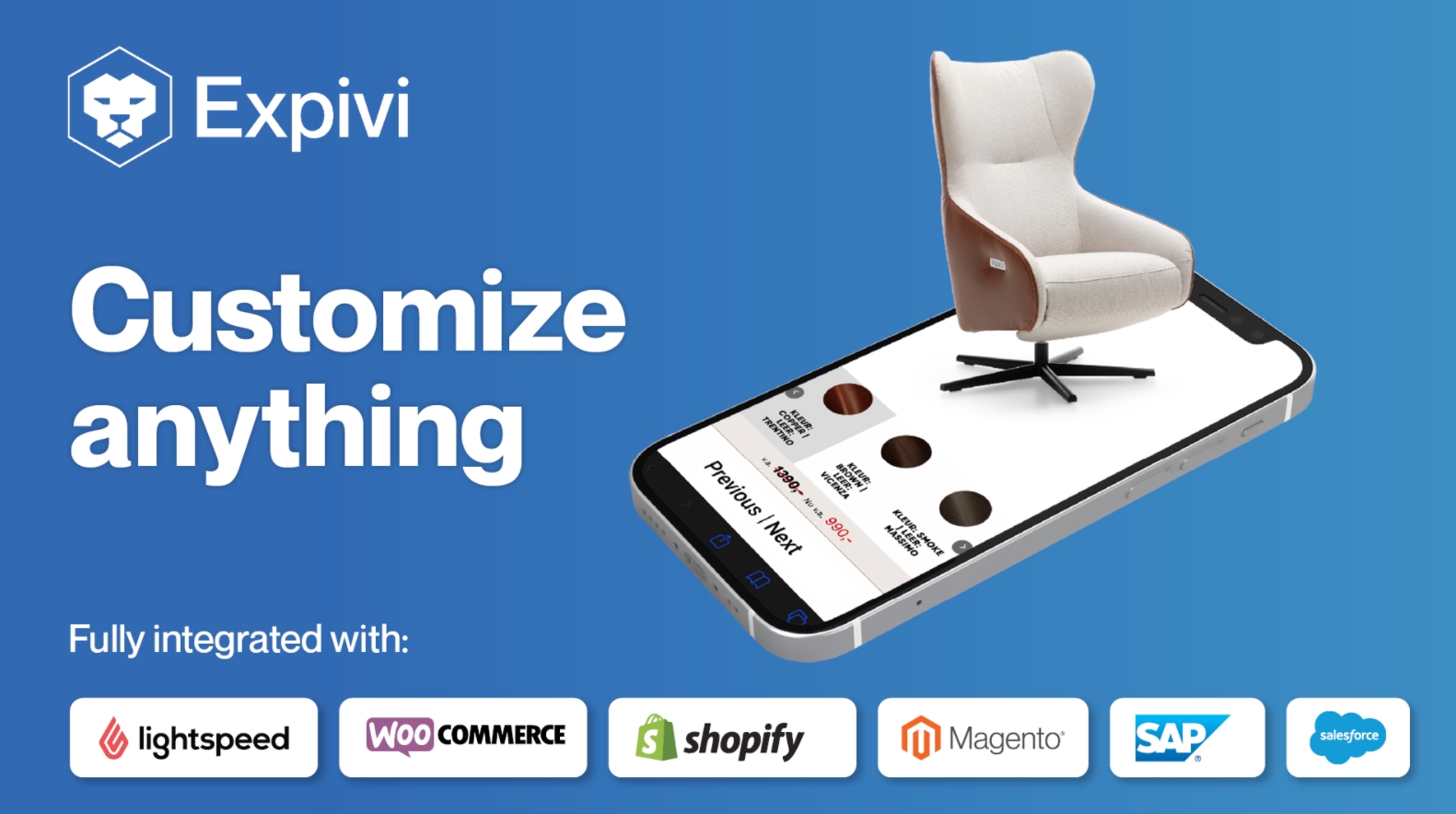 Market developments
The growth financing raised comes from Rabobank and a group of private investors associated with the Money Meets Ideas programme, Rabobank's informal investing platform in collaboration with KplusV. Through this platform, startups with good innovation ideas are brought into contact with private investors. The money will be used for further international growth in the US and Europe. The money will be used for further international growth in the US and Europe. In addition, Expivi wants to make its platform completely 'headless' and 'self-integrating' with all other important business software from e-commerce to production lines.
Market developments in the field of e-commerce, digital prototyping, virtual reality and 3D printing are moving at lightning speed. Product presentation plays an extremely important role in the online presentation of products – whether in person or not. A 3D product view ensures that these are better understood and sold faster.
Babak M. Mirzaie, co-founder and CEO of Expivi: "I consider it a great compliment that such an experienced company as Rabobank and these investors have such confidence in our vision. The demand for the online presentation of products and objects in 3D for a personalized experience is only increasing worldwide. This capital injection enables us to meet that growing demand and further claim our market leadership position (inter)nationally."
Michel Ziekman, Rabobank start-up and scale-up banker: "We have been following Expivi for a long time, based on what we believe to be a unique proposition and the growth potential. We are therefore pleased that we can facilitate a substantial investment together with existing and new shareholders to further accelerate Expivi's international growth and scale-up. This transaction is the result of our national focus on start-ups and scale-ups in general and the Brainport region in particular."
Images provided by Expivic
Submitted press releases are not the responsibility of the editors