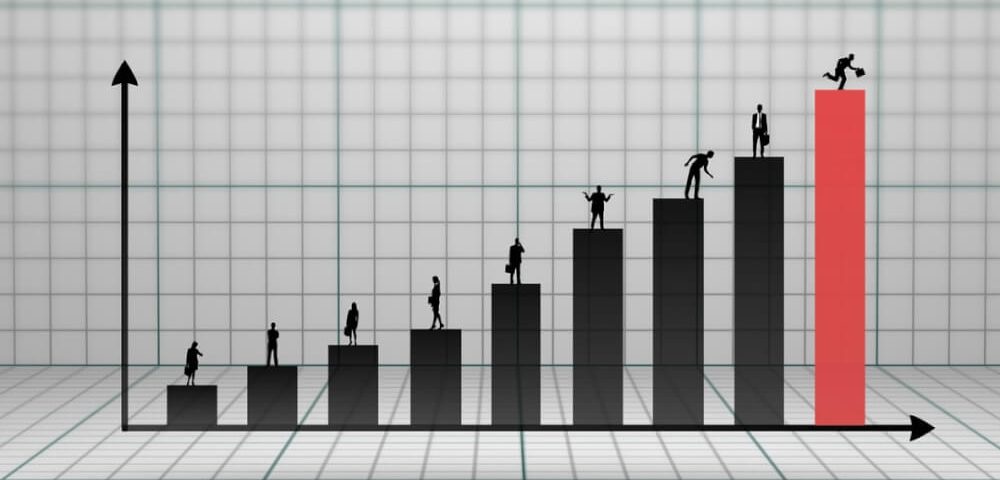 Making smart use of Google Trends: how do you do that?
Anyone involved in content marketing to a greater or lesser extent will have used, or at least heard of, Google Trends. Whether you spend forty hours a week on online content or perhaps write a substantive blog on your company's website a few times a month, Google Trends is in all cases an incredibly valuable tool with which you can make your online content as relevant and up-to-date as possible.
Making the most of Google Trends can give any content writer a competitive edge. Anyone who makes smart use of Google Trends is the best person to respond to the current trends in society or within a specific target group and can therefore expect the most traffic. And since online business starts with creating traffic, that gives all the more reason to get serious with Google Trends. But how do you do that? And what added value can Google Trends offer exactly?
Case: corona crisis
To give an idea of the potential added value that Google Trends can offer, it is best to look at a recent case. The corona crisis is a good example. If you follow the timeline of Google Trends during the corona crisis, you can clearly see what information people needed in certain stages of the crisis.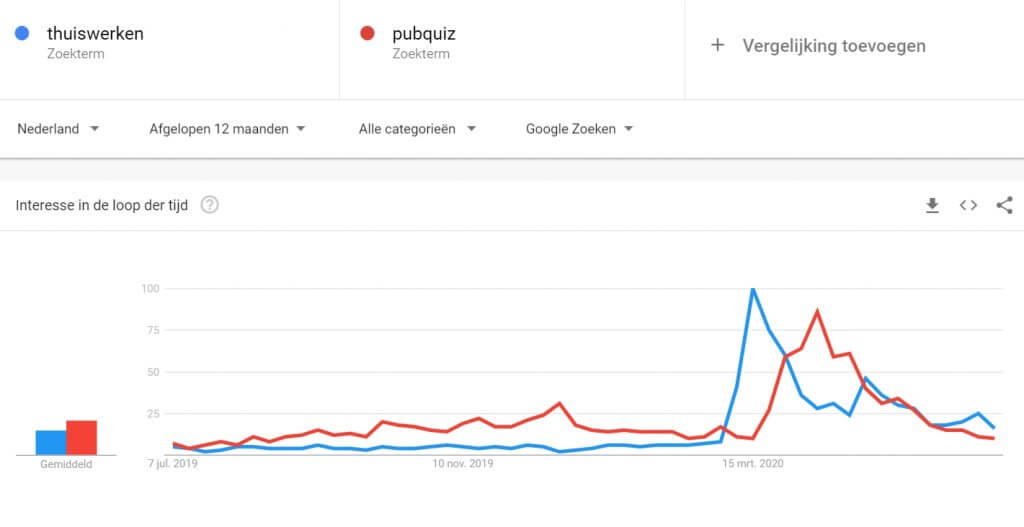 Data source: Google Trends
Early in the crisis, in mid-March 2020, many Dutch people were eagerly looking for tips to optimally work from home and collaborate remotely. Numerous content marketers jumped on this by offering content on these topics. When the lockdown lasted longer, the number of searches about working from home and online meetings decreased, and more information was sought about how to organize a party, meeting or pub quiz digitally, for example. In other words: social life in a digital world. After the measures were relaxed slightly in the Netherlands, according to Google Trends, the emphasis was mostly on practical questions about the one and a half meter society and personal protective equipment.
Other, less directly related search terms have also been demonstrably influenced by the corona crisis. In American states, for example, the popularity of search terms around baking your own bread appears to be a direct connection related to the amount of corona outbreaks in that state. And also the most common symptoms become visible.
Predict instead of looking back
The added value for online content writers is clear: respond to these trends, which Google makes crystal clear, and your content becomes more current and therefore more relevant. Now, for the most basic user, Google Trends is primarily a retrospective tool. You look in the past at the most searched terms and try to recognize trends in them – afterwards. That's nice, but the real added value starts where looking back ends and the prediction starts. After all, you want to be the first and not run after the polonaise.
The good news is that Google Trends can indeed be used perfectly as a forecasting tool. In Google Trends you can not only see historical developments (for example the most used search terms from 2019, or from March 2020), but also the development of one specific keyword (or term). That option is very interesting, especially if you don't just want to write about any subject, but want to respond to new trends in a specific industry.
Trending keywords and correlation
Two options in Google Trends are important to master in order to get the most out of the tool for the most relevant online content possible. The first is therefore the function to map the development of specific search terms. After all, you want to tailor your content to trends that are growing, instead of declining. When a trend is on the decline, it often means that the target group has already found the information that these search terms yield and the information is already there for the taking. Looking back at the case of the corona crisis: in June 2020 there was much less search for ways to optimally work from home than in March 2020. Not because people no longer did it, but because the information was now generally known and there was no new content. 'necessary' to make that knowledge available.
Other example: voice search as a trend has been pointed out by many (also by Bloeise) as the new marketing channel. But if you look at the worldwide interest in the three most common voice services Alexa, Google Home and Siri, you will see that they were especially popular around Christmas. And indeed, Searchengineland.com reports that voice search is not yet experiencing the promised increase.
But how do you know which search terms are relevant to your website or industry? A second option in Google Trends is useful for this: finding correlations between search terms. This option is called Google Correlate and gives you the opportunity to discover which search terms are related and which, for example, are used by the same users in succession. You simply enter a search term relevant to your website, and Google will tell you which search terms your target group uses. Simple enough, but not everyone uses it or knows that Correlate exists.
For example, for "one and a half meters" see:

Google Trends for content marketing and e-commerce
How can you practically apply all this if you are an (online) entrepreneur or if you want to generate more traffic to your website for other reasons? Simply following the trends and incorporating the corresponding search terms in your blog will not get you there.
However, it is step one: follow the keyword trends in your industry and process the most searched terms several times in your content, preferably (also) at the beginning. It is important in this regard keyword research to do: don't just look at the numbers, but try to understand how internet users apply a search term. At what time, in combination with what, with what pattern?
Then don't publish your content haphazardly, but check in Google Trends when 'your' search terms are most searched for. Is that on the weekend? Or just Monday morning? During holidays, or only in winter? Schedule your publication immediately before the trendline turns positive. So you want to publish content that is much sought after during the weekend on Friday afternoon or early Saturday morning. You want to publish content that is highly sought after in the spring in March or April. Of course, keep in mind the time Google takes before your content is indexed.
Google also indexes via Facebook
Does Google see my content? That is a crucial question for content marketers. The fastest way is to enter Google Search Console at the top of your URL and then instruct it to index. Interestingly enough, Google also appears to track and index the publications on Facebook, as witnessed by this screenshot.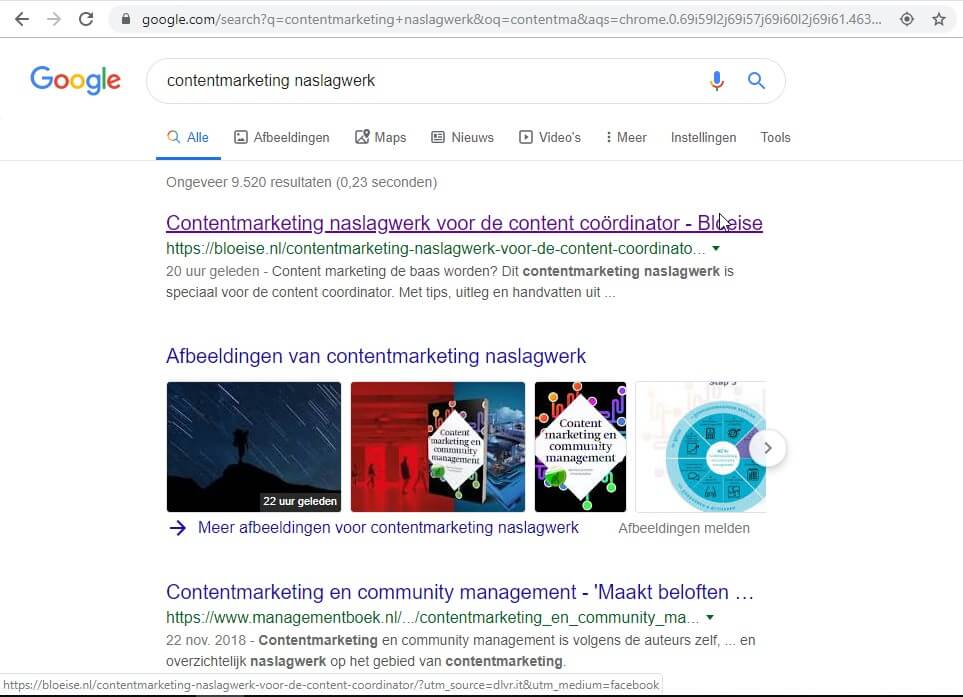 The article Content marketing reference work for the content coordinator had been published. The fastest way to check the indexation is to search for parts of the title: "content marketing reference book". If you move your mouse over a link, you will see the exact URL at the bottom of your browser. In this case https://bloeise.nl/contentmarketing-naslagwerk-voor-de-content-coordinator/?utm_source=dlv.it&utm_medium=facebook. From the UTM code (a bit of addition to better measure traffic in Google Analytics) you can see that the source is DLV.it (an RSS tool that publishes automatically) and the medium is facebook.
Always up to date 
Also check it out this beautiful presentation about keyword research and planning content around recurring phenomena, such as the full moon or the Oscars.
Then adapt not only your content, but also the design of your website to the trends you observe. Google Correlate can be helpful for this. For example, do you sell games through your webshop and do you see that the search term 'football games' often correlates with 'sports games'? Then consider renaming your 'sports games' category to 'football games and sports games'.
By applying these practices rigorously and continuously, you automatically ensure that your website always offers up-to-date, relevant content that provides fresh information when it is in demand. Realize that you're never done: online content quickly becomes obsolete and you'll have to keep delving into Google Trends day in, day out to benefit in the long run.