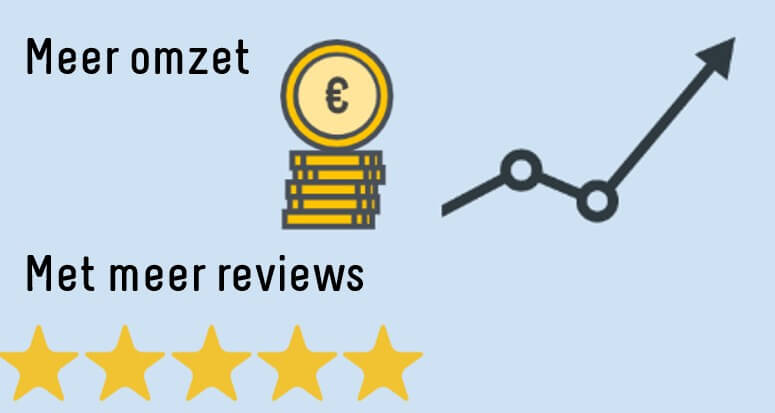 Review marketing: This way you get much more and better reviews
Guest blog by Ramon van der Roest
Reviews can provide more than a 50 percent increase in conversions. 90 percent allow themselves to be influenced by reading a positive review. Why do you often come across webshops with products without reviews? That comes at the expense of a lot of potential turnover. While review marketing can be one of the easiest conversion boosters, as shown in the infographic below provided by the site discount code site saved deals is made.
50 percent higher conversion thanks to review marketing
Research by smartinsights.com has shown that you can achieve a 50 percent higher conversion with 10 good reviews. 50 percent! With 50 reviews you can even double your conversion. These are figures that will make the ears of every online entrepreneur on edge.
How do you encourage customers to write a review?
Many retailers wait for customers to automatically share the experience with your shop/product. But that doesn't happen. Unless they really hate or love your product. It is precisely the customers who are "simply satisfied" with your service that you want reviews of. How do you do that? Easy. Ask them.
How do you request a review?
If you indicate that a review is important to you, you will see that many more customers take the time to write one. Indicate that they help others to make a choice. Customers have just found themselves in that complicated situation, and can therefore identify with it well.
When do you send the request?
Don't ask questions until customers have had enough time to use the product; not too long, but certainly not too short. How long this is depends on the product. A meal can be delivered the same evening, while you may need a few weeks for a drill.
Dramatically reduce your negative reviews with one question
The most important step that is often skipped: first ask if something is not to your liking or is still unclear. In this way you give customers who are not (yet) completely satisfied a sounding board. An additional advantage: you can solve the problem. And a customer who is well helped after the sale is often extra positive about the company. You have probably experienced it yourself: your order does not run smoothly. There is something wrong with the product or delivery. If you are then properly helped by customer service, you will be even more satisfied with the company than if everything had gone satisfactorily straight away.
What is a good review?
If you've been working on your webshop for a while, you probably know what a good review must meet. There is a good chance that your customer does not know this. Therefore, send us the information you would like to see. Otherwise, you will still receive reviews such as "good product" or "like it well". When you use the information below in the explanation field, you ensure that a potential customer can identify with the writer of the review, which will greatly increase conversion.
What other products have you tried/considered?
What was decisive?
Would you order it again?
Did you receive the product as quickly as we stated?
What did you think of…. (mention strong product features)?
Faking reviews
It may sound attractive: you write (or have yourself written) reviews as part of your review marketing. But make no mistake, nothing is a bigger conversion killer than a company that fools its customers. Many visitors can see very well which reviews are fake. Of course, your reviews must match what you deliver. Otherwise, your customer will be disappointed, resulting in bad reviews.

About Ramon van der Roest

Ramon van der Roest has been a passionate online entrepreneur since 2008. With savings deals he tries to put into practice as much SEO, behavioral psychology, UX and online marketing knowledge as possible. In addition, Ramon helps other online entrepreneurs with strategy and findability.
Need personal marketing advice? Book an online marketing session for your review marketing
Telephone 1-on-1 in which we can discuss everything about the application of review marketing: the new landscape, objectives, strategy, ROI and execution. Specifically about reach, conversion and content. After this session you can start designing your digital strategy.