Sticker marketing tips: this is how your company sticks to customers
Sticker marketing may not be the first thing you think of when you want to bring your business to the attention of consumers. Yet it is a very effective form of marketing. Although online marketing is also important, only 23% of all consumer spending online. The rest is done offline. It is not for nothing that you see window stickers and posters with "SALE" in shopping centers. Below you can read more about the benefits of sticker marketing and how you can get the most out of your stickers. 
The 3 benefits of sticker marketing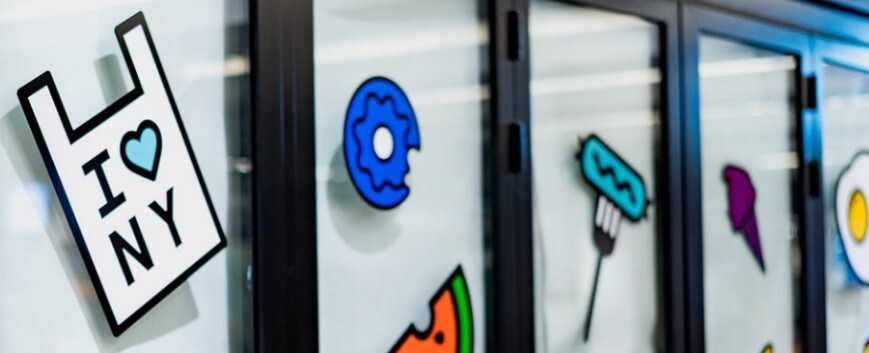 Sticker marketing is an interesting way to promote your company locally. Stickers have a number of advantages:
Stickers are cheap: An online advertisement in Google Adwords will soon cost you € 0.35 per click. For the same money you can also have a sticker printed that continues to appeal to customers.
Stickers have many applications: Where flyers are printed with a specific purpose, you can use stickers in different ways. You can hand them out at events, stick them on packaging or the window of your shop, give them as gifts to customers and stick them in different places in the public space. For the latter, ask permission first, otherwise you run the risk of being fined.
Stickers are a form of word of mouth: A customer who puts a sticker of your company on his agenda, water bottle or car tells others that he or she is a satisfied customer. You can't get better advertising for your business.
4. Stickers are not directly perceived as advertising: Consumers are inundated with commercials throughout the day and can get a little tired of it. Stickers are less likely to be experienced as advertising, but rather as a nice gift. Stickers are especially suitable for short texts, logos and images. If you want to inform customers in more detail about your products and services, it is better to choose a brochure.
5 Tips to get the most out of stickers

Paste on it: Stick stickers with your company logo on shipping boxes, letters, folders, packaging and coffee cups. The stickers are then not only seen by customers, but also by postmen, for example. This way you increase the brand awareness of your company in a cheap way. You can also reach a large audience every day by stickering your car.
Use window stickers: window stickers special promotions on the windows of your shop or catering company are inviting. They give color to your business premises and make potential customers curious. Window stickers are easy to apply and also remove when it's time for a new promotion.
Distribute discount stickers: Stickers have a magical effect on people. A 20% discount sticker that customers can stick on a product of their choice often evokes more enthusiasm than an announcement of the same 20% discount in a brochure or on a website.
Give stickers as a gift: The best stickers are stickers that not only serve as advertising material, but are also nice for customers to receive as a gift. Optical illusions and slogans always work well.
Combine stickers with online marketing: Mention the address of your website on the sticker or have a QR code printed on it, so that customers can immediately receive more information about a promotion or product. Sticker marketing is ideal for extending your local presence to your online presence. In other words: it gives you online marketing a local presence. Works perfectly if you also offer free WiFi.