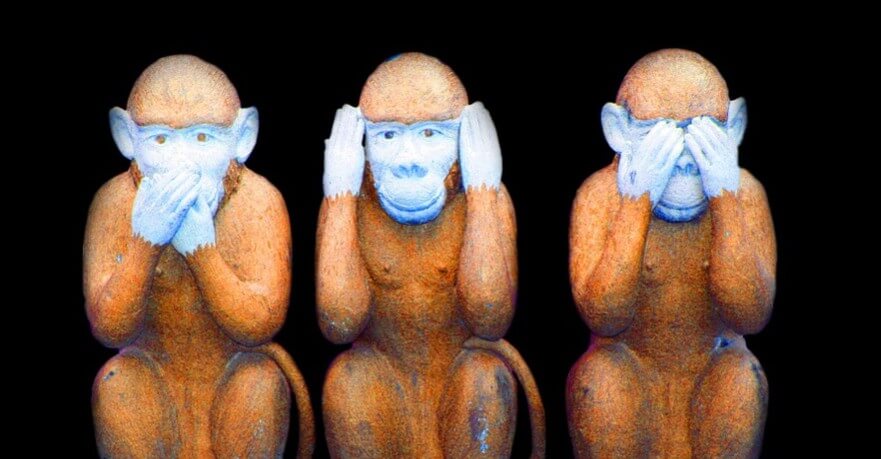 Successful marketing examples of taboos
Guest blog by Sebas Eikholt
Not all products and services are equally easy to promote. For example, it may be a taboo. People are ashamed of it, feel insecure about it and it is inappropriate to talk about it. Yet many brands manage to successfully break a taboo. Below are 4 examples of taboo products that have been promoted with a good marketing strategy.
Super size clothing
The fashion world has had a clear ideal of beauty for years. Men and women are young, handsome and thin. Especially the latter is a must. And if a well-known model has too fat legs, it is simply photoshopped away. Especially in the US, many people are overweight. And that is still an unknown market for well-known fashion houses. The American company Eloquii is a clothing brand that focuses on fashion for plus size women. The brand therefore does not focus on women with the 'ideal' ideal of beauty. However, Eloquii found that people on the street did not like to look at billboards with less thin models. Nevertheless, the fashion brand managed to reach a large target group.
They did this by entering into a strategic partnership with the well-known Hollywood actress Reese Witherspoon. At that time, the actress already had experience with her own clothing line and also had a strong opinion about the image of women. Witherspoon personally received many messages from women who appreciated her clothes, but could not wear them because of the small sizes. Eloquii and Witherspoon designed plus size clothing, which gained a lot of name recognition through the thousands of followers the actress had on Instagram. This made the clothing perceived as a lot more normal.
Viagra
In 1996, American politician Bob Dole ran against incumbent President Bill Clinton in the presidential election. The war veteran Dole was already in his seventies at the time and positioned himself as the father figure of the Americans. For the pharmaceutical company Pfizer, he was the perfect sign to promote the erection drug Viagra through a commercial. Bob Dole had been diagnosed with prostate cancer in the early 1990s and had struggled with erection problems himself.
In the ad, Dole said that impotence could have multiple causes and it took courage to tackle it as a man. As he himself said in the ad: "It's a little bit embarrassing to talk about ED (impotence), but it's so important to millions of men and their partners." In addition, he called on the viewer to have medical examinations performed when they were dealing with erection problems. Not only was a well-known personality used to promote a product, the theme was broadened and the viewer was encouraged.
STD test
Just like the erection problem, sexually transmitted diseases are also difficult to discuss. The condition is experienced as uncomfortable and it is therefore not a good topic of conversation during a birthday with family. Yet many people struggle with it. But what makes it especially insidious is that it's a hidden condition. People are reluctant to have the possible STI tested. For example, out of shame or insecurity. And that is a worrying development that was addressed by the Dutch Testalize.me.
The startup found a partnership with pharmacists and laboratories. Special STD tests have been developed that can be performed anonymously and at home. The brand's message was that there was now no excuse not to test. Well-known Youtube vloggers were deployed to STD test to be discussed among young people. This ultimately made it possible to convince an older target group as well.
Durex

If there is one company that has managed to break a taboo with advertising campaigns, it is Durex. It has been the most famous condom brand for years. But it is still not a product that you easily put on the counter. What must the neighbors think when they see that you are checking out several packets of condoms at the drug store? Durex managed to launch successful advertising campaigns that broke the taboo in a playful way.
For example, a billboard with a large image of a baby cot, including a price tag of 217 dollars, was displayed for a while. At the bottom of the ad was the Durex logo with a price tag of $2.50. This warns the consumer of the consequences if the product is not purchased. The company also had special Durex stickers designed in the shape of footsteps. They were pasted on the floor of urinals. One of these footsteps stickers was placed much further from the urinal and it said 'Durex XXL'. A funny message, which also turned out to be very catchy.