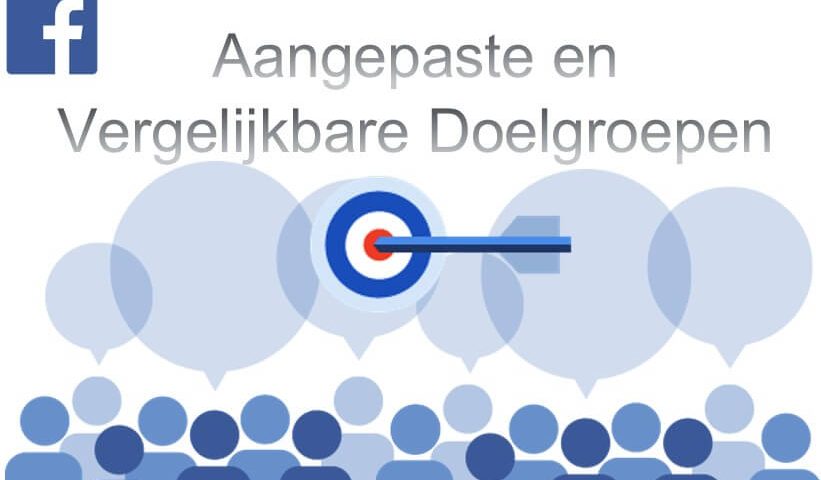 Create Audiences in Facebook Ads
Facebook Ads is awesome. Not only because you have a ridiculous amount of segmentation options and because you can also create a need with Facebook Ads, unlike Google Adwords, which is based on an existing need. You also have wonderful opportunities to reach all kinds of interesting new target groups with Facebook Ads. Based on your newsletter file. Learn how to create your custom audience in Facebook in this hands-on blog. 
I assume that you already have a Facebook Ads account, access to Excel and work with MailChimp or a similar mailing program. The premise is this: newsletter readers are open to receiving your messages by email. So they would also be positive can about your posts on Facebook.
Get newsletter file in MailChimp
Have you read how to more readers for your newsletter gets? Connect nicely with this. We are going to get your newsletter file. I give MailChimp as an example because I work with it myself. In this way you can also make a selection based on the quality of your newsletter readers. If you don't want to do that, or if you don't have that many newsletter readers to filter in yet (a minimum of 100 is needed), skip this step and go directly to Create Custom Audience in Facebook Ads.
In MailChimp go to you lists and click on the list you want to work with.
You can still choose from

Subscribed

/

unsubscribed

/

cleaned

, but I think that you also want to reach people on Facebook who are open to your messages. So choose

Subscribed

. Right click on Export list.
I immediately received an email, but with really large (paid) accounts it will take a little longer.

The button in the mail is immediately the download button, check you

Downloads

So. Extract the file. It's a CSV. Open

Excel

next to it. (That's easier than double-clicking the file)
Edit newsletter file in Excel
The standard rule is that if you want to read email addresses, it is best to do so in TXT format and not in CSV format. We are now going to read the CSV file into Excel, filter it on quality and transfer it to a TXT file.
In Excel, go to

data

/ From Text. Select your downloaded CSV file from MailChimp.

Go through the Text Import Wizard. 

Step 1

: click on next one. (keep original data type Divorced)

Step 2: Click comma as separator. click on Next one.

Step 3: Click Complete.
Click on any question OK: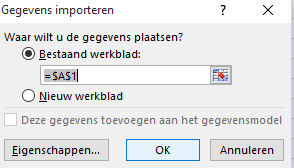 You have now successfully imported your MailChimp list into Excel. You will not only receive e-mail addresses, but also all kinds of extra information:
E-mail address
First Name
Last name
MEMBER_RATING
OPTIN_TIME
OPTIN_IP
CONFIRM_TIME
CONFIRM_IP
LATITUDE
LONGITUDE
GMTOFF
DSTOFF
TIME ZONE
CC
REGION
LAST_CHANGED
LEAD
EUID
NOTES
Interesting? Uh, yes. because column D gives you the member rating: the extent to which the newsletter reader also reads your newsletter. That's a good indication of how much a similar person would be interested in your Facebook ad. Provided you manage to strike the same chord, of course. I recommend to member rating 2 filter out: those people won't even open your newsletter yet. For this you need a minimum number of Member rating 3+ of about 200 people (Facebook needs 100 profiles, and not every email address corresponds to a Facebook profile).
Press CTRL A to select all;
Press Filter at the top:
Press the pulldown menu behind MEMBER_RATING and put it on 3,4,5: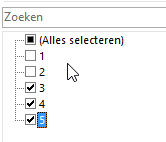 Select the email addresses and paste them into a simple TXT file.
! PAY ATTENTION! Then go through the email addresses and remove your own email address and those of friends and family members 
that don't fit your target audience
. Unless you want to reach similar people. Ideally, this list should also include email addresses of your customers. By the way, you are allowed to inform your customers about your products or services without an opt-in; but there must be a real customer relationship.
Create Custom Audience in Facebook Ads
Each Facebook account is linked to one or more email addresses. If that e-mail address matches an e-mail address in your newsletter file, you can then set up a Facebook campaign on it. Please note: you will never hear from Facebook that dus@niet.nl is linked to a 'Peter Jansen'. And that's a good thing. Here's how to create your custom audience in Facebook Ads:
go to you Facebook Ads account and click on the top Utilities and then on Target audiences.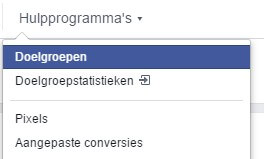 Then click Create target audience and choose Create Custom Audience.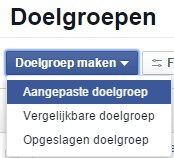 A new window with options will appear: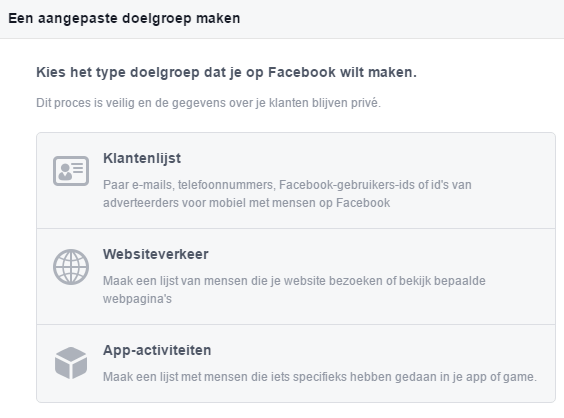 So App Activities is for the readers with an app or game, I will not discuss that here. Website traffic is covered in the Facebook Ads Pixel below. We will now start with Customer list. Click.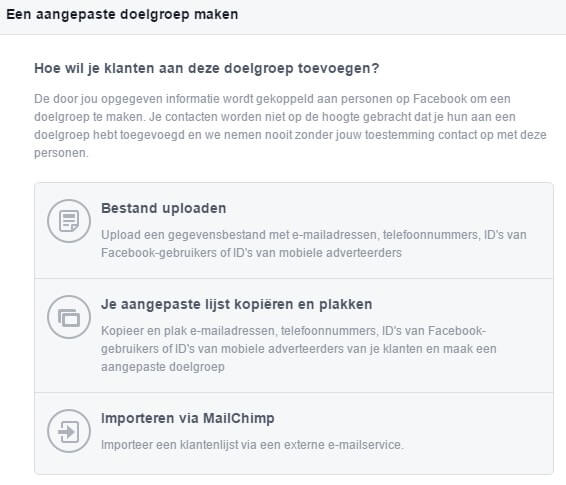 You have the following options:
upload file. That is why the above explanation was Get newsletter file in MailChimp.
Copy and paste your custom list. Can. But we're not going to do that.
Import via MailChimp. This is very fat. Facebook is also a fan of MailChimp!
I explain File Upload and Import via MailChimp:
Upload custom audience by customer list as file
click on upload file. 
Set Data Type to Emails, select you email file, put a checkmark (and read that one of course) Facebook Custom Audiences Terms!) and click Create target audience.

Then give a Target group name and possibly a description. click on Next one to complete. Then read more at Create Similar Audience.
Custom Audience by Importing Customer List via MailChimp
You use MailChimp and you don't want to filter the quality of your readers? (perhaps because otherwise your newsletter file will be too small) Then use this option.
click on Import via MailChimp.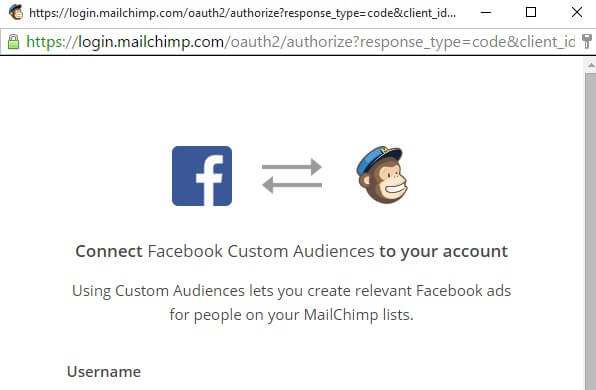 Give OK to make the connection. Choose another account if you have multiple MailChimp accounts. Select you list and click OK to complete.
Create Lookalike Audience in Facebook Ads
Your Custom Audience has been created. And you immediately get even more options offered by Facebook: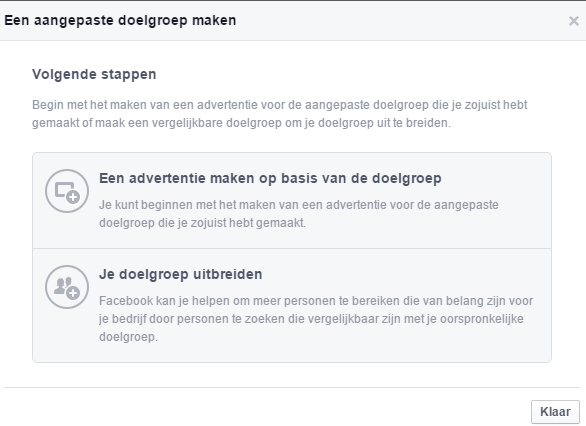 Create an ad based on audience. You will immediately get started with Facebook Ads. Wait a minute with that.
Expand your target audience. This will create a Similar audience. Yes!
Similar audience
In English: look-a-like audience. Facebook looks based on a source, which is comparable as target group for other Facebook profiles. And that's interesting: Facebook gives you a target group with similar profiles based on your customer list. The only point of course: you only get that in Facebook. The challenge is to convert that target group into profiles (newsletter readers) and customers. In short: to achieve conversion conversie. 
Choose Similar audience.
The resource will be placed directly on your Custom Audience. put it country on the desired country (the Netherlands). Size can be set, but the larger the inaccuracy.

Is your resource less than 100? Then you will unfortunately receive a message:

click on Create target audience and do a dance.
You will now see the two new audiences you have created:

Loyal Mailchimp readers, useful for example if you want to point them to your Facebook page;
Lookalike, a much larger target group that you can select in your ads.
You will receive a notification from Facebook when your target groups are ready. Then you can use them in your ads.
Install Facebook Ads Pixel and Measure Conversion
The possibilities with Facebook Ads go one step further. You know you're with Google Analytics can set your conversion goals? You can also do that with Facebook Ads… and you can then create it again as a Custom Audience. What does that mean:
You can capture and target every website visitor;
You can capture and target every visitor who visits a specific page;
You can capture and target every visitor who makes a conversion on your website;
So when I say 'target', I mean:
Create as Custom Audience;
Create a Similar Audience based on that Custom Audience.
Example for illustration
A restaurant owner in Amsterdam South has a mailing list of 200 regular customers. Based on this, he creates a Similar target group of 10,000 potential customers. With this he sets up a Facebook Ads campaign aimed at reservations, and he also installs the Facebook Ads Pixel. This results in 300 visits to his website and 15 reservations. With the Facebook Ads Pixel, he can create a Custom Audience of the 300 people who clicked through to his website, and exclude the 15 reservations. With this, he can use a different message to tempt 285 interested parties to make a reservation. (retargeting).
In addition, based on those 300, he can again create a Similar target group: a target group based on click behavior on his advertisement and his original mailing list. And after some time, he can also create a Custom Audience based on people who book following his Facebook ad, and create a Similar Audience with that.  
Install Facebook Ads Pixel
Go to Pixels in Facebook Ads. (or click on Pixels via Utilities at the top)
You can immediately create a Pixel code (This is also possible when you create an advertisement and choose Conversion on website as the goal)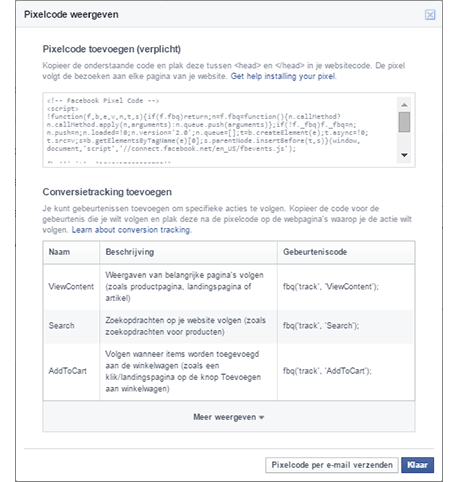 You can send the Pixelcode directly by email to your website builder. Or. You can install the code yourself in WordPress. Find in WordPress where you have put the Google Analytics code (depending on your Theme, or your plugin such as Yoast), and just put the Facebook Ads Pixel code in it nicely. The point is that, just like with the Google Analytics code, the Pixel code is placed in the header on every page.
You can easily test whether it works with the met Facebook Pixel Helper, there is a nice plugin for Chrome. But you can also just see it in the Pixel section. The Pixel tool also helps with troubleshooting and insights to improve performance.
You can adjust the code for registering conversions, such as Search, AddToCart, AddToWishlist, Purchase, CompleteRegistration etc. Read more about the possibilities on https://www.facebook.com/help/402791146561655, and read How to set that up, on https://www.facebook.com/help/780705975381000.
Measuring conversions with the Facebook Ads Pixel
After the Facebook Ads Pixel is set up, you can then create an Audience and Make Conversion. I'll first explain how to set up conversions. Then you can set up your Ads to get those conversions. Facebook will use this to optimize your ads for your conversions… and yes that is very useful. In the Pixel section, go to Make conversion.

You get 2 options: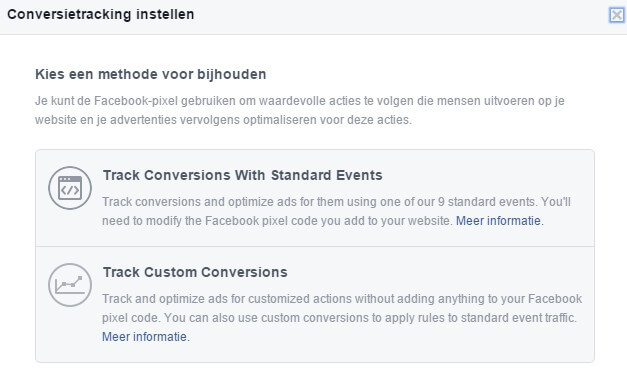 That first option, Track Conversions With Standard Events, is as I mentioned above: conversions for which you also have to adjust the code. Does it matter more complicated, while with Track Custom Conversions you can already do most things.
click on Track Custom Conversions.
You see the Pixel as you created it (green ball = good)
You can set the rule to 'URL equals' and 'URL contains'. Most conversions are page related: such as the thank you page after a contact form or an order form, or a specific product page. Choose URL equals.

Then give the Category on, really just the kind of conversion: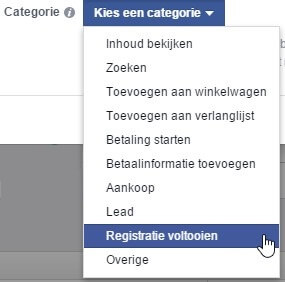 Then give a Name, optionally a Description and Conversion Value at: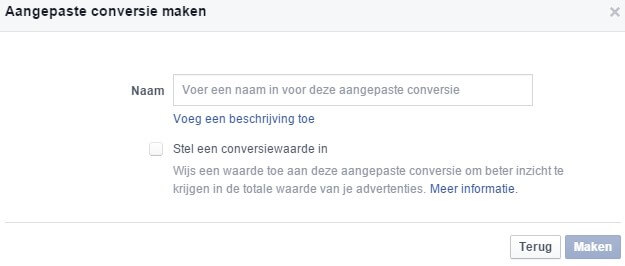 You can also use the explanation from Facebook read about it yourself. You will then find the conversion under Custom Conversions to the right of the name you gave it. If a custom conversion hasn't happened yet, Facebook is happy to give you tips and help. You can now adjust your running ad and set the Custom conversion target.
Create Custom Audience Based on Facebook Ads Pixel
Remember that example from that restaurant? So you do that as follows:
In the Pixel section, click Create target audience: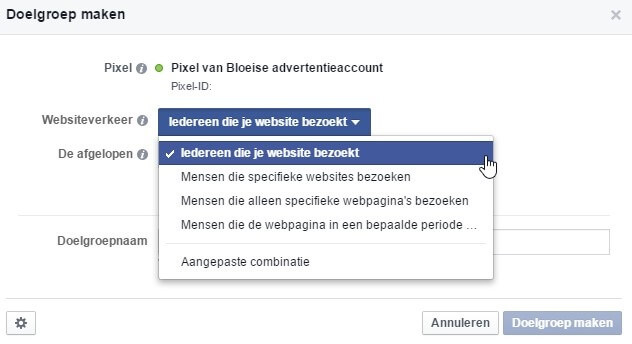 You have the option to select on:

Everyone who visits your website, People who visit specific websites;
People who only visit specific web pages;
People who have not visited the webpage in a certain period of time;
a custom combination.
With custom combination you have the most possibilities:

click on Create target audience and your new Custom Audience is among your other audiences. And as explained under Create Similar Audience, you can create another Lookalike audience based on your Custom Audience. Yes, it is a bit of a puzzle in the beginning. But once you run Facebook Ads Pixel, and you collect information about the behavior of your target group with your campaign, you can appeal to a more suitable target group every time. And that's just awesome.
Need personal Facebook advice? Book a Facebook marketing session
45 minute 1-on-1 phone call where we can discuss everything about facebook marketing: page issues, growing likes, creating interaction and content creation, creation/collection and scheduling. After this session, you can better use Facebook as a business asset.