These are the 5 most important SEO trends of 2017
Every year there are new developments in the field of SEO. Trends in such numbers that it is difficult to keep an overview. There are also many opinions that say what you should or should not do. That is why we are happy to share the most important SEO trends of 2017 with you. This allows you to ensure that your website remains easy to find online.
1. In 2017, searches are increasingly voiced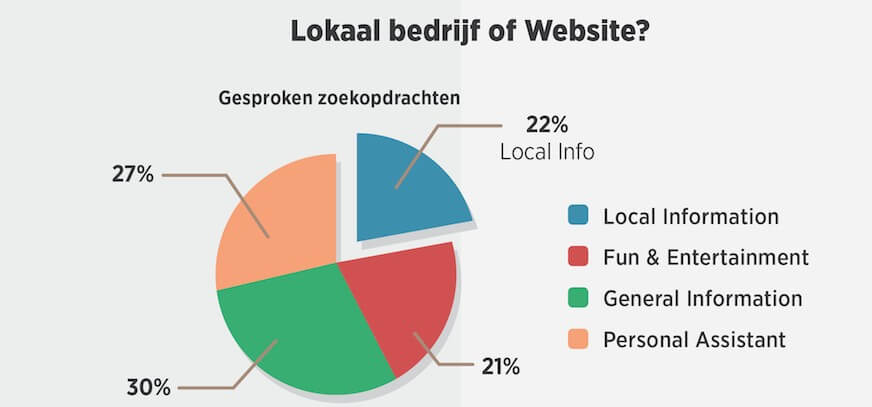 In 2017 it is not necessarily important what the search terms are, but correct how that are entered! They are being spoken more and more often, now mainly by young people. This is also called voice search mentioned. 20 percent of searches are voiced. In four years, this is expected to be even 50 percent. Such commands are not only entered on mobile devices. This also happens via desktop and supporting devices. The popularity of voice search is due to the software that keeps getting better. The recording of searches also ensures that people can use their time more efficiently.
Changing search behavior through voice search
As a result, the search behavior changes. Search terms that are spoken often start with keywords such as 'what' and 'who'. They are often long tail with an average of 4.2 words. Typed search terms are shorter with an average of 3.2. [pullquote]People who record searches look for a practical answer and have a relatively high purchase intention.[/pullquote]
Google also recognizes that this is an important trend. Google gives Featured Snippets back to the top of the search results. This is content from other sources that gives users the practical answer they are looking for. Google can thus serve its users even faster. Content marketers need to optimize their web pages for long tail searches. That way, the web page can be displayed not only in the search results, but also as a Featured Snippet.
2. Do you have nice content? Make it epic!
Fun content is no longer enough in 2017, it has to be epic! epic content comprehensively answers the question users may have. For example, if you sell coffee machines, the target group may wonder how many cups of coffee they can drink per day. For example, go into detail about the allowed amount of caffeine per coffee type or age group. The highest search results have more content than lower search results. Extensive content also gives you more backlinks on. Make sure you have a good structure and relevant images.
3. Google is getting smarter
And how! In 2017 stays RankBrain are developed by Google. This is an artificial intelligence system from Google with which searches can be interpreted better and better. This allows Google to show results that are most relevant. RankBrain is the third most important factor for websites to be featured. The surprising thing is that keywords do not necessarily have to appear on the website to rank well in Google. Content marketers can still make their web pages appear high in Google by publishing epic content. Read more about it here RankBrain.
4. Good mobile user experience comes first
In our article about SEO Trends of 2016 we already wrote about the importance of responsive design so that your website also works well on a mobile device. If your website is not yet responsive in 2017, then you can forget about a good ranking in Google. Google even ranks mobile search results separately from desktop search results. The speed of the website is also important. Thanks to Accelerated Mobile Pages (AMP) technology from Google you can optimize the speed.
5. Apps are also shown in organic search results
Apps will also be given a more prominent place in search results in 2017. This development will continue in 2017. Websites get more competition in search results and apps get more traffic.
More information
This was really just the tip of the shutter. Do you want more information about the 5 SEO trends of 2017? Then view the infographic below. Click on it to enlarge it. Good luck with the SEO strategy!
Source: SEO trends 2017 – infographic
This SEO Trends 2017 infographic was brought to you by SEO specialist – Ompro.