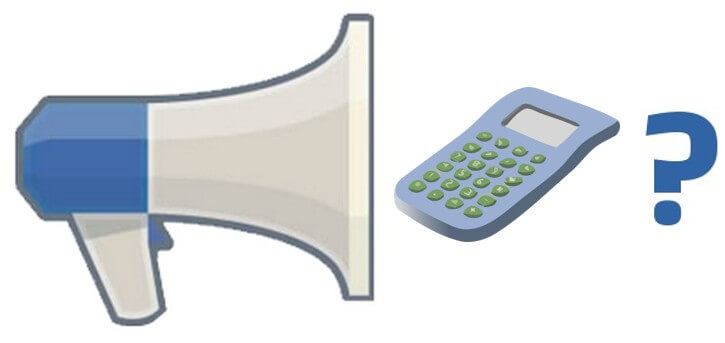 What is the cost of advertising on Facebook?
Do you have the SWOT analysis of advertise on Facebook read, and have you decided to look further? Advertising on Facebook is possible from 1 euro per day. The first question you ask as an entrepreneur: what should that be? advertising on Facebook Ads cost actually? For this I look at the benefits, the technical advertising options of Facebook, the relevance score and optimisation.
Costs and benefits of advertising on Facebook
Something that costs money must yield something. Facebook as a communication channel is becoming less and less valuable: we all like more and more pages, but of the 1600 messages (and growing) that Facebook is offered daily per user, only 300 are shown. (thanks to the Facebook Edgerank) Your post from your Facebook page is now shown to only an average of two percent of your fans. And that percentage continues to decline. Using Facebook Ads to grow your Facebook page is therefore more expensive in the long run than you might think.
The first introduction to Facebook Ads is namely 'Promote Post'. With this you buy the reach that you previously got for free from Facebook (with organic reach), but also far beyond that reach. So with promoting a message you only bring your Facebook message to wider attention. This results in more interaction on your Facebook post and ultimately more likes, if the content resonates well with your target group. You do this especially if you want to achieve more reach on Facebook in the short and long term.
Facebook Ads is an advertising channel
It is important not to see Facebook as a channel in isolation: your customers have contact with your company through various channels. Those are own channels such as your website, newsletter, Facebook, Twitter, LinkedIn, printed matter, your store etc, earned channels such as press releases, retweets and shares, guest blogs etc, and paid channels: Google Adwords, newspaper ads and Facebook Ads. All these channels work together and form one customer journey for your customer before he (or she) purchases a product or service from you.
Assessing Facebook Ads Value
For example, if you want to enable me for your Facebook Ads, send me an email and I'll call you. It started with your Google search or a message on social media, and that's how you ended up on Bloeise.nl. So that's four channels. For booking your holiday you can consult dozens of different sources and channels before you receive the booking confirmation in your email. If you want to value advertising on Facebook, you will need to have an idea of the effect and role of Facebook Ads in relation to all your marketing activities. Yeah that sounds like work, sorry. But this will ultimately save you money and time: you will then know which paths through which channels your company advertising works optimally. And just to be clear, free advertising on Facebook does not exist.
Facebook Ads for Relationship Management
Facebook is rather a means to service and relationship management and is less suitable for direct sales. Advertising on Facebook has more in common with email marketing than with Google Adwords for example.
Set the cost of advertising on Facebook
In addition to boosting a Facebook post, you can set up an advertising campaign, with underlying ads to promote your company or product. To set your budget per campaign, you have two options: per day or maturity budget. The latter means: your total budget for the entire duration of your campaign. Overarching, you can also create a for your account spending limit which ensures that all ads are stopped once the set limit is reached. Now the budget is set. How is your budget made up for bids? That depends on your chosen objective.
Facebook objectives: CPM or CPC
Faebook offers the following objectives:
Click to website: Send people to your website.

Website conversions: Increase the number of conversions on your website. (you need a conversion pixel for this)

Page Post Engagement: Promote the interaction around your Facebook post: likes, comments and shares. (boosting)

Page-likes: Promote your Facebook page and generate new Page likes.

App installations: Get your app installed more often.

Engagement with app: Increase engagement with your app (installs, usage and credits spent)

Claimed offers: Create offers that people in your store can take advantage of.

Local fame: Reach people near your business. (for shops)

Comments on events: Increase participation in your event.

Video Views: Create ads that get more people to watch a video.
You usually pay for views of your ad, with Facebook optimizing your ad to meet your precise objective. You pay for viewing as CPM: cost per mile (1000 views). If you advertise for a page, app, event or external website, you can also set a CPC: Cost per click. (you will find this under How much do you want to spend / Show advanced options). That differs per objective. For a campaign with the goal of 'Clicks to website', you get the following options:
Click to website: the ads are shown to people who are likely to click through to your website (CPC)
Click: the ads are shown to people who are likely to click on your ad (CPC)
Unique reach per day: Your ad will be shown to people a maximum of once a day (CPM)
Views: your ad will be shown to people as often as possible (CPM)
What is a good offer?
Example: you earn 10 euros per book sold. Out of 100 visitors to your website, 2 will buy your book (conversion rate of 2 %). How much is a click worth to you?
€0.20 eurocent
. Because 100 clicks will cost you 20 euros and earn you 20 euros.
You do not always pay your maximum bid. Facebook recommends that you bid on the actual value you assign to your objective. It can pay off to bid much higher: this can lower your average CPC (after the fact). Your daily budget must be at least 2x your bid. Facebook indicates in which range a bid must fall to be included, but that depends on the number of people on Facebook and the competition of course.
Lower costs for advertising on Facebook: relevance score
Ultimately, of course, the question is: how can advertising on Facebook be done at a lower cost? Now Facebook also enters ad management (and not just in the facebook power editor, free tool to manage your ads, especially interesting if you do a lot of ads) a relevance score per ad. It answers the question: how relevant is your ad for your chosen target group? The more relevant, the lower your costs will be. A general marketing tip: high relevance = lower costs.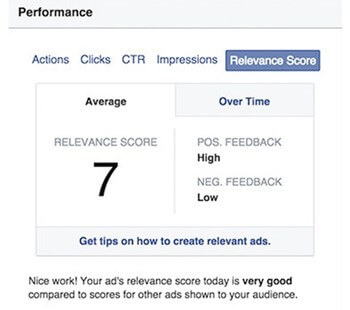 How does Facebook Relevance Score work?
Ads that are shown at least 500x a day are given a relevance score between 1 and 10. That score is calculated based on the feedback that Facebook receives: positive or negative. Positive is interaction and negative is hiding your ad. Facebook includes this score in its ad display system: the goal of Facebook is to provide the most positive experience possible (so that users spend as much time as possible on Facebook qualitatively). The Facebook relevance score means it pays to try multiple ads (minimum 500 views per day per ad) and stick with the ones with the best relevancy score. Has your campaign been running for a while, and do you see a low relevance score appearing with an ad? Then see how you can improve the advertisement or the target group:
Specify your target audience: the more specific, the more relevant.
Improve your image: does the image fit your message? At the target group?
Renew on time: an ad that is regularly shown to your target group will get boring.
And keep testing and analyzing critically. Which advertisement scores high and why? How do you repeat that with another ad?

Are you paying too much for your Facebook Ads? Read much more here tips for increasing Facebook relevance score for your advertising costs straight away to lower.
Keep optimizing for relevance
This directly coincides with increasing the relevance score: ensure a unique advertisement per target group. Optimize per target group you advertisement, by A/B testing with multiple ads.
Optimize target audience Doel
stay you too target audience optimize. One way to find an interesting target group is to read your customer base (email addresses, at least 100) in Facebook Ads as Facebook audience (custom audience), and then choose Lookalike audiences (similar audiences). Facebook ensures that you reach similar people. For example, if you have an Italian restaurant, Facebook will check whether people who like Mediterranean are interested in your advertisement.
Create lookalike audience
Facebook also offers the possibility to collect the Facebook IDs of people who visit your website or page (via the Facebook pixel) or use your app (via a set event). So you can show Facebook ads to similar people who viewed your quote page, or viewed your contact information in the app. How relevant do you want it to be?

Do more with targeted advertising on Facebook?
Read more about creating
target groups in Facebook
.
Optimize your bids
Do you work with CPC? Try CPM. And vice versa. Ultimately, it is about the relevance per ad that ensures interaction and therefore lower costs. Whether CPC or CPM is cheaper, you have to find out for yourself. That depends on all the different factors. Also try to be below the maximum bid, and above it. Just remember that you pay tuition to learn how to advertise more efficiently on Facebook.
Experiences cost advertising on Facebook
Two recent examples for a campaign focused on video views, one in the Netherlands and one in Bulgaria. An important difference is the message itself: a 4.5-minute video that explains what is happening in healthcare or a 1-minute video with a dog. The latter is more in line with the experience people have on Facebook.
Campaign video views (Netherlands, industry is a concern)
Got a video (of 4.5 minutes) 104,000 impressions (no views but seen in the timeline) on a budget from 500 euros.  17,858 actions on the ad, the click through rate is 12% and the relevance of the ad is 10/10. Actions include clicking the video, like, comment, share. Video is of course way too long (1 minute is ideal), so 30% of the video is viewed on average. (1.25 minute).
Average cost per engagement on message is 0.03 cents. Campaign video views (Bulgaria, interest is dogs)
Got a video (1 minute) 18,886 impressions on a bbudget of 2 euros, a click-through rate of 8.964%, (engagement of 9,35%) and  3259 actions:
1707 Video Views
1470 Video Plays
40 Post Likes
15 Post Comments
12 Page Likes
11 Other Website Conversions (Conversion)
3 Website Clicks
1 Post Shares
Average cost per engagement on message is less than 0.01 cents.The important thing is to try different ads, with different videos, titles, texts, on different audiences (gender, age, region etc), with different bids. This can be done per day against a small budget.
Facebook payment methods and Ideal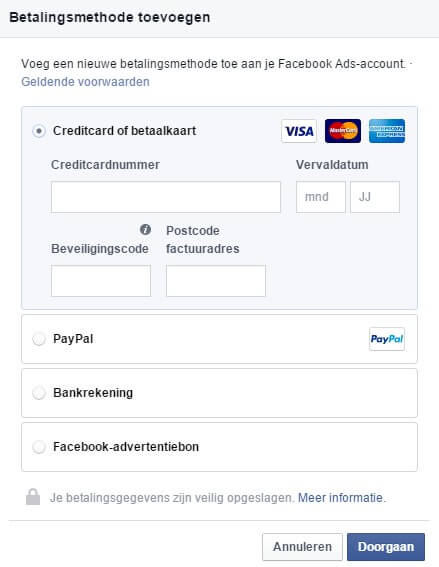 Not everyone has a credit card, and yet it is the primary payment option when advertising on Facebook. Also include the billing address associated with the credit card. Other options include: Facebook Ad Coupon, PayPal, and Bank Account:
Facebook Ad Coupon: the voucher that you are given to try out advertising on Facebook;
paypal: you can top up your PayPal credit with Ideal.
bank account: sets a automatic collection in operation. (works for private and business accounts)
Prepaid (IDEAL): Pay attention! It can take 3 to 5 business days for prepaid to actually become available in Facebook Ads after you've paid. Read more on Facebook.
Starting with Facebook Ads?
You are convinced of the added value of Facebook and you have a clear picture of the costs. Then it's time to step by step to start advertising on Facebook.
Facebook marketing in 60 minutes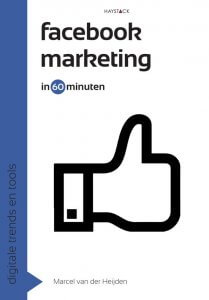 € 12,50 via Bol.com
Excellent book to start advertising on Facebook. Makes you think about your Facebook goals. What do you ultimately want to achieve? This book explains the basics in 60 minutes.
Written by Marcel van der Heijden, founder a friend of mine?, the first Facebook marketing agency in the Netherlands. View here on Bol.com.
DOWNLOAD Facebook for Business Checklist
Everything to quickly and effectively put your Facebook page live