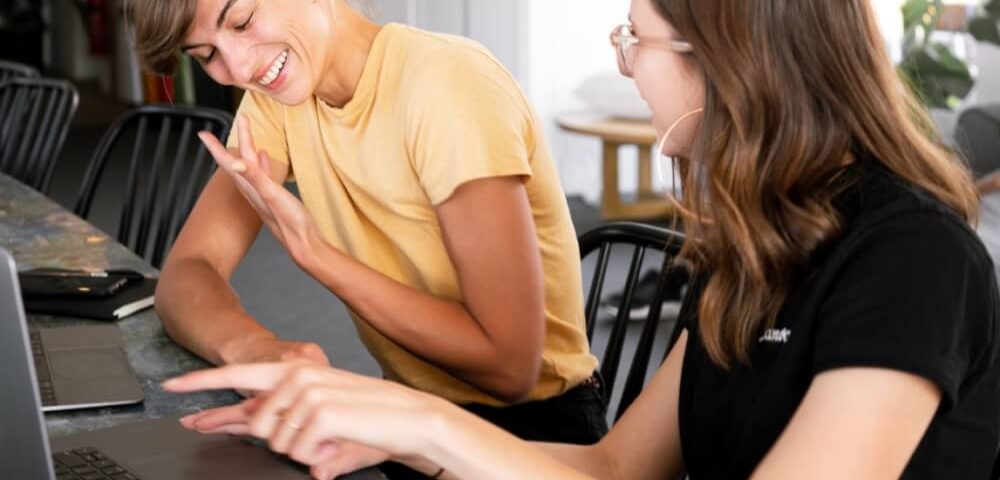 When your client suddenly becomes an employer: the impact of a sudden appointment for freelancers
In recent years, the Netherlands has grown into a typical self-employed country. Never before has such a large part of the population (partly) worked as self-employed in our country as nowadays. This is partly the personal choice of many of those self-employed. After all, as a self-employed person you can benefit from a number of nice tax benefits, you often experience more freedom than when you work as an employee and you experience a stronger sense of responsibility. In short, you are doing business. That appeals to people.
Forced freelancers
On the other hand, some of the Dutch self-employed have actually become self-employed against their will. By no means everyone is waiting for a status as an entrepreneur, because, for example, the safety of a permanent employment contract (and therefore a fixed income) is important, or because someone has no need at all to do their own bookkeeping or other things that come with self-employment. come to see entrepreneurship. If your employer decides to only work with zzp, and you do zzp must In order to continue doing your job, you have to choose between two evils.
The other way around: from self-employed to employee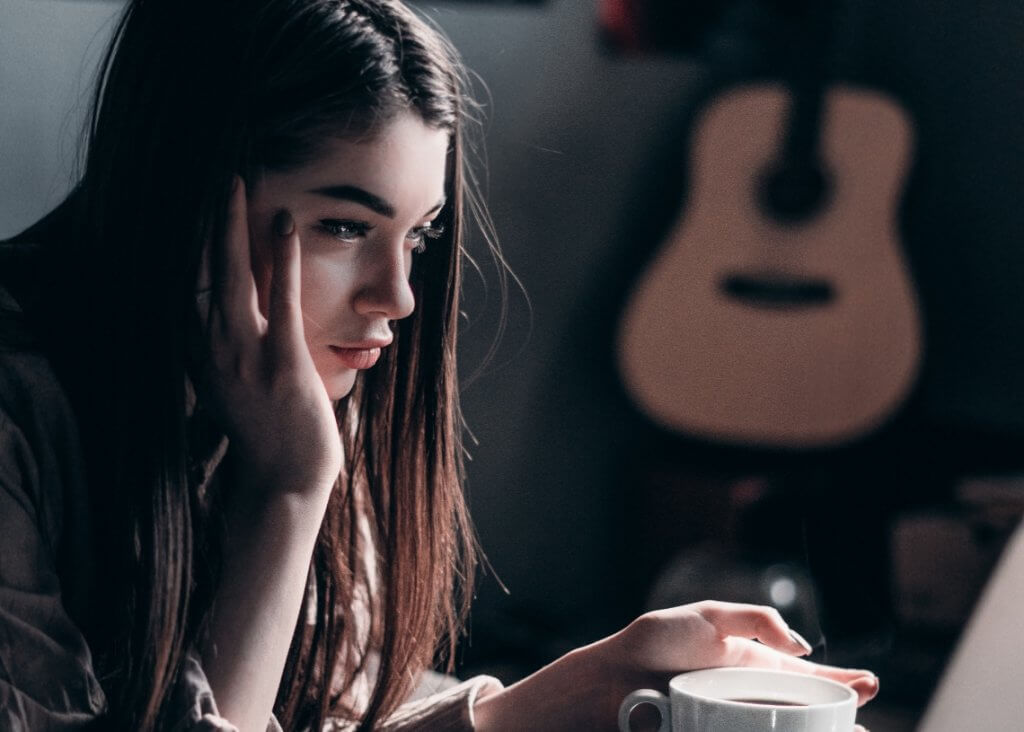 However, that path can also be taken the other way around, as recently became clear once again in a court decision in which a musician in an orchestra claimed employment instead of self-employed status. The judge ruled in her favor, and forced both parties to conclude an employment contract and to agree on its contents.
Now that employment contract in this case was also the musician's commitment and wish, but what if that is not the case? What if you are fine with being self-employed, but according to the law you suddenly find yourself falling into the 'salaried employment' category without expecting it yourself? Is that just possible?
When are you employed and when are you self-employed?
You would expect that in good consultation with the client/employer you can agree whether you will start working as a freelancer or will be (temporarily) employed. You would also expect that you largely decide that yourself. After all, you decide yourself whether or not you register as a self-employed person with the Chamber of Commerce?
The reality is a lot less simple and more and more freelancers are disappointed. It is true that as a freelancer you have to assess together with your client whether you are employed or not, but what you and the client think about it is not really relevant. The tax authorities have frames prepared for.
There are three questions to which the answers determine whether you are employed or not:
Do you have to do the work yourself, or can you outsource things without consultation?
Is there a relationship of authority, whereby the client determines how the work should be carried out?
Do you receive salary? (As in: more than just an expense allowance)
If all three questions are answered with 'yes', you will be employed in any case, even if you would like to agree among yourselves that you work as a self-employed person and bill you for hours. As soon as you receive a salary, have to follow instructions from your client and are not allowed to just transfer your work to someone else, you are an employee according to the tax authorities and not a self-employed person.
You are suddenly an employee. What now?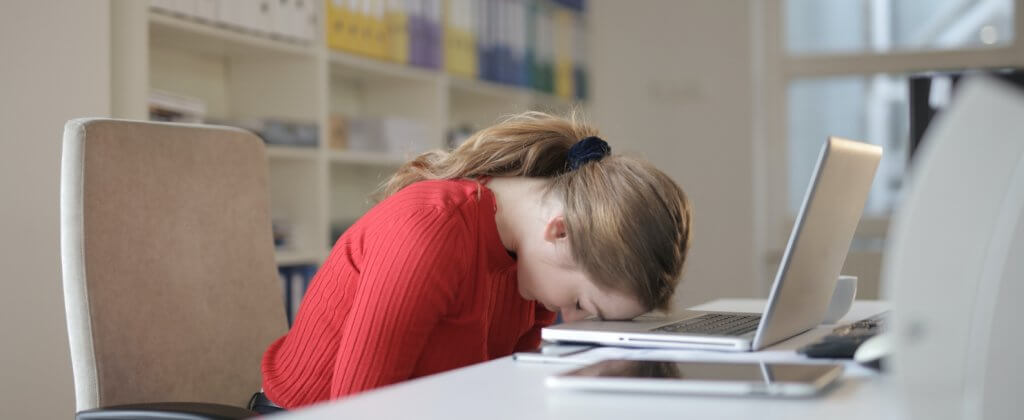 Now that is good news for the musician from the aforementioned lawsuit. He was unintentionally pushed towards self-employed status, but again forced an employment contract in court. But what if, in accordance with the guidelines of the Tax Authorities, you suddenly turn out to be an employee, while you had consciously chosen a status as a self-employed person?
First of all, it may be important to realize that such a statement by the Tax Authorities does not by definition say something about your complete status as a self-employed person, but only about the employment relationship you have with that one employer. Do you have more clients than that one employer? Then it is quite possible that you do not have an employment contract with the other clients. Is that one employer immediately your only client? Then the consequences become more serious.
With retroactive effect you are then employed by the employer, which has an impact on taxes, premiums and, for example, the employed person's tax credit. As a self-employed person you apply for it yourself, while your employer does it for you if you are in paid employment. As a self-employed person you may have taken out (expensive) disability insurance, which becomes useless if you turn out to be in paid employment. For example, the impact of a sudden status change can be significant. That is why it is essential to check with your client from time to time whether your agreements still fall within the framework of the self-employed status and whether you adhere to those agreements in practice. The Tax and Customs Administration has model agreements available for this.
Salary and self-employed: hour criterion and the one-time employed person's discountkort

If it turns out that you are employed by one client, you can always combine your self-employed work for other clients with a permanent job at your employer. It is best to combine this if you ensure that you work as a freelancer on average 24 hours a week. You then arrive at the 1225 hours per year (with 5 weeks of vacation that is an average of 26 hours per week) that you have to put into your company in order to be seen as an entrepreneur for the tax authorities. Only then can you take advantage of the many tax benefits and deductions.
Pay extra attention to the employed person's tax credit: this is a tax credit that is calculated for entrepreneurs on the profit from the company (before the entrepreneur's deduction and the SME profit exemption are deducted). For employees, the employed person's tax credit is applied as standard by the employer when calculating the net salary. You can only apply the employed person's tax credit once, so apply it to the largest part: your profit from the company you spend 26 hours a week on. If you are a self-employed person in limited employment, record this carefully: do not apply an employed person's tax credit. You do that through this form, called Model statement data for payroll taxes. Does your part-time employer still apply an employed person's tax credit? Then you can no longer apply an employed person's tax return with your tax return as an entrepreneur, and that usually turns out financially worse for you.
Is it not possible to get those 1225 hours a year? In that case, combining self-employed work with paid employment is still possible, but less attractive. You then pay a relatively large amount of tax on your self-employed income and cannot make use of entrepreneurial benefits. So weigh yourself carefully how much time you can put into your company before you decide to continue your self-employed work in addition to a paid job.
The four scenarios on the axes of the hour criterion and employed person's tax credit
Worked out in a schedule you get four different scenarios. Get professional advice from a labor expert or accountant in good time to avoid unpleasant surprises afterwards.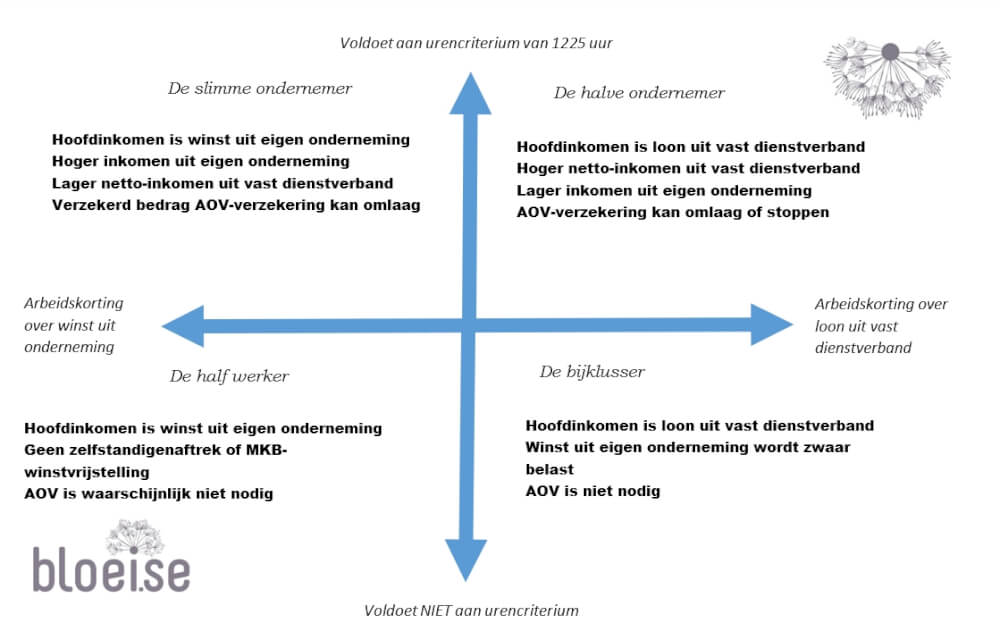 The smart entrepreneur
Meets the hour criterion of 1225 hours
Employed person's tax credit on profit from company
With the main income the profit from your own company, it is smart to also apply the employed person's tax credit there. This does mean that the net salary from permanent employment is taxed more heavily, but on the other hand, the insured amount of any AOV insurance can be relatively lower. Note that this usually only covers a part of the entrepreneur's income, 70 or 80%, so you can also leave it unchanged.
Make agreements with your new employer about not applying the employed person's tax credit, an employment contract outside of which you can still meet your hour criterion and a salary that takes into account the non-application of the employed person's tax credit – which is therefore relatively higher. The advantage for the employer: fixed agreements about your commitment while you keep your knowledge and skills sharp in practice for other clients. The advantage for you as an entrepreneur: certainty of being able to continue doing business for hours. Agreements about following instructions or outsourcing work are now of secondary importance, but keep in mind that the government has been carrying around the self-employed for some years now.
The half entrepreneur
Meets the hour criterion of 1225 hours
Employment discount on wages from permanent employment
You get your main income from your permanent employment and therefore apply the employed person's tax credit. Yet you meet the hour criterion: you are therefore mainly working for your company and not so much for clients. This is possible with starting entrepreneurs who spend many hours building a website with blogs, for example.
For your employer you are an employee, but outside working hours you spend a lot of time in your company: at least 26 hours a day. However, you don't get that much income from it. Therefore, think very carefully about how you file your tax return. Although it is nice to be able to apply your self-employed deduction and SME profit exemption as an entrepreneur on the profit from your company, you also apply your starter's deduction immediately. You can only apply it for the first five years, and it is intended to get you off to a flying start. You pay very little tax thanks to the starters deduction. Aren't you wasting these now? Is it perhaps better not to file your tax return as an entrepreneur?
The half worker
Employed person's tax credit on profit from company
DOES NOT meet hours criterion
Your main income comes from your own company while you work on it less than 26 hours a week on average. That means that your part-time job is for a limited number of hours or a minimum wage, OR that you earn more with few hours of doing business. Are you happy with this?
By failing to meet the hour criterion, you miss out on all kinds of benefits as an entrepreneur: starter's deduction, entrepreneur's deduction and the SME profit exemption. And yet you apparently earn more with this than your permanent employment because you do apply your employed person's tax credit here, which is a bit strange. If you do work enough hours for your employer and that income would be sufficient to live on, then you probably don't need AOV. If you really need your profit from business, you can insure it with an AOV.
 the side job
DOES NOT meet hours criterion
Employment discount on wages from permanent employment
As an employee who does extra work, you do not meet the hours criterion. A condition for many employers is often that they must approve your additional earnings, and that you agree not to maintain your own company during working hours.
This is how they are for many started as an entrepreneur: build up your own company partly from paid employment. Even though you may meet the hours criterion, you only want to apply it when you make enough profit from your business so that you get the best tax benefits. You only get the starter's allowance for the first five years. Your company probably falls under the small business scheme (KOR) where you do not charge VAT on your invoices because you do not make more than € 20,000 turnover.