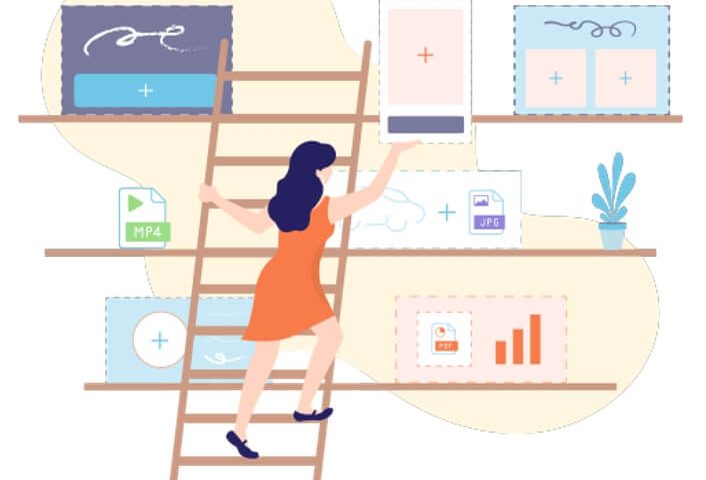 Why narrowcasting is important to invest in right now
Marketing strategies have changed over the years. Nowadays there are so many ways for product promotion including emails, social media, newspapers, phone calls, billboards, gorilla marketing and more. Digitization is more common in shops and business premises. It is of course important to properly convey your message to customers and that is possible with narrowcasting. In the past few years, the use of narrowcasting has increased significantly. From local shops to large business premises, entrepreneurs are actively involved in narrowcasting. Which is also very understandable. Narrowcasting is a smart and effective way to achieve marketing goals.
What can you do with narrowcasting?
Narrowcasting is a small concept with endless possibilities. There is a narrowcasting solution for every industry. Retailers regularly use it to promote products. Others use it for entertainment or even brand awareness. How narrowcasting is used depends on the company and the purpose. It is suitable for all sectors and is already used more often in industries such as; care and wellbeing, office and manufacturing, retail chains and brands, sports and fitness, leisure and hospitality, education, real estate, theaters and cinemas, restaurants and bars and much more. All these industries use digital signage to efficiently and effectively achieve their customer- and business-oriented goals. There are a number of sectors that are already making optimal use of narrowcasting.
Narrowcasting solutions within the healthcare sector
What every person finds irritating is, of course, waiting in the waiting area within a healthcare sector. Time is precious and waiting in a waiting area can feel like hours until it's your turn. Nobody wants it, which is why hospitals, pharmacies, GP practices and multiple industries in the same sector have implemented digital signage in their waiting areas. Narrowcasting makes it possible to entertain, inform customers and it can even display serial numbers on screen.
The use of narrowcasting in retail
Narrowcasting is also more commonly used in retail. From small shops to large shopping centers, digital signage is more common. Narrowcasting is often used for product promotion but it can also be used for other reasons. Research shows that 68% of customers view narrowcasting content as a reliable indicator of a company's products and services. As a retailer, you can use narrowcasting screens to communicate the right message to the right audience. In addition, narrowcasting is also very flexible when it comes to trading content, with a few clicks the content is adjusted and displayed. As a company, you can link social media accounts to narrowcasting. Linking Narrowcasting to social media accounts creates brand awareness for online and offline marketing interactions.
Narrowcasting in catering
It is no wonder that narrowcasting can now be found everywhere in the Dutch catering industry. Catering owners are proud of it. Mainly because narrowcasting serves the guests well with entertainment, info, news and current traffic information. In addition, owners can make actions easier and more effective with narrowcasting. Imagine, everyone in your bar is watching the football match, Ajax against Feyenoord, on your TV screen. You as the owner know that the rest will start in a few minutes. What are you doing then? At the exact moment of rest, you activate your beer promotions on the narrowcasting screens to encourage people to buy more beer.
How effective is digital signage really?
Digital signage can be found everywhere these days, which is understandable. More than 24,000 entrepreneurs are actively engaged in narrowcasting. Narrowcasting content ensures more interactions with customers. Research showed that 80% of customers entered a store because of narrowcasting screens in shop windows. This is mainly due to the movement and change of content. Animated and/or video content is an effective method for brand awareness. Narrowcasting is a powerful platform for marketers. With the right content you stimulate impulse purchases . According to study, 80% of the stores that use narrowcasting gets a sales increase of 33%. Most purchasing decisions are made at the manufacturing site, up to 72% from the customers.
Narrowcasting encourages customers to buy products, which is why it is important to place narrowcasting screens on location. Research shows that 44% of customers in stores are influenced by narrowcasting during the purchase of a product. In addition to sales and brand awareness, narrowcasting is also an effective method to simplify the customer journey in stores. Queues and wait times negatively impact the customer experience. Setting digital signage screens next to queues can reduce waiting times by 35%. Plus, queuing provides the perfect opportunity to display more promotional materials. Narrowcasting is a handy tool to achieve your goal. Any person can use narrowcasting, but how effective or efficient narrowcasting is depends of course on the user. It is therefore important to think carefully before using digital signage. Prevent
narrowcasting mistakes before it's too late.