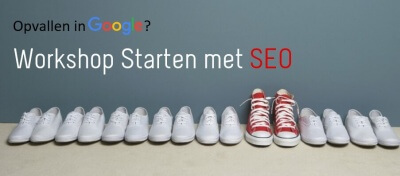 If you are not found on Google as a company, then you simply do not exist for many consumers
. 92 percent of Dutch people use search engines. Google's share is a whopping 93 percent. In more and more industries, the purchase starts with a search.
Many companies take a website, fill it and then it stops. The online business card is up and there is no time or focus for the moment. But then the real work begins. That is, if you want to be seen in Google. Optimizing your website for Google is called Search Engine Optimization or Search Engine Optimization in English. With some basic knowledge, as a local company you can easily get yourself in the search results. Read more about the SEO Workshop: Getting started with SEO.

On the day Workshop Starting with SEO you will learn the following topics:
How works google exactly? What does Google think is important?
How do you determine the keywords that your target audience uses?
How do you process the keywords on your website?
What is important about the rear end from your website?
How do you help visitors in their search?
How do you build left?
Moreover, you will get to work in the workshop itself: you will receive assignments in advance and during the workshop we will immediately apply the new insights to your website.
SEO Workshop: Getting started with SEO
Bloeise gives a day workshop Getting started with SEO aimed at website administrators and marketers who want to get started with SEO. After the workshop:

Do you understand how Google looks at the internet and websites;
Do you know how to make a keyword research does using Google's keyword planner;
Do you have insights into the technical requirements from Google. With this you can communicate this correctly to your website builder or learn to fill this in yourself in a sequel.
Do you know how to correctly process the keywords in your website? You know the "do's & don'ts" of content.
You know how to get more links the right way. You know the "do's & don'ts" of link building.
Can you manage your website with Google's Webmaster Tools.
In short: do you know exactly how to get your website higher in Google!
SEO Workshop: Getting started with SEO
SUITABLE FOR: 
Retailers, SMEs, entrepreneurs, site owners, marketers and marketing & communication employees who want to be found with their website in google. Starter Level.
TIME:
 from 10.00 until 16.30 
LOCATION:
With you on the case. Internet (via ADSL) and beamer must be present.
Don't have a location? The Helderse Vallei in Den Helder is an excellent location.
NUMBER:
A workshop is possible from 4 people. Ideally 12. More than 20 I do not recommend.
PRICE:
€ 800 excluding VAT and travel costs.
For travel time above one hour total (round trip), 50% of the travel time is calculated.
 INCLUDING
+ SEO knowledge sheet
 EXCLUSIVE
– Location, drinks and lunch
– Projector
– Internet
Fill out the form below to request a Facebook workshop. I will then contact you to coordinate the date, location and the desired content of the workshop.
WORKSHOP GIVER

Thomas Lapperre

Gives workshops since 2002, Facebook workshop since 2013.
Is well found with Bloeise for keywords "facebook marketing", "cost advertising facebook", "snapchat for companies" and "mailchimp manual"
Blogs for:
Just Googling.