The future of Internet of Things – Interview with Lorna Goulden
Lorna Goulden (Founder Creative Innovation Works) is inspired by creative technology, game changing business and sustainable futures. But what about the future of Internet of Things? Read her thoughts about IoT and Who inspires her most about this.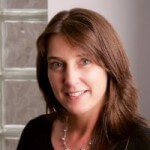 "I believe that the Internet of Things does risk moving rather rapidly towards the "trough of disillusionment" on Gartner's emerging technologies Hype Cycle"
To what extent can the Netherlands come along with the acceleration in innovation that is taking place right now?"
"The extent to which businesses in the Netherlands can compete with current innovation acceleration will be greatly influenced by an ability to step beyond a technical capabilities perspective towards a broader qualitative ecosystem viewpoint. Considering the convergence of mobile, cloud, data science and machine learning with the Internet of Things and shifting attention from "what" and "how" to "why" will be critical – adopting a more value driven perspective. In this context business model innovation will be just as relevant if not more than technology innovation; while bringing these together successfully will be the key to building a more competitive IoT innovation position.
"From an ecosystem perspective I see for example the integration of cyber security innovations will become increasingly important, on a global scale, given the increasing risk level being brought by the Internet of Things. This is a core strength that the Netherlands is developing with for example The Hague Security Delta (HSD), which is the largest security cluster in Europe, coupled with the current European position and regulations regarding data privacy and security. Another core strength – yet in my view largely underestimated an underutilized – is the long established and highly individualistic design culture and diverse creative industry. Connecting this unique capacity to drive technology innovations, to expand value creation beyond the comfort zone of efficiency gains, will be the most promising tactic to develop more meaningful innovations and discover those rather elusive yet disruptive business models."
Internet of Things: myth, bust or life changer?
"I believe that the Internet of Things does risk moving rather rapidly towards the "trough of disillusionment" on Gartner's emerging technologies Hype Cycle. That is not to say that Internet of Things value is a myth, but in order to realize any life changing promise the level of entrepreneurial maturity will need to accelerate at the same rate if not faster than current technological developments. I do see a risk in being blinkered by an almost childlike fascination with technological advances, a hangover perhaps from our industrial past, whilst the worrying "emperor's new clothes" characteristic of some business claims equally lacks grounding in real world value identification."
How do you personally stand towards the Internet of Things?
"From the point of view of IoT innovation, I like to simplify value creation into 3 different types. On the one hand we have an increasing opportunity to improve operational efficiency, this is the easiest to understand because it relates to what we already know, what we are already doing; to be more efficient, to reduce costs and risks, to do things faster. But still remaining very close to the current frame of reference. But as anyone involved in innovation knows it will also be important to introduce entirely new, differentiated, and of course desirable, connected products and services.
"A third value is really where I think the biggest potential for disruption is coming from the Internet of Things; is by dramatically improving the users experience, generating more accurate insights, providing greater levels of personalization and empowering people. . . often with a view to improving quality of life.It gets most interesting if you are able to combine and develop for all 3 value types at the same time. Which essentially means being able to think both inside as well as outside of the box at the same time."
[pullquote]"I expect to see an increasing implementation of Internet of Things in major cities"[/pullquote]
Who inspires you about M2M-technology and Internet of Things?
"Possibly too many names to mention!
One particularly inspiring figure is the late Rich Gold whom I briefly met at Xerox PARC; he was the father of their Artist-in-Residence programme (PAIR). A pioneering initiative in the early 90's to nurture collaboration at the intersection of Art and Science. Pairing artists who were using new media at the time with researchers who were often using the same media, but in different contexts. Particularly inspiring, and provocative, if you read his 1994 article "How smart does your bed have to be, before you are afraid to go to sleep at night"
In which areas will the impact of Internet of Things be more visible? What is the biggest threat?
"This is an interesting question, while we already have quite a widespread level of maturity of IoT in business operations and logistics (asset management etc.) this has remained largely invisible, to end users at least. I expect to see an increasing implementation of IoT in major cities, in part due to the economies of scale, but also driven for example by EU innovation funding goals. Yet there is a risk that an initial drive led by existing municipality responsibilities and silo structures (safety, security, maintenance, lighting, transport etc.) will result in urban IoT solutions that still remain largely 'invisible' or relevant to its citizens. Although I remain optimistic that once these predominantly operational-efficiency driven infrastructures are in place there will be room for a second wave of value creation that will be more directly impactful and visible to citizens, so long as they are not closed systems of course.
"Another area that is slowly picking up is of course in health and well being, exciting areas if you think of the potential to dramatically improve the patient monitoring care experience, and increased autonomy for more vulnerable citizens. The impact on quality of life could be huge in many different areas."
"Another area that I expect to see some visible shifts is in the retail world. A sector already going through quite some major disruption, with a few sometimes rather stumbling efforts to apply technology to improve the retail experience, I expect to see an increase in more creative and relevant innovations (born out of necessity in many cases) in the coming period. The two biggest threats I see at the moment for IoT (rather than from IoT) will be user experience not successfully stepping out of the technical domain, and of course privacy and security, which I you could view as a potential subset of user experience. These threats are not only applicable to end users experiencing usability frustration or privacy breaches, but this is also critical for businesses who may see trust in the current hype of 'smart and connected' drop off dramatically."

Dit interview is eerder gepubliceerd op Smart-Circle.org.