Black Friday in the Netherlands: figures, research and facts
Black Friday (and, to a lesser extent, but also Cyber Monday) have become an integral part of the Dutch retail and retail landscape. The originally American phenomenon has firmly established itself in Dutch consumer culture since 2017 and if you don't participate as a self-respecting retailer, you are most likely fishing behind the net. But how did it come to be? How did Black Friday gain a foothold in the Netherlands? And what is the current status and prospect? We have put the Black Friday facts and figures in a (chronological) row.
Black Friday History: Originated in America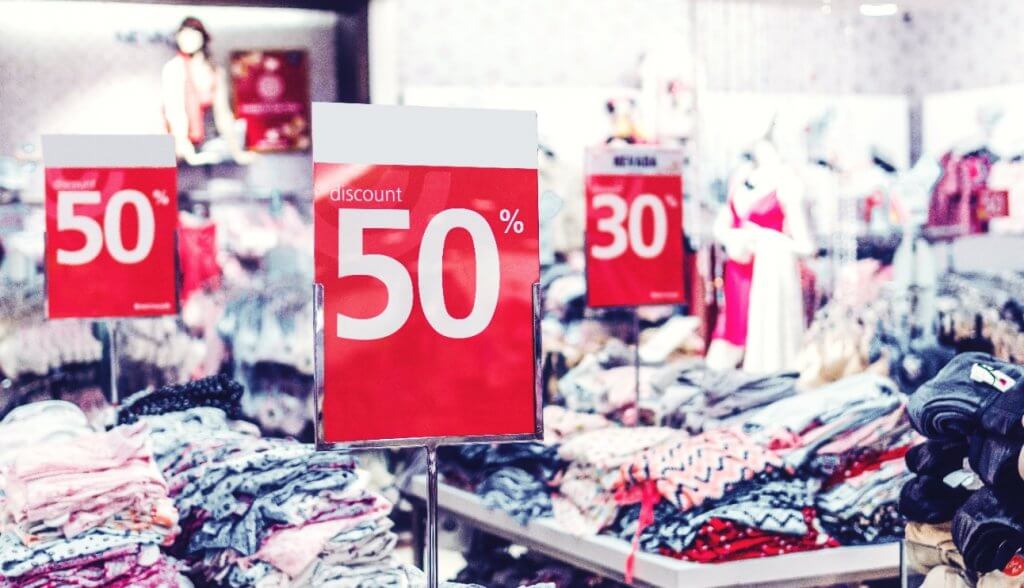 The definition of Black Friday
Although the first use of the term 'Black Friday' dates back to the sixties of the nineteenth century, we are not yet talking about the phenomenon that we understand as Black Friday today. At the time, it was a stock market crash as a result of a conspiracy to keep gold prices artificially high.
The first use of the term Black Friday
In the early twentieth century we find the first use of the term 'Black Friday' in relation to exuberant store sales. By 1905, department stores like Macy's and Eaton's were hosting big on the Friday after Thanksgiving every year parades in the street to lure people to their shops. There the offers flew around your ears: Black Friday was born.
Black Friday for Christmas shopping
Black Friday has since become a well-known phenomenon across America. It's the Friday after Thanksgiving (late November) and most Americans are off. Because Christmas is just around the corner, this Friday traditionally heralds the start of the Christmas shopping. Crowds of Americans are flocking to malls, where retailers are catching up again by throwing huge discounts.
Black Friday continued to grow; the introduction to Cyber Monday

Black Friday grew in popularity and became something that virtually all retail chains across America participated in. The term Black Friday has been structurally used in the United States in relation to this phenomenon since the 1950s. At the time, it was mainly used to describe the traffic on the road – after all, all Americans drove their cars to shopping areas.
More than fifty years later, around 2005, Black Friday's counterpart Cyber Monday its arrival: the Monday after Black Friday and the day on which online stores advertise with high discounts for new product groups such as consumer electronics. In practice, the separation is no longer so rigorous and the online stores are also active on Black Friday and vice versa.
From America to the Netherlands in 2014

Jumping in in the Netherlands 2014 the first retailers to respond to these American phenomena. In that year there are exactly two online stores that have special Black Friday offers. Black Friday fell on November 28.
Black Friday Netherlands 2017 – 24 November
Awareness of the US shopping days was 65% in 2017 according to Motivation. In addition, 31% went online-only viewing, 16% in-store only, and 53% looked at both. the expected spending amount was €189 in 2017.
14% of the Dutch went shopping on these days.
According to retail researcher Q&A, 13% made Sinterklaas purchases.
Black Friday Netherlands 2018 – November 23
In the Netherlands it is therefore relatively quiet in the first few years. 2018 is the first year that it really goes wild, which is of course measured on the basis of debit card transactions, iDeal payments and transfers by credit card:
In 2018, more than 750 million euros pinned on Black Friday in 19 million debit card payments and is clear for the first time increased activity visible compared to other days. An average of 69 payments per second were made between 6:00 PM and 7:00 PM, compared to 41 seconds on a Friday in 2018.
3.6 million times with iDeal paid, 50% more than in 2017 when iDeal was paid 2.4 million times.
According to payment organization ICS, Dutch customers 51% more out with them credit card on this Friday, compared to other Fridays in the month of November in the previous three years. The increase in purchases from foreign web stores is 15%.
Familiarity with Black Friday was according to Motivaction 85% in 2018, in 2017 this was still 65%. Expected participation by age group is 58% at 18 to 24, 46% at 25 to 34, 40% at 35 to 44, 28% at 45 to 54, 21% at 55 to 64, and 14% at 65 to 70.
Online shopping or physical: 39% of the Dutch expected to go shopping online beforehand, 11% only chose the store and 50% said both. (motivation).
In 2018, the expected amount spent was € 233. (Motivaction).
Pre-orient: 80% orientates itself in advance on the offers, 49% does this via web shops. 25% of Dutch consumers actually went bargain hunting these days. (motivation).
Black Friday fell a week later in 2018 and was therefore close to Sinterklaas, which means that Sinterklaas purchases were done more quickly in the Black Friday period. According to retail researcher Q & A, that was more than in 2018 20%, while in 2017 that was just 13%.
Black Friday Netherlands 2019 – November 28
gave in advance 62% from the Dutch to planning to go shopping during Black Friday and Cyber Monday, according to a survey by management consultancy Oliver Wyman among 23,000 consumers from the Netherlands, the US, the UK, France, Germany, Italy, Spain, Switzerland, Russia, New Zealand, Australia and Canada. In the Netherlands, according to the research, especially men in the age category 18 to 40 are interested in shopping. The average spend is €230 in the Netherlands, €338 in the US and €281 in the UK and France.
Dutch market research Motivaction also conducted a survey among 1,009 Dutch people and found more than a third of the Dutch who go shopping on these days. The familiarity with Black Friday used to be 95% in 2019, compared to 85% in 2018 and 65% in 2017.
In 2019, we are confirmed to be in an ongoing trend as the balance of the weekend from Black Friday to Cyber Monday adds up to around two billion euros spent.
Incidentally, online activity in the Netherlands in particular appears to be enormous; iDeal transactions are a big slice of the Black Friday and Cyber Monday pie. According to the Dutch Payments Association, turnover from iDeal payments was €106 million.
Logistics company Paazl, which makes checkout software for webshops, reported that the average volume increase over the entire Black Friday week was around 29%.
According to Motivaction expected 53% of the bargain hunters to especially whether online only to go shopping. 9% goes mainly or exclusively to physical stores. 38% makes no distinction in this regard. The top six outlets where people definitely went to look in 2019: bol.com, MediaMarkt, Wehkamp, HEMA, Zalando, Coolblue. Amazon and AliExpress are still small players in the Netherlands in 2019. Of the bargain hunters, 80% orientates itself in advance on the offers, just like in 2018. Online stores are the main source of information with 59%, followed by websites of brands and manufacturers with 34% and search engines with 34%. Folders and magazines are 28%, 17% for online newsletters from shops, advertisements in free local papers and online comparison sites such as Kieskeurig.
consumer site Kieskeurig.nl got 16% (93,407) in 2019 more visitors during Black Friday than in 2018 (80,223 visitors) on Monday 25 November 2019 53% more visitors than 19 November in 2018. The discount on the largest product groups on Kieskeurig.nl is half a percent less than in 2018. On average, consumers get 11% cheaper.
Product groups are most popular according to Motivation: outerwear with 32%, shoes with 30%, fragrances with 22%, toys with 21%, beauty with 17% and jewelry with 17%.
Motivation: 63% agreed with "I do my December shopping when it suits me and I don't care about Black Friday". 57% agreed, "The Black Friday and Cyber Monday discounts aren't all that special."
The Consumers Association also did research and reported that most discounts were around 20%, barely higher than the rest of the year. The best deals can be found on audio equipment such as wireless speakers, headphones and sound bars. MediaMarkt, BCC, Wehkamp and Expert, among others, gave 40% a discount on soundbars. The Consumers' Association also found fake offers: a Delonghi espresso machine cost €428 a week before Black Friday Friday Otto, and during Black Friday it was supposedly discounted from €488 to €428. Also JBL is guilty of this price deception which is prohibited by law: the crossed-out of price must actually have been requested three months in advance.
Black Friday America 2019
According to Adobe, Cyber Monday in the US brought $ 9.4 billion on, more than the 7.4 billion on Black Friday. Before that, Adobe looked at measurements from US retailers with about 55 million items. In total, consumers spent $ 142.4 billion throughout the year.
Awareness of Black Friday in the Netherlands in 2019
In November 2019, Thuiswinkel.org, in collaboration with Ruigrok NetPanel, conducted research into the awareness of Black Friday and Cyber Monday:
95% of the Dutch is familiar with Black Friday; (Motivaction came on the same %)
63% of the Dutch is familiar with Cyber Monday;
53% of the Dutch expect that most (web) stores have promotions and offers throughout the week;
74% is considering taking advantage of the Black Friday discounts, among Generation Z (14 to 22 years) this is even 95%.
Consumers associate Black Friday mainly with commerce (56%) and high discounts (53%).
Young people growing up with Black Friday may see it as a new tradition. Generation Z's 16% already sees Black Friday as a tradition, compared to only 3% of millennials (aged 23 to 37).
Read it here press release on Thuiswinkel.org.
Black Friday Netherlands 2020 – November 27
Corona chased shoppers online in 2020, including Black Friday:
Market effect and Only for Men researched Black Friday awareness beforehand and said it will come out on 80%. Cyber Monday was known by 43%, (and Singles Day was 23%). 12% says it only goes shopping in brick-and-mortar stores, 25% only online. Of those familiar with Black Friday, 20% postpones purchases until Black Friday. Most popular product groups: computers and electronics (24%). Last year it was the fashion, shoes and jewelry product category with 36%.
Payment figures from the Dutch Payments Association: the number of iDeal payments on Black Friday exceeded 1.8 million, iDeal turnover was € 134 million, last year it was € 106 million. The number of debit card transactions at physical stores was 13% lower than in 2019. During the shopping fest, shops converted more than half a billion and perform more than 18 million transactions.
The cabinet was asked by all 25 mayors of the Security Council to Black Friday te ban, but did not agree to it. Shops in Eindhoven, Rotterdam and Dordrecht closed earlier on Saturday 28 November because the corona measures could not be enforced. On Sunday, November 29, shops in the center of Rotterdam will be closed at 5 p.m., two hours earlier than usual.
Black Friday America 2020
According to retail researcher Sensormatic Systems were there 52.1% fewer American visitors in physical stores on Black Friday compared to 2019. There were 45.2% fewer visitors per week compared. Visits to brick and mortar stores on Thanksgiving, (November 26) decreased by 94.9% compared to 2019.
according to Adobe brought Black Friday $ at 9.03 billion, a growth compared to 2019 of 21.6%. The top five products are: Hot Wheels, Super Mario 3D All-Stars, Animal Crossing, Airpods and Apple Watch. Expected consumer spending for 2020 is $ 189 billion total, that is after Black Friday (on November 29, 2020) $ 80.13 billion.
Controversy and criticism of this commercial holiday
Meanwhile, the phenomenon of Black Friday in the Netherlands has also been criticized during these years. For example, it would mainly be the larger retail chains that can afford high discounts and thus cut off small retailers.
A second, frequently heard point of criticism is the introduction of an artificial 'party' that in America may fall on the Thanksgiving weekend, but which takes place on a fairly random Friday in the Netherlands. It can be objected to this that the weekend of Black Friday and Cyber Monday has also become the traditional start of the Christmas shopping season in the Netherlands in recent years.
However, the strongest criticism has to do with the 'discounts' offered by some retail chains. For example, there are known cases of stores that suddenly their prices shortly before Black Friday to increase, to be able to offer a big discount during Black Friday. Compared to the price a month earlier, that discount turns out not to be that spectacular at all. In extreme cases, the discount turns out not to exist at all.
Consumer associations therefore warn consumers to always do good price research and not to rely too much on the percentages of promised discounts.
South Park episode "Black Friday"
"Black Friday" is the seventh episode in the seventeenth season of the American animated series South Park. The 244th episode of the series premiered on Comedy Central in the United States on November 13, 2013. The episode is the first of a three-episode storyline, which continues with "A Song of Ass and Fire," and "Titties and Dragons". Black Friday as a commercial phenomenon gets off to a bad start:
The plot uses themes and motifs from the TV series Game of Thrones. The focus is on the characters' anticipation of a Black Friday sale, with Randy Marsh taking a temporary job as a mall security guard to gain an advantage over Christmas shopping. the kids of south park split into two factions over whether or not to jointly purchase great value Xbox One or PlayStation 4 video game consoles to facilitate their online group games.
Risk for stores

It is not only consumers who are warned about the possible negative side effects of Black Friday. As an entrepreneur, you can also be the loser. If you offer spectacular discounts on certain products, in the hope that you can entice customers – once inside – to make other purchases, you run the risk that only those heavily discounted products will be sold. This is called the loss-making customer risk. Retailers often find themselves in a dilemma; they have to offer discounts to attract customers, but still have to make a profit somewhere. Not participating in Black Friday is almost no longer an option, but throwing discounts does not help either.
Opportunities for webshops
Black Friday and Cyber Monday offer webshops excellent opportunities to boost sales. This does require a systematic approach in which commercial goals are clearly established together with the marketing resources. Not every product or gadget lends itself to the ultra-competitive pricing that consumers naturally expect. With the right structure of the offer with the right approach to the customer, you can still close Black Friday on a positive note. Read more about the opportunities of Black Friday for webshops.
Future of Black Friday in the Netherlands
In the Netherlands, in 2020 it is mainly online stores that eagerly jump in on Black Friday. Research even seems to show that the increased activity in payments on Black Friday and Cyber Monday fully attributable to online transactions. In addition, Cyber Monday lags considerably behind Black Friday, although most figures are measured over the entire weekend, not least because Black Friday deals generally also apply throughout the weekend.
Now that the Netherlands is becoming more and more accustomed to shopping and shopping online during the corona pandemic, this seems good news for phenomena such as Black Friday and Cyber Monday, which seem to rely heavily on the online consumer. The coming years will show how strong both phenomena can still grow. However, the stretch does not seem to be out yet.
This article is updated annually. Substantive contributions are welcome!
Buy now! Here! Fast!
Entirely in Black Friday form, this informative page will also become commercial. As a side project I am running a sim only website with a partner and we cannot ignore this American holiday either. Our approach there, however, is to always point out the caveats. What should you pay attention to as a consumer? Three tips from Unlimited4G.com (with sharp offers of course)